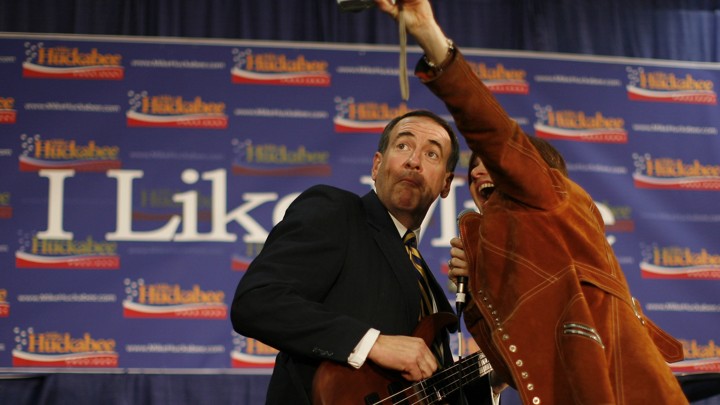 In some sense, it was inevitable. Martin O'Malley, the governor of Maryland and a candidate running for the 2016 Democratic presidential nomination, went on The View and performed … a rendition of Taylor Swift's "Bad Blood." Guesting on the talk show, O'Malley mentioned Katy Perry's benefit concert for his rival, Hillary Clinton. Removing his blazer and lifting an acoustic guitar from where it had been placed, conveniently, next to him, O'Malley grinned, gamely.
And then: He strummed. He sang. "So, baby, now we've got baaaaaad blood..." The women around him—at the table, in their audience—laughed. "HEY!" they all shout-sang, helping him out.
Which was all, despite the table's pervasive pluckiness, extremely awkward. Even the ladies of The View, themselves no strangers to musical antics, visibly cringed at the governor's display.
And yet O'Malley, in going on a Popular Talk Show to perform a Currently Particularly Popular Pop Song, was simply ticking off boxes in a checklist that has been part of presidential politics for a very long time. Americans tend to like their politics leavened with a heavy helping of pop culture—and of music, in particular. Which is why, on a recent appearance on The Tonight Show, Carly Fiorina a-capella'ed her way through a song she wrote, she says, about her dogs. And why Mike Huckabee, a bass player, regularly sings-and-strums on his Fox News show. And why Ted Cruz, at a campaign event in Dallas in 2013, performed a version of "Amazing Grace" that was set, inexplicably, to the tune of the theme song from "Gilligan's Island." And why, at his inaugural gala in 2010, Chris Christie—a passionate Springsteen fan—performed "Born to Run."
It's also why Bernie Sanders recorded a folk album in 1987. And why, ten years later, then-First Lady Hillary Clinton—after joking about her tone-deafness—sang show tunes with Rosie O'Donnell. ("If nobody hears me, I'll be okay," Clinton joked.)
The candidate-crooners may well truly enjoy music. And their performances may occasionally prove to be iconic. (See Bill Clinton, sax-ing it up on Arsenio. And, much more poignantly, President Obama—at that point no longer a candidate—offering a powerful rendition of "Amazing Grace" during the funeral services of Clementa Pinckney.) For the most part, though, these displays are embarrassing. And not just for the candidates. They're embarrassing for democracy.
One's ability to sing or strum a guitar or play a saxophone has long served, in the cultural imagination, as a convenient proxy for coolness; it makes sense that politicians, so desperate to appeal to younger voters and in general to co-opt the "cool," would try to capitalize on that. But many of these performances aren't framed, necessarily, as demonstrations of coolness. (Look again upon O'Malley's lyrics, ye mighty, and despair.) They're meant instead, to get attention from people who otherwise might not much care about presidential politics. (Sample headlines from O'Malley's The View performance: "Watch Martin O'Malley Sing Taylor Swift's 'Bad Blood' on 'The View'," "Presidential Candidate Martin O'Malley Just Busted Out a Guitar and Started Singing Taylor Swift's 'Bad Blood'," "Martin O'Malley Kicks Out the T-Swizzle Jams on 'The View'.")
But the performances are also meant, more importantly, to make a different kind of cultural point. O'Malley, today, was engaging in a time-honored ritual of American presidential candidacy: He was genuflecting at the altar of the authentic. He was showing us that he's humble. He was showing us that he's game. He assumed, rightly, that if he wants to win an office that will give him war powers and nuclear codes, he will first be required to Ryan Adams himself on national television.
He understood, as every politician must, that the path to the presidency is paved with small humiliations.
Which is another way of saying that politicians are, at this point, skilled participants in authenticity porn. They regularly perform human relatability, gnawing on be-sticked pork at the Iowa County Fair, sharing their iTunes lists with Rolling Stone, kissing babies, hugging moms, singing Taylor Swift on The View, and generally insisting to their potential constituents that candidates, like celebrities, are just like us.
It's worth wondering why, exactly, Americans are so interested in the everydayness of our politicians. It's worth wondering why we invest so much in our desire to have beers with our candidates, rather than have faith in them. It's worth wondering why we seem to prefer politicians who are just like us rather than meaningfully better than us.
And it's worth wondering, too, whether there's a better way for politicians to prove that they have a soul than by covering Taylor on The View. "If music be the food of love," Shakespeare's Duke Orsino declared, "play on." He added, though: "Give me excess of it; that surfeiting, the appetite may sicken, and so die."
We want to hear what you think about this article. Submit a letter to the editor or write to letters@theatlantic.com.
Megan Garber
is a staff writer at
The Atlantic
, where she covers culture.