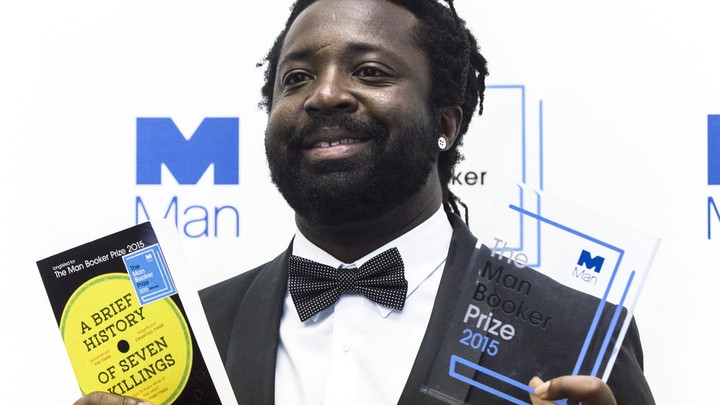 In a Man Booker field with one skinny, experimental novel (Tom McCarthy's Satin Island) and two luridly violent fat ones (A Brief History of Seven Killings by Marlon James and Hanya Yanagihara's A Little Life), you might have predicted—I did—that one of the middle-sized contenders would prove the consensus candidate. I was betting on Sunjeev Sahota's The Year of the Runaways (as was the mystery gambler Mr. Smith, recently written up in The Telegraph, who picked last year's winner by perusing reviews and the judges' Wikipedia entries, not by reading the books). It's hard to think of a subject more topical than the migrant experience; plus, here was a suitably dark entry in a generally grim shortlist, but less gory than some.
Instead, Marlon James's big and bloody A Brief History of Seven Killings is the winner. We'll never know, of course, whether big and verbally bloody battles edged out Hanya Yanagihara's A Little Life, which the bookies had pegged a front-runner. Perhaps it's worth noting that, over the past month or so, initially sensational acclaim for A Little Life has made way for controversy, as detractors—and doubters, like Stephanie Hayes in our Man Booker read-along—have begun weighing in. With Marlon James, the prize goes to a Jamaican for the first time, putting to rest for a second year the fears that Americans might be taking over. More important, a novel like his sets high standards for risk-taking ambition.
You'll find the migrant experience in James's sprawling novel, along with other daunting quests. His book is full of people "hell-bent on escaping the life that fate had all but drawn up in lines with just numbers left to color," as one of them puts it. And James leads the way in a group of novels that showcase a virtuosic interest in distinctive voices. "What's remarkable here is the polyvalency of English prose in 2015," the Observer's associate editor, the writer Robert McCrum, noted when the six finalists were announced. You can marvel at that profusion of dialects in James's novel all by itself, as Katharine Schwab did in her entry back at the start of our discussions of the lucky finalists. The Man Booker is a prize for novels written in English, and you'll discover all kinds of permutations of it among his mesmerizing, and enormous, cast of characters.
But let's not forget the voices of the runners-up either. As we did in our Man Booker read-along two years ago, we'll finish by leaving you with the first lines of each of the shortlisted nominees. James's opening is indeed enough to lure anyone in:
Listen.

Dead people never stop talking.
And here are the other five. Find one that speaks to you, and read on.
Sunjeev Sahota's The Year of the Runaways:
Randeep Sanghera stood in front of the green-and-blue map tacked to the wall.
Chigozie Obioma's The Fishermen:
We were fishermen:

My brothers and I became fishermen in January of 1996 after our father moved out of Akure, a town in the west of Nigeria, where we had lived together all our lives.
Hanya Yanagihara's A Little Life:
The eleventh apartment had only one closet, but it did have a sliding glass door that opened onto a small balcony, from which he could see a man sitting across the way, outdoors in only a T-shirt and shorts even though it was October, smoking.
Tom McCarthy's Satin Island:
Turin is where the famous shroud is from, the one showing Christ's body supine after crucifixion: hands folded over genitals, eyes closed, head crowned with thorns.
Anne Tyler's A Spool of Blue Thread
Late one July evening in 1994, Red and Abby Whitshank had a phone call from their son Denny.
We want to hear what you think about this article. Submit a letter to the editor or write to letters@theatlantic.com.