Man Booker Shortlist 2015: Satin Island
Tom McCarthy's deliberately mystifying novel attempts to chronicle patterns of life in the digital age.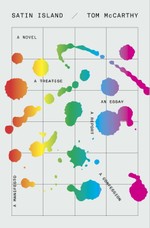 Tom McCarthy—whose fourth novel, Satin Island, is one of two British books to make the Man Booker shortlist this year—is the only nominee who's enjoying the experience for the second time. His previous novel, C, claimed a spot in 2010, but if you put any faith in London's bookies, he's not likely to win this time. He's bringing up the rear in the most recent standings.
You might say that McCarthy is just the kind of writer to make it onto the list, and then not get all the way to the top. His avant-garde work has earned high acclaim from critics, including Zadie Smith, who wrote in 2008 of McCarthy's debut novel,
… it is easy to feel that Remainder comes to literature as an assassin, to kill the novel stone dead. I think it means rather to shake the novel out of its present complacency. It clears away a little of the dead wood, offering a glimpse of an alternate road down which the novel might, with difficulty, travel forward.
And yet that glimpse can leave readers—and perhaps judges, too—scratching their heads even as they're drawn along, deeply curious.
As critics have noted, Satin Island lacks traditional plot, setting, and character development. Instead, the novel consists of the stream-of-consciousness of an obsessively observant anthropologist, U., who is at work on a Great Report documenting the patterns that define life in the digital age. It's no small feat to make the internal processing of information the most compelling element in a novel, and McCarthy manages that in pages saturated in symbolism and rendered in hypnotically simple prose. Through U., he also plants the refreshing suggestion that literature can do justice to the character—perhaps the everyman—whose life does not derive much significance from its narrative arc.
At the same time, McCarthy lures the reader into sharing U.'s predicament. Like him, we're launched on a baffling quest to make sense of dizzying detail. As Duncan White wrote in The Telegraph, "Every chapter—no, every sentence—invites you to plunge deeper into the book's dark pool, groping for the submerged pattern … On finishing it you will have the powerful urge to throw it across the room then the powerful urge to pick it up to read again."
That's just what the Man Booker judges, of course, will be doing over the course of these weeks. I'll shamelessly plug The Atlantic's review, by Marc Mewshaw, as an ideal guide to, as he puts it, McCarthy's "portrait of our overstimulated, interconnected, simulacra-addicted times," not least because Mewshaw wisely counsels against expecting too much closure:
There's a growing momentum to the convergences in the text, a sense of a master message encoded in the architecture of symbols that will disclose itself if only the reader connects all the dots. The missing link, the revelation that will explain everything, feels, like the presence of the divine, tantalizingly close but always just beyond reach. That it never materializes may just be the book's ordering principle.
So instead of probing for some hidden message, I'll settle for offering a taste of the reading experience—that plunge into a "black pool," into a sea of unconnected dots. U. documents his findings in discrete paragraphs about his disparate observations, a sort of jumbled set of notes for that Great Report. I'll take my cue from him, singling out a few passages that convey U's own "weirdly hyper-alert gaze" at work, exerting a contagious pull on the reader turning the pages.
Here is U., the "corporate anthropologist" who avidly monitors his surroundings—tracking habits, textures, dreams, the media, personal technology—as he takes an inventory of the possessions of a barstool acquaintance:
… a cigarette pack, a plastic lighter, a dog-eared travelcard and a key-fob, fanned out in a rough semicircle across the zinc counter, like a spread of cards. She was, like many single women in her situation, using these objects to create a buffer zone around herself, in which her lifestyle, personality and, not least, availability were simultaneously signaled and withheld.
But just what U. doesn't do is create a buffer zone. He presses on, his inner processor whirring:
… I lost myself among them. And as I did, I felt a fragile, almost epiphanic tingling of what-if-ness come across me … What if just coexisting with these objects and this person, letting my own edges run among them, occupying this moment, or, more to the point, allowing it to occupy me, to blot and soak me up, rather than treating it as feed-data for a later stock-taking—what if all this, maybe, was a part of the Great Report.
Or try this moment, when U. transitions from the practical to the metaphysical in a poignant scene. He's visiting a sick friend and finds himself reconsidering his earlier conviction that the hospital's dirty windows were inappropriate for a sickroom:
… I came to see that, along the very lines that had made me view it as so wrong earlier, the windows' dirtiness was in fact totally correct. It was the world, its stuff, that had left its deposit—on the windows and in Petr's bones, his organs, flesh and arteries. The stuff of the world is black. If Petr's flesh was turning black, it was because he'd let the world get right inside him, let it saturate him, until he was so full of it that it was bursting out again, erupting with a radiating luminescence.
U. pays no attention to scale as he gathers the grist for his Great Report—dirt on a window or a series of unfamiliar possessions easily feed his grand theories. I found myself mimicking the extrapolating habit as I plowed through U.'s copious observations, many of which he leaves dangling. When U. remarked that "the sky was a crime scene" in the case of a parachuting death, did he mean to condemn nature while overlooking the culprit, man-made invention? Was he implying that this is a symptom of our era? I grasped hopefully for a signal in the entertaining noise of patterns and ponderings within his mind.
After reading and reflecting on Satin Island, I can't help believing that such a signal exists. Yet I can also feel McCarthy's eagerness to leave me mystified. As U. contemplates submitting his Great Report to his boss, he muses on how it's likely to go over, aware that perception is anything but straightforward: "Certainly, the fact that it came from me, and the context within which it was presented, would imbue it for him with all kinds of cryptic meaning." How the Man Booker judges will respond after re-reading McCarthy's enigmatic creation is, fittingly, anybody's guess.