Kendrick Lamar + Symphony Orchestra = Heavy Metal
The joy and power of the rapper's Kennedy Center show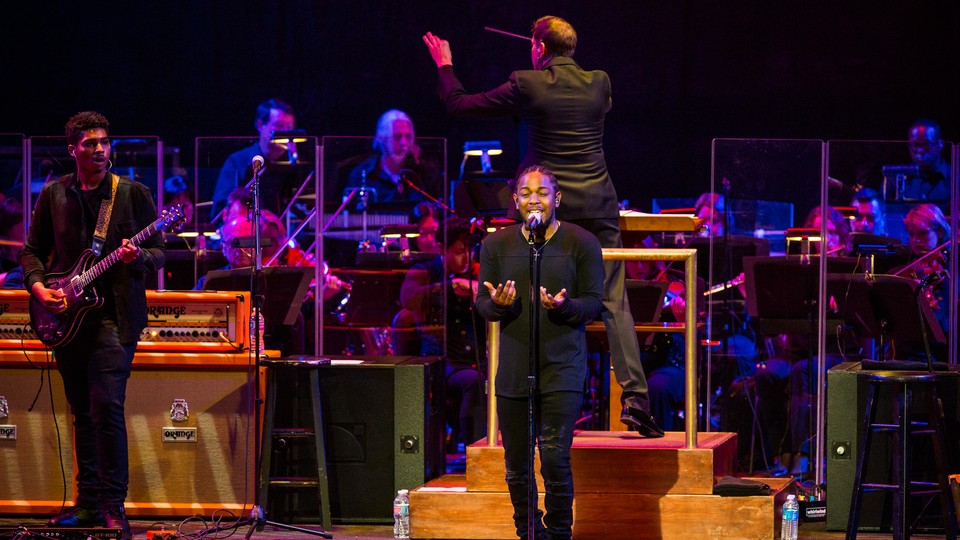 Before playing his final song on Tuesday evening, Kendrick Lamar asked the sold-out auditorium in Washington, D.C.'s Kennedy Center for a moment of silence. This was not a political gesture. He wanted everyone to "feel the energy in the room," which they did, at least until someone in the balcony seats yelled, "Vibe!" and killed, yes, the vibe.
Still, the brief bit of quiet felt profound simply because of how joyfully loud the previous hour had been. When it was announced a month ago that Lamar would perform selections from his new album To Pimp a Butterfly in a one-off show with the National Symphony Orchestra, it sounded a bit like it was meant to be a cultural-credibility exchange: Hip-hop revealed as highbrow, classical revealed as popular, and everyone claps politely at the end. This framework did not turn out to be very helpful—there was nothing polite, nothing theoretical, about the concert. Backed by the dozens of symphony players and his own funk-rock band in front of an audience that seemed mostly filled with ecstatic fans, Lamar's music gained a crowd-pleasing intensity that's often only hinted at on his albums.
It's not new for popular musicians to team with classical orchestras; last night's concert was a follow-up to one the NSO did with Nas a few years ago. But watching the show, I kept flashing back to, of all things, Metallica's 1999 collaboration with the San Francisco Symphony, which resulted in an album called S&M. This was partly because Lamar's own touring band has for a while now been more of a rock act than anything else, and partly because when there are strings thrumming and brass booming in time with guitar riffs and a spittle-flinging vocalist, it can't help but inspire head banging.
Sometimes the metal vibes were made explicit, as during an insane performance of "M.A.A.D. City" that culminated in an '80s-arena guitar solo. Other times, it was a mere fact of volume: The strutting rhythm "King Kunta" sounded less like "Smooth Criminal" (which it samples) than a heavy "My Sharona," and the symphony's strings added a stabbing, pulse-raising pattern that recalled police sirens.
Kendrick's often seen as the brainiest popular rapper working right now, and To Pimp a Butterfly, seven months after its release, feels like a puzzle that pop culture is still solving: dense lyricism about personal and racial self-loathing and self-love amid skronking jazz and funk instrumentation that only occasionally become danceable. You could probably write a term paper on what happens when such self-consciously black musical styles get swapped out for classical and hair metal, but it's not quite right to say the funk was gone at the Kennedy Center. Lamar's drummer skittered and syncopated; his bassist slapped plenty; the symphony usually worked to highlight songs' emotional components rather than change them. On the suicidal rant of "u," the brass pealed and cymbals crashed with outsized anguish; you could suddenly hear how righteous it would be for Lamar to make a Bond theme. And the purposefully kitchy lounge arrangement of the interlude "For Sale?" achieved a new level of poignancy with a lovely mélange of live harp and woodwinds.
Lamar made like the rest of the musicians on stage by wearing all black, but he was undeniably the center of attention. As he delivered his complicated lyrical sermons, he made gestures that seemed both spastic and precise, and at times it seemed as if he was in a sign-language conversation with the conductor Steven Reineke. Early in the first song, "For Free?," he told the crowd to stand up, which helped clarify how exactly to conduct oneself at a rap show in the landmark venue of the nation's capital. For the rest of the performance, much of the crowd jumped and sang along and clapped just as they would have anywhere else. The moment of silence Lamar asked for came before the encore song, "Alright," the single that's become a symbol for the Black Lives Matter movement. When it stared playing, the room broke into screams.