EL VY: White Guys, Interrupted
Matt Berninger of The National continues his subversion of indie rock with a playful new side project.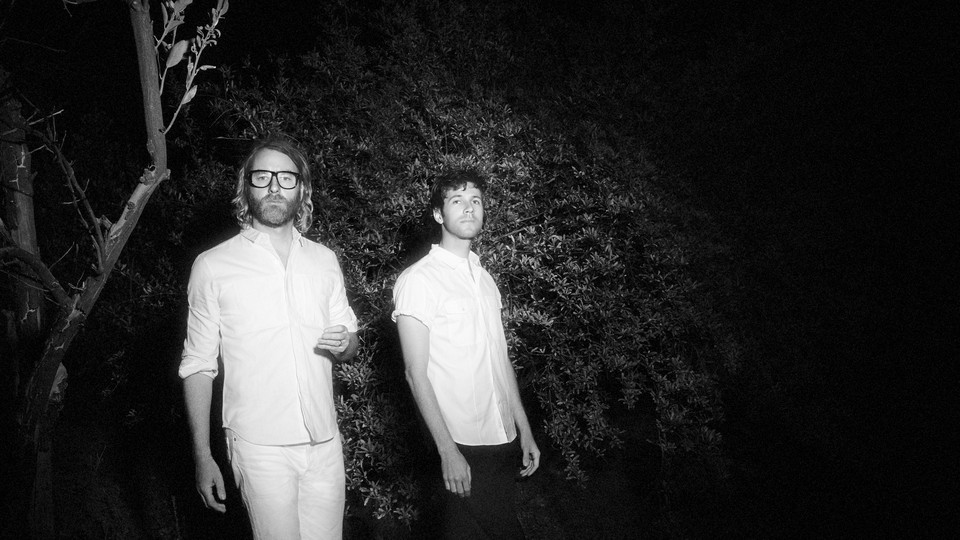 In a recent episode of Billy on the Street, the comedian Billy Eichner dons a football jersey and rounds up a pack of hooting dudes to put a fratty twist on his regular shtick of quizzing random strangers about pop culture. "Bro, bro!" Eichner shouts at a Manhattan-sidewalk passerby in a baseball cap and sunglasses. "True or false: Masculinity is a prison?" "True," the guy replies, and the man-herd roars. Later, there's a tailgate for Wicked.
The way that segment mocks bro-culture while also reveling in it reminds me, weirdly, of EL VY's great debut album, Return to the Moon, out today. For a certain kind of music listener, this is a supergroup, bringing together Matt Berninger of the cult-beloved rock act The National and Brent Knopf of Menomena and Ramona Falls. If those credentials don't scream bro! they do conjure a different male archetype: Indie rock has been shaped by all sorts of people, but in practice it has often been ruled by guys who look a lot like Berninger and Knopf. Conde Nast inadvertently gave a reality-check to the genre's self-image as eclectic and inclusive when an exec shouted out Pitchfork's "Millennial male" audience recently. And the conversation around Ryan Adams's cover of Taylor Swift's 1989 offered a reminder that indie's stereotypical mode—solemn airings of pain and alienation—has often dovetailed with the sexist notion that men's emoting is inherently more serious than women's.
But sometimes it seems like Berninger has conquered this genre only to make fun of it. His cartoonishly morose voice often satirizes what other singers might present as insights—the notion of fatherhood as martyrdom, or the idea that angst is intrinsically meaningful, or the claim that vanity and lust can be transcended. A lot of critics have missed this, taking the lush gloom of The National at face value, as if it were music for Brooklyn dinner parties instead of music ruthlessly about them. But EL VY makes the humor and the politics in Berninger's words harder to miss. In place of the sumptuous rock blur of The National, Knopf builds bright, crisp, loop-based arrangements that sometimes sounds like they're made with kids' instruments; the songs wiggle and careen, instead of gliding. Meanwhile, Berninger seems to be working from a prompt: He's said Return to the Moon is more autobiographical than anything he's done before; he has also talked about it as a sort of rock opera involving invented characters.
I will admit to not really being able to decode the storyline. But that's okay because the songs on their own are legible and entertaining. The best might be "I'm the Man to Be," which Berninger has said is from the "perspective of a pathetic self-aggrandizing rocker alone in a hotel room. Something I know a lot about." As Knopf puts guitar peels over a swampy groove, Berninger's narrator ponders his life while engaging in what seems to be an auto-erotic asphyxiation session. Pitchfork even appears: "I can't even look at reviews anymore / I score an 8.6 on a fucking par 4," he says, presumably referring to the rating that The National's Boxer received in 2007. His indie cred is also masculine cred—I'm the man to be—and neither seem to be helping with his abject emotional state. One verse has our hero missing his sister, crying to room service, and "drinkin' Malin and Goetz under the bed." (Malin and Goetz is a New York City "indie skincare" store.)
Rather than killing joy, Berninger's brainy self-deprecation deepens the music's playfulness and makes the album's openhearted moments more precious. The title of the opener, "Return to the Moon (Political Song for Didi Bloome to Sing, with Crescendo)," is probably in part a joke about the The National's reputation for "crescendo rock," and the song does indeed deliver a satisfying swell of sound after a few minutes of chipper, '50s-prom-floor shuffling. There's also a big buildup on "No Time to Crank the Sun," where Berninger keeps his lyrics fairly straightforward, perhaps so as not to distract from the song's pretty, gospel-like pleasures.
And on the lovely "Paul Is Alive," over acoustic picking and a muffled drum loop, Berninger sings earnestly of falling in love with the Cincinnati rock scene. But he doesn't allow himself to indulge too much in golden nostalgia; the song opens with him acknowledging the privilege inherent in, and the ridiculousness inherent in, his regrets:
I had a sugar-coated childhood
The stars were in my soup
But given the opportunity
I'd start over and change it all

Beatlemania made my mother
Think the way she does
She always said
"Don't waste your life wishing everything was how it was"
The next song, "Need a Friend," is a rock anthem of tension and release, with guitars surging for a chorus in which Berninger yells, "this is heartbreaking, heartbreaking, heartbreaking." But the anger feels almost like a joke, given the smallness of the grievance described: a buddy flaking out on a concert. "You were supposed to be here before the last song," Berninger scolds. "You were supposed to bring me your brother's weed." This is the joy of his music: It embraces the fact that banal problems can seem apocalyptic in the moment, but it also keeps those problems in perspective.
Berninger is by no means the only self-critical rock songwriter; many of his sonic predecessors—Leonard Cohen, the Silver Jews's David Berman—had the same tendencies, and The National's contemporaries Pissed Jeans and Titus Andronicus use their own forms of macho music styles to skewer male rage. But at a time when some white male artists are trying to sabotage new calls for diversity of voices in the arts, and others are wondering whether they should make art at all given how over-represented their viewpoint has been in history, singers like Berninger offer a solution. Write what you know, but not quite how it's been written before.