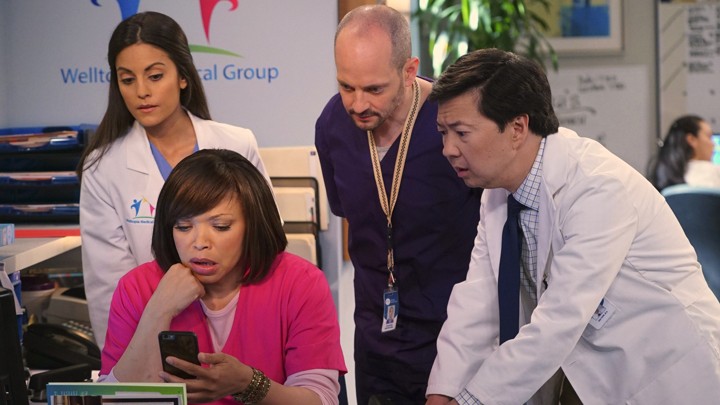 In recent years, ABC has become known for actively pushing characters of color into the mainstream—Fresh off the Boat, Quantico, Blackish, How to Get Away With Murder, Scandal, the upcoming Uncle Buck. Asian Americans in particular have benefited from this boost: ABC's fall season brings 18 series regulars of Asian descent and three shows with Asian leads. As representation grows, at least one consequence is that there'll be less of a temptation to settle for the diverse shows that just aren't very good. One of those being ABC's newest sitcom (and only the third ever) to star an Asian American family, Dr. Ken.
Even in an especially bad season for new shows, the multi-camera sitcom Dr. Ken stands out as uncomfortable, unfunny, and forgettable. Ken Jeong, best known for his roles on Community and films like The Hangover, stars as a fictional version of himself, a doctor named Ken Park. He has to get along with his goofy coworkers, a repugnant boss, a loving therapist wife who keeps him in check, a cookie-cutter teenage daughter, and a son whose idea of fun is miming to Katy Perry's "Roar." The show normalizes Asian American family life to an extent, but it does so by squeezing the Parks into such a milquetoast format—prompting viewers to wonder why this show exists at all if it's just copying everything that came before.
Dr. Ken's pilot feels considerably longer than its 22 minutes, bloated as it is with formulaic exchanges and unnecessary exterior shots. The patient viewer, though, might notice how strenuously average the Parks seem. It's an effect amplified by seeing them in a setting—the model TV house—visually associated with decades of quintessentially American families from the Huxtables to the Matthews. In fact, you rarely notice their Asian-ness unless it comes up in conversation—like when the Park family imitate Ken's heavily Korean-accented parents, or when Ken's boss threatens to fire his "tiny Asian ass." Which is to say that Dr. Ken doesn't pay much attention to race, nor does it need to, but when it does it feels oddly forced, much like canned laughter itself does.
Dr. Ken is also a waste for a talented comedic actor like Jeong, who became an entertainer after an initial career as a physician. As Arthur Chu noted in a thoughtful piece on Jeong for Slate, "The worst thing that this actor—who excels at the bold and the outlandish—can do is play it too safe. And all of Dr. Ken's shortcomings involve playing it too safe." And it's true—the most subversive thing about Jeong's character is that he shares his name with a Harmony Korine film. Against the show's neutered humor and cardboard cast of characters, Ken's idiosyncrasies feel all the more out-of-place. He's perpetually hitting on his wife; when she confronts him about his obsession with sex in the second episode he shrugs: "I idle at horny." He reacts to his son's Katy Perry routine by miming a variety of suicide attempts. He's not nearly the Mean, Genius Doctor of House—he's protective of his children and learns from his mistakes—but he doesn't feel like a well-realized character, let alone one who should be the center of his own sitcom universe.
Dr. Ken hits all the notes of a typical family sitcom—in-law problems, father-daughter relationship issues, misunderstandings at work—without bringing anything new to it. Perhaps Jeong will go the route of Louie C.K., who had a multi-camera sitcom called Lucky Louie that flopped before he found the right outlet with his ambitious and smart Louie. Judging from the first two episodes, the only thing that feels new or worthy about Dr. Ken is the diversity of its lead cast, which, of course, is not reason enough to slog through an entire season. Jeong, and the rest of the cast for that matter, deserves a better vehicle. And the widening diversity of TV means they'll probably find it, eventually.
We want to hear what you think about this article. Submit a letter to the editor or write to letters@theatlantic.com.
Lenika Cruz
is a senior associate editor at
The Atlantic
, where she covers culture.