Can Donald Trump Still Mock Himself?
When he hosts an upcoming Saturday Night Live, the increasingly thin-skinned presidential candidate will reveal whether he's lost the ability to make jokes at his own expense.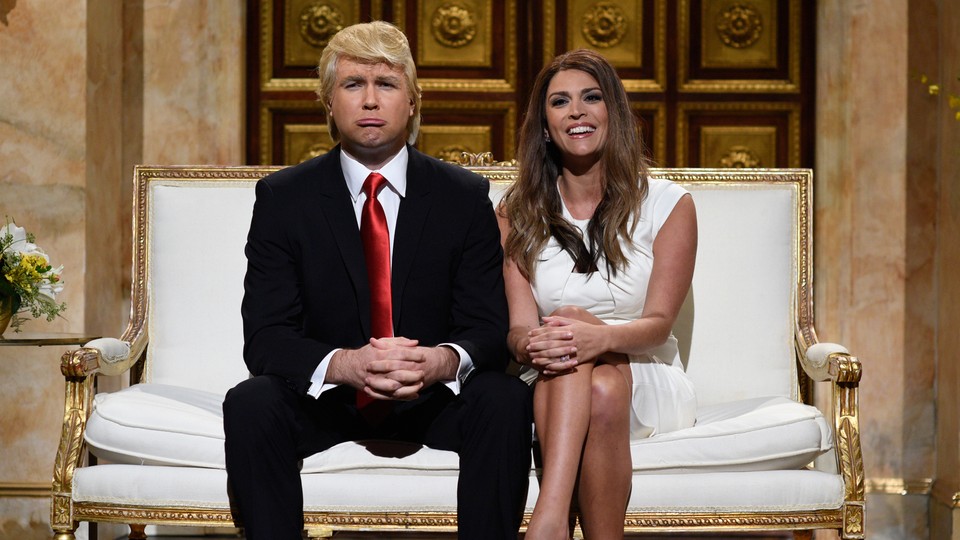 Donald Trump's poll numbers may be plateauing, but his brand as an entertainer is continuing to bounce back. The news that he'll be hosting Saturday Night Live on November 7 was greeted with the kind of attention Trump could only have dreamed of a year ago, when his NBC show The Apprentice was sagging in viewership. In June, the network announced it had cut ties with him due to "derogatory statements regarding immigrants" in his presidential campaign. But on TV, ratings matter more than anything, meaning Trump will come roaring back on NBC, if only for a week.
Politicians appear on the show all the time—Hillary Clinton had a cameo on its 41st season premiere earlier this month—but it's comparatively rare for them to land a hosting gig while they're campaigning for office. Jesse Jackson did in 1984, as did Steve Forbes in 1996 and Al Sharpton in 2003. Like Trump, they were all "outsiders" (whether anointed as such by themselves, the media, or both), and their candidacies had an appealing edge of unpredictability. But Trump is a little different in that he's hosted the show before and been a television personality for years, and has brought that bizarre showman energy to the stump. As it's progressed, his candidacy has seemed more and more like an SNL sketch—unhinged and surreal. So why not bring the whole thing full circle?
It's worth noting that Trump was a surprisingly good host on his last SNL appearance in 2004. He repeatedly spoofed The Apprentice, met his on-show doppelganger (then played by Darrell Hammond), and was the star of a strangely on-point commercial parody for a restaurant called "Donald Trump's House of Wings," complete with catchy jingle set to the Pointer Sisters' "Jump." Trump mocked his mid-aughts status as glorified pitchman with relish, donning a gold blazer and tie and introducing the sketch by saying, "Cock-a-doodle-doo, folks, I'm Donald Trump."
But since then, Trump has only gotten more thin-skinned, which makes him that much easier to lampoon. Seth Meyers, who played a dancing chicken in the House of Wings sketch, famously tore into Trump at the 2011 White House Correspondents' Dinner over his repeated claims that President Obama might've been born in Kenya. C-SPAN's camera cut to a stone-faced Trump in the audience after every line, and he seemingly never got over it, criticizing Meyers's work at the Emmys three years later in a typically mean-spirited tweet.
That Seth Meyers is hosting the Emmy Awards is a total joke. He is very awkward with almost no talent. Marbles in his mouth!

— Donald J. Trump (@realDonaldTrump) August 25, 2014
Trump seemed similarly ill-suited to his Comedy Central Roast, where he grimaced politely through insults from Anthony Jeselnik and Gilbert Gottfried. As a presidential campaigner, he's grown accustomed to berating any critic who challenges his newfound political primacy, be it a fellow candidate or a journalist or a whole organization. Part of the fun of appearing on SNL is being able to self-deprecate. That was once part of Trump's DNA as a media personality, but there's been little sign of it in recent years (and no word yet as to what he thinks of the show's new impression of him as performed by Taran Killam).
Of course, that's the exact tension SNL is looking to exploit. Though the show sometimes gets political, it's mostly looking to entertain, and Trump looking awkward or grumpy would likely be as interesting as if he were to play along gamely. Despite all his appearances on talk shows, including with satirical masters like Stephen Colbert, Trump has yet to find someone who can beat him at his own game, forcing him to look self-consciously foolish. Saturday Night Live and NBC may be hoping that he can do that himself—but even if not, the ratings should speak for themselves.