The Yin and Yang of Post-Disney Pop Stars
New albums from Demi Lovato and Selena Gomez use the same machine to different ends.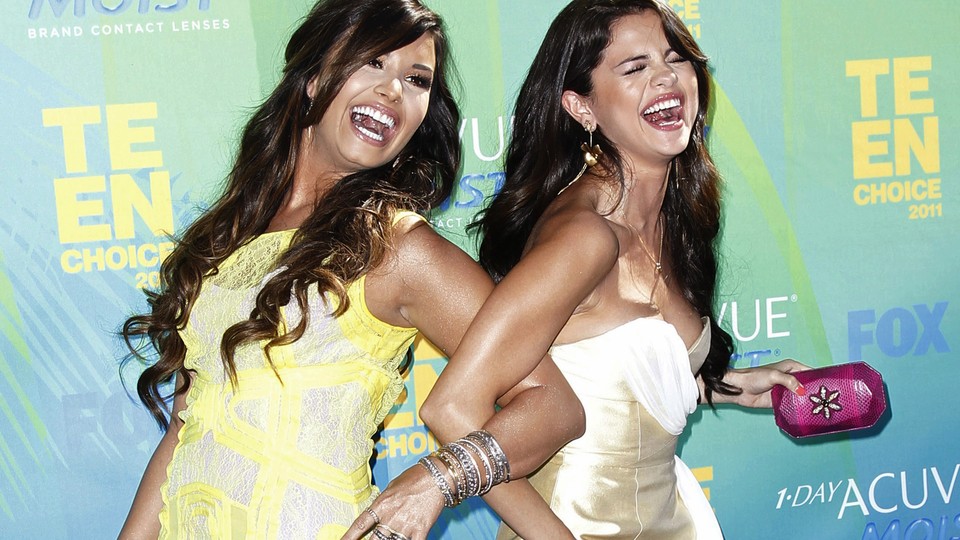 "You're met-ah-phor-ic-al ginandjuice" is a roughly phonetic transcription of how Selena Gomez delivers the most fascinating line on her new album, Revival. The song is "Hands to Myself," an instantly catchy homage to Janet Jackson in seduction mode—all breathy, clipped enunciation and lightly clicking percussion. But how wonderfully bizarre is "you're metaphorical gin-and-juice" as a phrase? It rebukes the idea that Millennials like the 23-year-old Gomez don't get the meaning of "literal"; is a redundant description given that it's unlikely she'd be singing to an actual cocktail; and is further proof of Long Beach gangsta rap's grand influence.
It may or may not be coincidence that echoes of Snoop Dogg's 1994 hit about the joys of a highball also show up on Demi Lovato's Confident, another proclamation of grown-and-sexiness from another former child star, released one week after Gomez's. "Got my mind on your body and your body on my mind," Lovato coos on her queer-coded single "Cool for the Summer," swapping corpuses in for Snoop's cash as producers Max Martin and Ali Payami tack big-budget studio roar onto a piano hook that sounds lifted from The OC's theme song.
"Gin and Juice" references are way common across popular music, but it still feels remarkable to have these two particular stars mining this same particular source material. As kids, Lovato and Gomez starred in Barney & Friends together; they ruled the Disney channel at roughly the same time; they have now released albums, co-written and produced by some of the same hit-makers, seven days apart. Are they two friends indulging a shared love for g-funk? Are they and their teams simply raiding the same source of clichés, perhaps without even thinking about what that source is? Or is someone in their writers' room playing a joke about the derivativeness of pop, like the graffiti designers who subverted the Homeland set they'd been hired to decorate?
Both Lovato and Gomez have recently emerged from a young-entertainer pipeline even sleeker than the one that spat out the first class of new-millennium teen idols (Britney Spears, Justin Timberlake, Christina Aguilera). It's common knowledge that for all such figures—past and present, Miley Cyrus and Ariana Grande included—eventually comes a moment where they loudly announce that they're in charge of their careers and occasionally make visits to the family-planning section of CVS. The irony is that such declarations of independence signal that they're moving from one system of corporate control into another one: From Disney (or Nickelodeon) to what John Seabrook's new book title has coined as The Song Machine, a network of major-label handlers, producers, and writers who collaborate on chart-beating double entendres about sex.
Given the shared lineage, it's tempting to talk about Gomez and Lovato's new releases in terms of what they have in common, which is a lot. The two women announced the reparation of their once-wounded friendship in a suspiciously well-timed Instagram parlay; both albums have thesis-statement keywords as titles; both feature the same, specific tropes of 2015 pop (background vocals pitchshifted way high like ghost chipmunks or way low like ghost Eeyores; heavy-lidded affect probably learned from Lana Del Rey); and both echo each other in strange ways (conspicuously casual swearing; the word "kerosene"; Lovato has a song that shares a title with Gomez's last album). But the similarities make it so it's easier to see the contrasts—how natural talents and public narratives, filtered through the same pop apparatus, create two very different artistic identities.
It's silly to say, but this Barney & Friends clip featuring Lovato and Gomez provides an all-too-easy metaphor for their perceived differences in the cultural eye. Gomez serenely practices her patty-cake skills with a boy on the playground; Lovato, bespectacled and confused, plays trumpet to the slight annoyance of Gomez, her buddy, and the Purple Dinosaur who unites them all. In the years since, Gomez has often played "cool girls" on TV; Lovato has more often been cast to portray awkwardness or shy strength, and is more clearly the natural musician. And so it goes that in the tabloids, Gomez has always seemed unflappable, even though she has had little reason to be—she dated Justin Bieber, and she recently revealed that she went to chemotherapy for Lupus. Talking about body-shaming on the Internet, Gomez recently reflected "I actually had never experienced it before," a statement of implicit contrast with Lovato, who over the years has talked about her fight with bulimia and other mental-health issues. Lovato makes headlines for taking a fall on stage, or going out with her makeup unblended; intentionally or not, she breaks with the Beyoncé-style pop ideal of flawlessness.
The public personas jibe with their musical abilities; Gomez's vocal range is limited, but part of her appeal is in the fact that she doesn't make sudden moves. Her past hits have often been mid-tempo come-ons—"Come & Get It," "The Heart Wants What It Wants"—and now, there's the luscious "Good for You," all about dressing up and shimmying slowly for a lover. Throughout Revival, her producers bring in a vague world-music vibe—Latin guitar, Bollywood textures, and the kind of loping rhythms that you hear in W Hotel lobbies—while Gomez sings about empowerment as transcendence, whether in the new-agey poem that opens the album, the song title and the carefree whistles of "Kill 'Em With Kindness," and the gospel hip-hop inflections of "Rise." Gomez's personality and deeper desires remain mysterious, but her calm power is infectious; put the album on when you need to get the rest of the world off your cloud.
Lovato's Confident, though, is for times you need to fight. Accordingly, it's as bombastic a pop album we're likely to get until Lady Gaga makes her true return. With digitized horns and jock-jam drums, she charges out on the opener/title track much like Shania Twain on "Man! I Feel Like a Woman" and then goes near a capella in the chorus to taunt, "What's wrong with being confident?" The surging lesbian tease of "Cool for the Summer" comes next, followed by "Old Ways," which pairs trap-rap swagger with a big pep talk of a chorus. The template—aggression, hunger, sweating for self-determination—is set. By track four, Lovato settles in pining-balladeer mode, where she stays for much of the rest of the album: shout-singing and lurching octaves as the production mimics battering rams and '80s-metal slow dances. Sometimes all this noise and straining is moving; often, it's tiresome; at all times and unlike Gomez, as people in the age bracket of her fanbase might say, Lovato has no chill.
Sit with it for a while, and Lovato's album starts to feel like the more distinctive one, the result of an excellent vocalist with an on-record personality that feels more human, more vulnerable, than any of her peers. You could see all of this on display on SNL this past weekend, where Lovato sang one of her new ballads, "Stone Cold." When she cried and her voice cracked, it felt less like she was making mistakes and more like she was showing evidence of a talent that can't be manufactured—the soul in the machine of post-Disney stardom.