Pitchfork, the Reluctant Men's Magazine
Conde Nast says it bought the eclectic music-reviews site for its "Millennial males." What?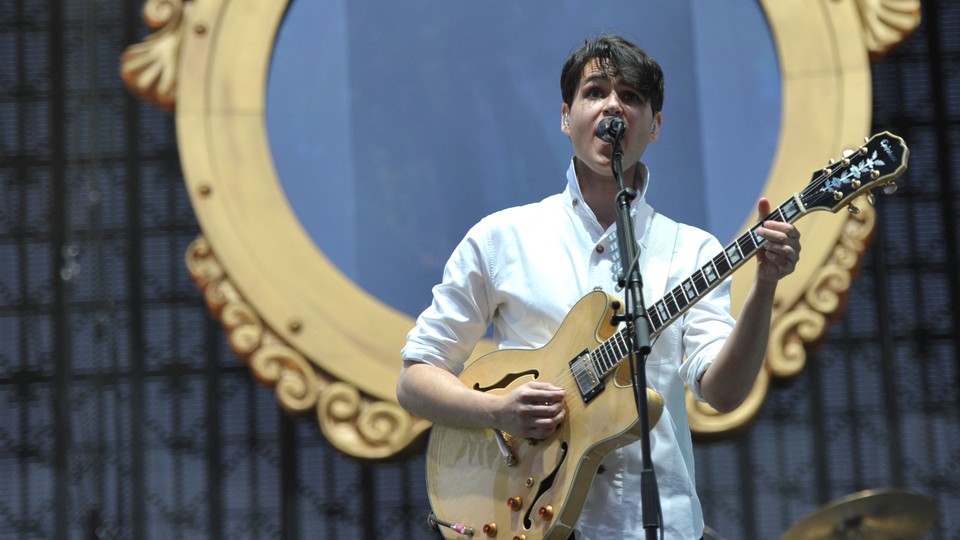 Monday brought big news for two men's magazines. First, The New York Times reported that Playboy will stop publishing images of naked women. Then, The New York Times reported that Pitchfork has been bought by Conde Nast.
Yes, Pitchfork—the music-reviews website/video studio/concert organizer/print magazine—is a men's publication, at least to hear Conde Nast's Chief Digital Officer Fred Santarpia tell it: The acquisition brings "a very passionate audience of Millennial males into our roster," he said to the Times.
On Twitter, the amount of ire directed at his comment quickly seemed to eclipse any other sort of reaction to the news that the most influential music publication to emerge in the Internet age, one closely associated with the word "independent," was being bought by the old-media home to Vogue, The New Yorker, Allure, and more than a dozen other titles. The backlash comes in part from a fact of timing: Though Pitchfork has faced criticism over the years for white-dude-centricism, lately it's diversified its bylines and stepped up its coverage of gender, race, and identity (sample headlines: "Riot Grrrl and Queerness in the American South"; "Sex Positivity in the Music of Bob's Burgers"; "The 13 Best Songs About Women Masturbating"). Besides, its mission is to champion music, period—and contrary to certain sexist stereotypes, members of both genders can and do obsess over the same bands. "Women are a huge part of Pitchfork's staff and readership," Pitchfork founder Ryan Schreiber tweeted in response to the outcry. "We're totally about reaching all music fans everywhere."
But Santarpia's quote reveals that Pitchfork's value to Conde Nast—at least in part—lies not in its ability to reach "all music fans" but rather a very particular segment of them that indeed includes an outsized portion of the publication's audience. In 2012, the site ran a poll of readers asking about their favorite music to be released in the 15 years that Pitchfork had existed; 88 percent of respondents were male (and perhaps not incidentally, so were most of the poll winners). Traffic statistics by Quantcast—imprecise as they may be—say that men make up 82 percent of the site's visitors, and that a majority of readers are between the ages of 18 and 34.
This is a group of people that has been of particular concern to ad-supported media companies like Conde Nast in recent years. The 2014 Nielsen report The Men, the Myths, the Legends: Why Millennial "Dudes" Might Be More Receptive to Marketing Than We Thought opened with a new industry stereotype: "Millennial males are, in theory, elusive creatures. They're commonly thought of as cord cutters who can't be—and don't want to be—reached." But it went on to explain that while Millennial men were watching less TV than other demographic groups and had otherwise shifted their consumption habits in comparison to previous generations, advertisers could still reach them. One of the top observations seems particularly relevant in light of the Pitchfork news:
Millennial men are also heavy music listeners. Eighty-eight percent of all Millennial males in the U.S. listen to radio each week, spending more time than their female counterparts tuned in (11 hours and 42 minutes vs. 10 hours and 46 minutes). They also show greater interest in personalized streaming audio services—think Spotify or Pandora—than other demographics.
Conde Nast's Details, GQ, Wired, and Reddit, theoretically, already reach many of these young men. But Santarpia's quote indicates that the company would like to reach more of them. This doesn't necessarily mean that Pitchfork will be pushed back towards catering more to male readers (the site's press release touted its continued editorial "integrity"), and it doesn't even mean that Conde Nast won't be interested in the site's female readership. But it does serve as a reminder that larger discussions around pop culture aren't always in sync with the business practices shaping pop culture. The day's other big media news contains the same lesson. To hear Playboy tell it, the magazine didn't nix its nudity because of feminist criticism for how it commodified bodies; it did it because online pornography made its photos less exciting to the kind of people who used to subscribe. In other words, it changed because of the spending habits of some of the same men that Conde Nast just paid to reach.