'Stories Are a Living Thing'
The ex-Granta editor John Freeman on how the author Louise Erdrich perfectly interprets Faulkner
By Heart is a series in which authors share and discuss their all-time favorite passages in literature. See entries from Karl Ove Knausgaard, Jonathan Franzen, Amy Tan, Khaled Hosseini, and more.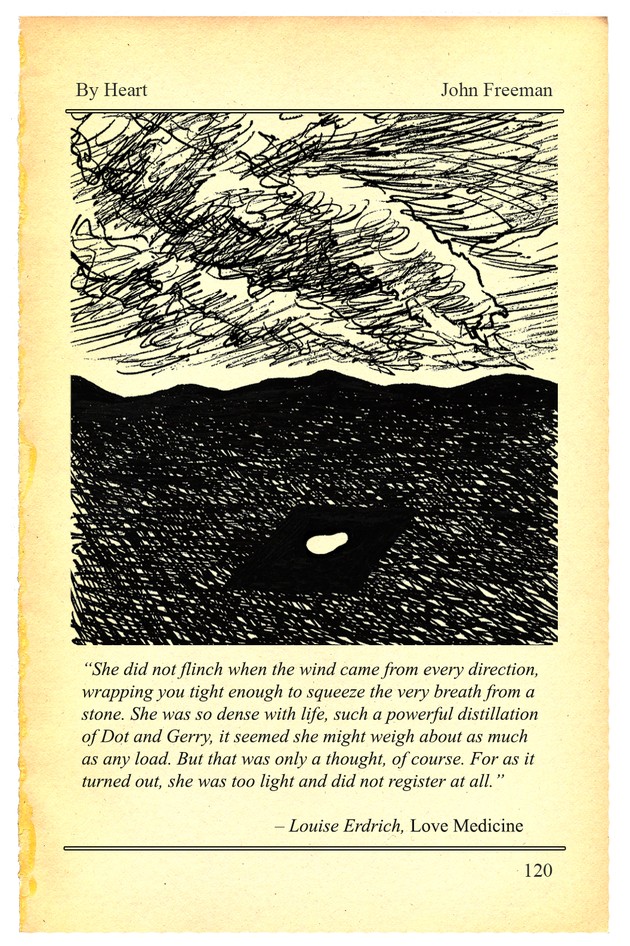 When John Freeman stepped down as the editor of Granta in 2013—in a much-publicized protest against the budget cuts at the celebrated British journal—the literary world waited to see what he'd do next. Since then, he's been busy writing book reviews, editing an anthology of essays on New York City life, and publishing his own book of interviews with writers like Toni Morrison and Don DeLillo. But it wasn't until this month that Freeman finally returned to where he's likely most comfortable: at the helm of a literary journal. The new endeavor, Freeman's, is more like a recurring anthology than a traditional magazine—two themed, book-length issues will be published each year by Grove Press. The first issue, "Arrivals," features titans like Haruki Murakami and Lydia Davis alongside emerging writers.
When I spoke to Freeman for this series, he explained his attraction to the work of Louise Erdrich, the National Book Award-winning novelist who's featured in the first Freeman's. Erdrich, he told me, knows how to tell a story as well as anyone alive; he pointed to a favorite chapter from her 1984 novel Love Medicine, and tried to account for her particular brand of narrative magic. We spoke about why some stories snare us more than others, why his new magazine doesn't even have a website, and why he thinks print books will prevail as our favorite way to read.
Freeman, the former president of the National Book Critics Circle, is also the author of the nonfiction book The Tyranny of Email, and his poems have appeared in venues like The New Yorker. He spoke to me by phone.
---
John Freeman: I first read Louise Erdrich's Love Medicine in 1992, when I was a college student at Swarthmore. It was one of the first books I read where, based on the picture on the back flap, the author was younger than my mother. At the time, I'd read only the kinds of books they assigned in public high schools in California, where I grew up. I'd read almost nothing by anyone living, obviously—because why would you do that? Books were by dead people.
The first reading bowled me over. Love Medicine is a book about people who are, to some degree, invisible, and the invisible forces that determine their lives: love and betrayal and heritage. What was remarkable to me was the way it took all the narrative complexities of Faulkner and reinterpreted them onto this reservation on the edge of North Dakota. The book managed to convince me that stories—mutually shared, argued over, and fought for, as they are in Faulkner—are a living thing. (A thing with unique power for Native Americans, whose history was entirely co-opted, and possessed largely by the tellers of those tales.)
Erdrich herself is a master storyteller, too—she is, you think, someone who's been around storytellers her whole life. (Now that writing can be taught, I think we underestimate the power of being around good storytellers. Erdrich has clearly learned from the best.) Her language isn't particularly fancy. It's practical. She just tells you and shows you things—and, along the way, this magical effect happens.
My favorite chapter, which was also published in standalone form as a short story called "Scales," is told in the first person by a woman, Albertine Johnson. She becomes friends with a pregnant woman, Dot, whose Native American boyfriend, Gerry, is always breaking out of prison. Over the course of the chapter, as Dot gets closer to giving birth, their friendship gets closer and closer—and Gerry keeps running farther from the law.
This story works, on the one hand, because of its plot—the buildup of tension around Dot's pregnancy, and Gerry's journeys in and out of jail. Erdrich is thinking about meaning and love and justice through the action, and through what the characters do. If it were just this, though, it might be slightly melodramatic. What makes it work is the way Erdrich also manages to include images that somehow distill this situation, its characters, and the truth of their emotional lives.
My favorite example of this comes at the very end of the story. The two women have been working at a weigh station, where they weigh trucks full of gravel on state roads. When Gerry gets captured—killing someone in the process—all they have left of value is a child, Gerry's child. And so they put this little baby on the truck scales:
Dot and I continued to work the last weeks together. Once we weighed baby Shawn. We unlatched her little knit suit, heavy as armor, and bundled her in a light, crocheted blanket. Dot went into the shack to adjust the weights. I stood there with Shawn. She was such a solid child, she seemed heavy as lead in my arms. I placed her on the ramp between the wheel sights and held her steady for a moment, then took my hands slowly away. She stared calmly into the rough distant sky. She did not flinch when the wind came from every direction, wrapping you tight enough to squeeze the very breath from a stone. She was so dense with life, such a powerful distillation of Dot and Gerry, it seemed she might weigh about as much as any load. But that was only a thought, of course. For as it turned out, she was too light and did not register at all.
This passage literally took my breath away when I first read it. Taken out of context, it's magical and strange a little bit weird—what they're doing is odd and impractical, a little bit like trying to weigh the soul. But there's a real sadness that the things Erdrich's characters cherish cannot be weighed at all, because they're not valued in the world they inhabit. Dot and Albertine are trying to find some confirmation that the world registers the things that are important to them. This huge scale made for trucks is designed to measure raw materials, things that are ripped from the earth. But a child, with a heart, and a brain, and lungs? That, it can't do.
When Erdrich couples her dramatic plot with an image as powerful as this one—a baby in a too-tight winter suit, being weighed in the middle of a wind that's almost strong enough to knock it over—that's where the magic happens. When action and image combine in this way, plot becomes a story.
One of the hard things about editing is that it's very hard to find moments like this one that make everything work. Say this same story came in as a submission, but it was just the plot. You can't as an editor, say, "Why don't you have them weigh a baby?" You can only say, there's something missing. It's up to the writer to have the imagination to figure out what that will be.
One of the amazing things about Erdrich is that she never tries to instruct you about the past or history. Yes, her books are about justice and historical memory and the terrible cost of violence—and mostly about family and love—but she's never didactic about the content. Instead, she just tells stories. She doesn't press her own ideas and interpretations down into her books. Language contains meaning that is greater than our intended meaning—and Erdrich, of all the living American writers, uses that capacity to the greatest ability. Her work feels huge as a result—an entire universe contained inside a North Dakota town.
I think in order for stories to take off, they have to leave the artist behind in this way. This is true even with someone like David Mitchell, who's like a Philip Johnson or Rem Koolhaas of narrative architecture. All the world writers that we hold onto and treasure, they're magicians of narrative—the magic trick is their ability to make something bigger than themselves. The Halldór Laxnesses and the Elena Ferrantes and the Günter Grasses and the Murakamis—there's always something oracle-like about them. It's not that they explain the world. It's that what flows through their stories seems far bigger than what can be contained in one life, one body, one organism. That's the quality that brings me back to Louise Erdrich.
That deep, immersive experience of reading around a theme … is an experience, I think, that's best had between the covers of a book. Scrolling and toggling and moving from screen to screen is trance-like, sure. But it's a different experience, physically, to spend two hours on the Internet versus two hours in a book. Your body feels different. Your eyes feel different. Online, the form and the content are working, to some degree, against each other.
But, happily, you see the recent data: E-book sales are down, bookstore openings are up, people are returning to the physical book. And when people do read online, they are reading longer pieces. People do seem to miss that immersive experience. I think it's something essential to the interior lives of people who think.
If you look logically at books, everyone should be reading on e-books. They're better paper-wise. They're better and more efficient for your back. (I'm travelling right now and I seem to have about 20 books with me.) But maybe storytelling is a greater faculty than reason. The narrative experience, the storytelling experience that you get from a book seems to be more immersive for many people. So, in some ways, it's a good time to be starting an anthology or a journal in print.
As an editor there's a certain perfection that you look for, that perfect wrapping of form around meaning. So much of Louise Erdrich's intelligence is braided into the graceful and instinctual ways she tells a story. When you try to articulate why her pieces work, it's very hard to pry apart the craft from the meaning of the stories. To me, that's always a very, very good sign.