Beasts of No Nation: A True Horror Story
Cary Fukunaga's made-for-Netflix film centers on a child soldier drafted into an unnamed conflict in Africa.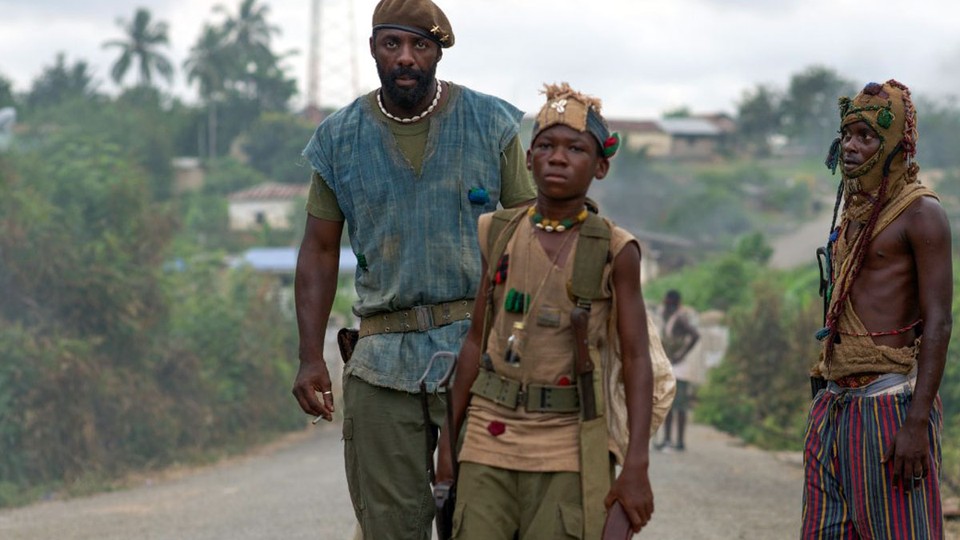 Beasts of No Nation, which arrives simultaneously on Netflix and in theaters Friday, is the latest example of a work that's dissolving the distinctions between television and film. For starters, it's written and directed by Cary Fukunaga, who's achieved notable success in both mediums with the movies Jane Eyre and Sin Nombre, and his Emmy-winning work on the first season of True Detective. But as much as Netflix has revolutionized distribution, it's still best to head to theaters to experience the full visceral impact of Beasts, which is driven by the horrifying experience of an African child soldier.
Fukunaga's script is based on Uzodinma Iweala's 2005 novel of the same name, and follows a West African boy, Agu (Abraham Attah), who's torn from his family by militants and eventually inducted into a mercenary unit by a charismatic, unnamed Commandant (Idris Elba). This is a film much more concerned with the business of indoctrination than the details of whatever conflict Agu is involved in. That's where Beasts of No Nation both succeeds and fails: The ambiguity of the plot allows it to tell a more universal story, but the powerful vagueness hurts the film's ability to do more than straightforwardly depict the brutal life of a child soldier.
The film opens on Agu's peaceful life in an unnamed village in West Africa, which is quickly shattered by the incursion of a larger civil war that seems reminiscent of events in Sierra Leone, Liberia, or Nigeria. Abandoned and walking through the jungle, he's picked up by a child militia commanded by Elba's unnamed soldier. Rather than dismiss or kill him, in the film's most telling moment, the Commandant instructs his charges to respect Agu's potential. "A boy is a dangerous thing," he lectures, and indeed Agu soon becomes one of his surrogate sons, toting an AK-47 and executing captured prisoners on orders.
Attah is incredible in his film debut, never quite losing Agu's childish gait but visibly dulling the light in his eyes as he sinks deeper into his new world. Elba exudes his typical magnetism in the film's first half, playing the Commandant as not a psychotic general barking orders, but a charming, often frightening father figure who sometimes taps Agu on the head, reminding him that he spared his life. As the civil war continues and the Commandant's grasp on authority slips, that's where Elba truly comes into form, looking vulnerable and sad without quite shedding his natural charisma.
Fukunaga is a brilliant visual stylist who has always managed to maintain a story's humanism through the most bravura sequences, and that's one of the biggest strengths of Beasts of No Nation. It includes a 15-minute "horrors of war" set-piece in the middle of the film that features the kind of long takes and surreal motifs that distinguished True Detective. (An ambient score by Dan Romer gels slightly more awkwardly, but at least avoids the obvious trope of using more traditional African music to fit the setting.) But coupled with that is a frustrating lack of detail on what's happening or why, placing the audience in the same indoctrinated state as Agu. Beasts tells a broadly traumatic story and tells it well, but lacks the kinds of specifics that could make it a truly memorable film.
Hence: If you're going to see Beasts of No Nation, try to see it in a theater, or at least lock yourself in the room with your television. Fukunaga's greatest achievement is how he communicates the hopelessness of Agu's situation without shying away from the evil acts he eventually commits. Netflix's experimentation with film distribution—it partnered with the indie label Bleecker Street to show Beasts in a limited theatrical release—is a fascinating one, because it immediately grants a much wider audience than most art-house films get on release. But it also lets you press pause and walk away, which seems beside the point with an unflinching film like this one.
To his credit, Fukunaga is obviously trying hard to avoid making Beasts of No Nation an "issue" movie, one tackling a specific conflict for viewers to be outraged about. Instead he wants to investigate the broader emotional and spiritual damage suffered by the world's estimated hundreds of thousands of child soldiers. A voice-over by Agu keeps viewers in his mindset, never letting go of his adolescent language and viewpoint, even while he murders strangers on command. But since there's no larger story to hold on to, the film's two hour, 16-minute running time does drag, and the inevitable third-act collapse of Agu's unit happens in excruciating slow motion even though its broad strokes are easy to predict. Beasts of No Nation succeeds on a visceral level, but lacks the unique perspective on the horrors of war its subject could have afforded.