Amy Schumer Tackles Guns on SNL
In her debut effort hosting the show, the Trainwreck star appeared in an unsettling video skit mocking the ubiquity of weapons in American lives.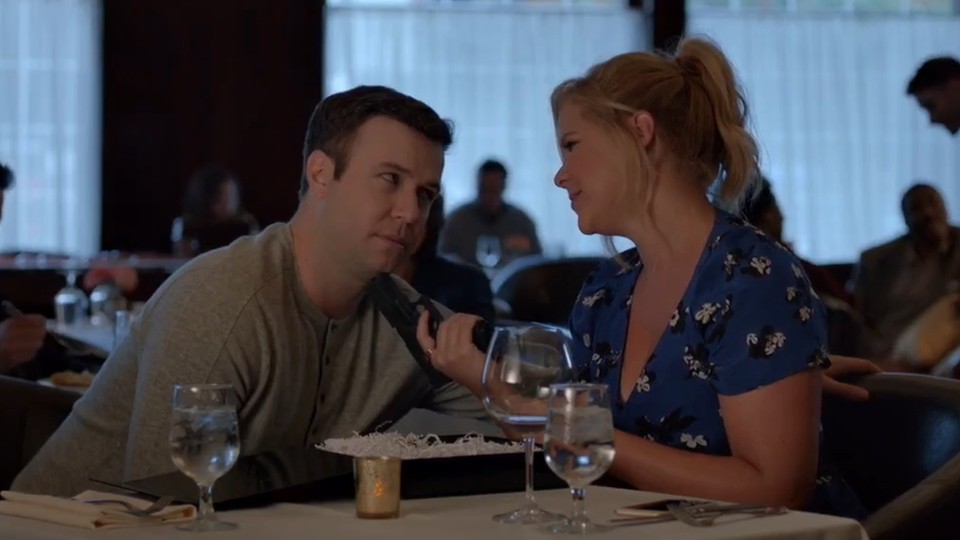 Amy Schumer's first-ever gig hosting Saturday Night Live was widely anticipated for a number of reasons: Few comedians this year have had more success with the topical, incisive, irreverent sketches SNL has pioneered. But her debut might be best remembered for one particularly timely short above others.
In a sharp, unsettling video skit, Schumer played a woman waiting in a restaurant alone, as the camera cut to scenes of other cast members going about their days. A grandfather (Kenan Thompson) went through an old photo album next to his distracted grandson (Jay Pharoah); a woman (Kate McKinnon) stretched before going for a run; a man (Kyle Mooney) and a woman (Sasheer Zamata) made eyes at each other across a crowded room; another woman (Vanessa Bayer) about to give birth headed to the hospital in a cab with her anxious husband (Bobby Moynihan). The thread tying all these lives together: guns.
Schumer unwrapped a gun, a gift from her boyfriend, tenderly touching it to his face. McKinnon brandished her pistol while jogging. Bayer gathered her shotgun before walking into the hospital. Moynihan presented his newborn baby with a tiny revolver. Mooney and Zamata played Spin the Bottle over a rotating gun. Thompson finally got his grandson's attention by bringing out a vintage handgun. This was all accompanied by the bland, piano-heavy music favored by antidepressant ads, and a woman's voice describing how guns bring people together. The final slogan, hammered home by the sight of guns becoming an ever more normal presence in people's lives, was "Guns: We're Here to Stay."
The sketch was notable because SNL wading into the gun debate is something of a rarity. In 2011, the then-Weekend Update host Seth Meyers joked about the very different technology that made guns considerably less deadly during the time the Second Amendment was ratified, and imagined the Founders' horror if they could see the reality of guns today. In Saturday's episode, Weekend Update hosts Michael Che and Colin Jost tackled the topic once again in a debate about gun control. "I know the forefathers said you have a right to own guns, but they also said you had a right to own people," Che joked.
It's also noteworthy that Schumer was featured: In July, the star was horrified after a mass shooting in Lafayette, Louisiana, during a screening of her movie Trainwreck left three people dead and nine wounded. "My heart is broken," she wrote on Twitter. After an open letter posted online pleaded with Schumer to "demand change" and "be a voice for our generation and for women" in terms of advocating for gun control, Schumer replied, "Don't worry. I'm on it. You'll see."
As mass shootings become more of a daily reality in the U.S., they're almost certainly a topic that comedians—in their roles as the new public intellectuals, as my colleague Megan Garber has written—will increasingly tackle.