For Better or Worse, Kanye West Is Democratizing Fashion
Yeezy Season 2's unveiling generated wider media chatter than any other designer's work could hope to.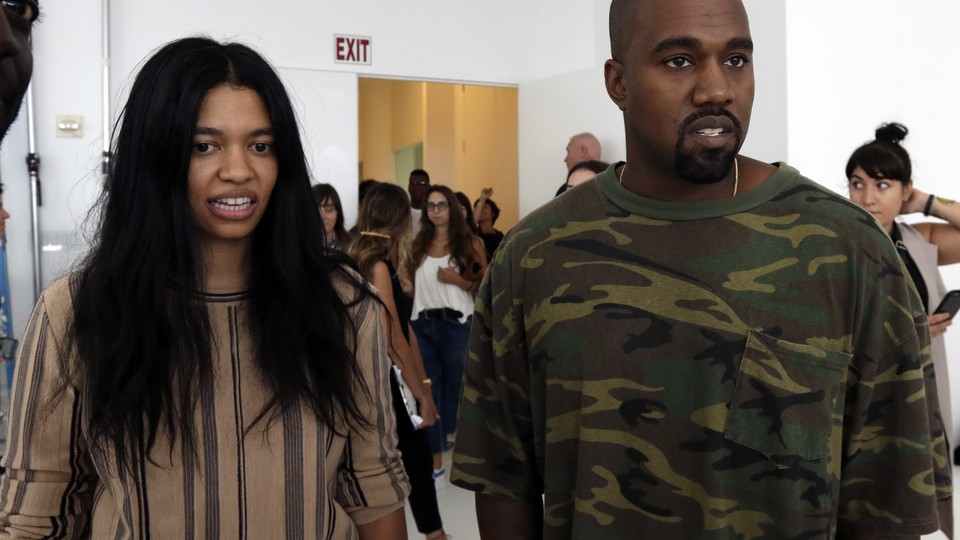 Kanye West is possibly the biggest Will Ferrell fan there is, so there can be little doubt he knew that his shabby-chic fashion line would immediately be compared to Derelicte, the homelessness-inspired line pioneered by Ferrell's designer-villain Mugatu in Zoolander. There's little chance, too, that he's surprised about comparisons to The Walking Dead zombies, Hunger Games revolutionaries, and the episode of Project Runway where the challenge was to imagine the future and the contestants just came up with sad Ewok hoods.
At fashion-minded publications, though, you'll see references to other cultural touchstones that West draws from—or, some say, rips off. The rapper's previous clothing collections have been compared to Helmut Lang, Alexander Wang, and Rick Owens, a fact for which he declined to apologize, saying "I don't care if you can see the influence in something, as long as I made it better."
I have no idea whether he made it better. Most of the people slinging Zoolander jokes probably don't, either. High fashion, the world in which West has inserted himself, is like any other art form with "high" in front of it—a place where traditions and codes have been developed by a subculture over years, and that is somewhat impenetrable to outsiders. West's stated mission has been to open up that world, to democratize it, primarily by making ultra-edgy styles cheaper for all. Judging by the three-and-four-figure pricepoints recently revealed for his Adidas-backed Yeezy Season 1 pieces, he's so far failed in that mission; then again, he's said all along it would take time: "My end goal 10 years from now would be to have everything at a Zara level."
In one way, though, West has in fact created a populist disruption in the fashion world, simply by getting a whole lot of new people to pay attention to it. West's show was livestreamed on the Internet and simulcast in movie theaters around the globe; he premiered a song there, and the crowd was a mix of fashion luminaries like Anna Wintour and pop ones like Drake. As a result, trending on social media, it created a bigger buzz—not in the fashion world but the entertainment world—than any Fashion Week show in recent memory.
This is not unambiguously positive. The designer Anne Bowen's showcase was already scheduled for the same time slot as the surprise Yeezy Season 2 unveiling, and she argued that West's celebrity meant her hard work would be overshadowed:
Kanye knows he is a media sensation and it is just not ethical to do this. It's like we are David and he is Goliath. We have put our heart and soul into our show, and should not be stepped on like this.
It might be small consolation that West's influence could mint a few new fashion obsessives who'll pay attention to Bowen and her peers in coming years, and maybe even talk about their clothes in a vocabulary that goes beyond the realm of mass-culture movies and Internet jokes.