Tig Notaro and Christina Ricci Head Up Amazon's Six New Pilots
The company is making its biggest play for subscribers yet via names like Louis C.K., Sacha Baron Cohen, and Grace Gummer.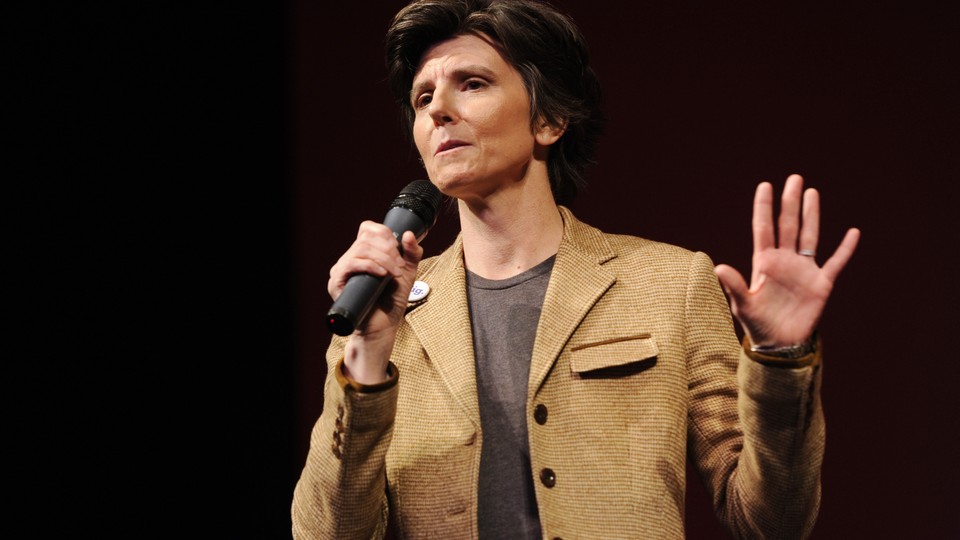 The streaming TV revolution is well underway, although for all the hoopla, Netflix is still the only online network with a large stable of well-known, award-winning shows. But after some big-ticket triumphs at the Emmy Awards, Amazon Studios is poised to build on the success of its comedy Transparent with a slate of new pilots featuring big-name stars (Tig Notaro, Christina Ricci) and even bigger-name producers (Louis C.K., Sacha Baron Cohen).
Amazon's methodology retains a unique approach in the world of TV programming. Every season, the pilot episodes the studio orders are posted online for Prime viewers to watch, allowing viewers to help inform the process of what gets ordered to series. But after a few years in which dozens of pilots were left abandoned online, the success of Transparent (which won five Emmys last Sunday) has encouraged a more focused approach, and attracted bigger names to the network. Where Amazon's first "season" had 14 pilots, this seventh cycle has only six, and on paper each has the kind of star power and creative clout to earn a full 10-episode order. The network's early democratic approach encouraged existing users to participate but failed to significantly boost its user base; now, Amazon is taking the more traditional approach of trying to attract new viewers with recognizable names.
Like the comedian Tig Notaro, whose comedy special performed well for Netflix this year and who's seen great success since her groundbreaking, candid 2013 stand-up set Live, in which she discussed the death of her mother and her cancer diagnosis. Her pilot Our Mississippi is loosely autobiographical, with Notaro playing a comedian who returns to her childhood home, with Casey Wilson (Happy Endings) playing her girlfriend. The series was shepherded to screen by Louis C.K., who originally encouraged Notaro to release the recording of Live (which was an unplanned, spontaneous piece of comedy), and is directed by Nicole Holofcener, a master of melancholic comedic films like Lovely & Amazing and Enough Said.
Our Mississippi sounds like it will occupy the same genre-blurring territory as Transparent, which is classified as a comedy but contains some of the best dramatic acting on TV right now. The same might go for Good Girls Revolt, based on the landmark sexual-discrimination cases fought by female Newsweek employees in 1969, chronicled by Lynn Povich in her non-fiction book of the same name. Of the strong ensemble, perhaps the most intriguing name is Grace Gummer, who plays Nora Ephron—continuing the legacy of her mother Meryl Streep, who played a character based on Ephron in the 1986 film Heartburn.
Other pilots include Edge, a grim-sounding Western set after the Civil War, created by Shane Black of Lethal Weapon fame (as well as the more recent cult classic Kiss Kiss Bang Bang). The offbeat comedy Highston, from the Nebraska writer Bob Nelson, is about a teenager who is friends with celebrities only he can see (allowing Shaquille O'Neal to make a cameo in the pilot) and is executive produced by Sacha Baron Cohen. The political thriller Patriot, written and directed by Steven Conrad (The Secret Life of Walter Mitty), sounds like a darkly comic take on Homeland, with an intelligence officer taking a middle-management position at a Midwestern factory. The biographical series Z zips to yet another period setting, exploring the life of Zelda Sayre (Christina Ricci) in the 1920s Jazz Age, as well as her tumultuous marriage to F. Scott Fitzgerald.
Unlike earlier Amazon pilots, which were largely cheaply made and set in the present day, this slate sounds like it could belong on HBO or any other top-flight premium network, spanning various historical periods and offering complex riffs on more-established genre television. The next stage retains the network's open-source approach—the pilots will be posted online and viewing information and user reviews will supposedly help inform Amazon's decision-making process regarding what to order to series. But as the shows get more expensive, complicated to produce, and easier to advertise, those decisions may become largely academic for a company that's doing everything it can to snag new annual-subscription fees.