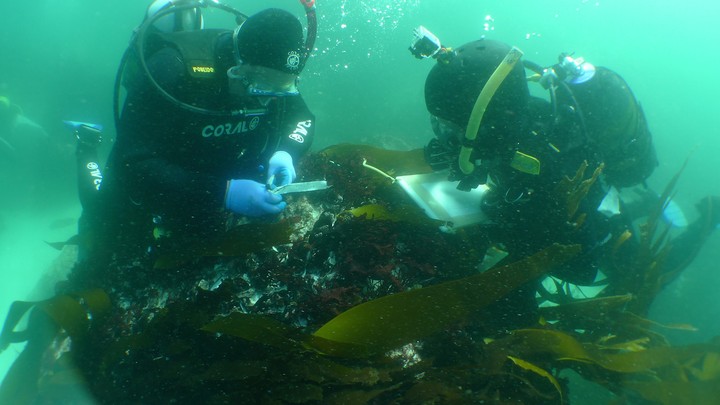 In late December of 1794, the São José, a Portuguese ship whose cargo was 400 humans captured from the interior of Mozambique, found itself caught in heavy winds off the coast of Cape Town, South Africa. Just over 300 feet from shore, facing heavy waves, the ship struck submerged rocks. Its captain and crew, along with half of the enslaved Africans it carried, escaped alive; the rest of the people aboard the ship perished.
The ship, for its part, sank.
When it opens to the public this time next year, in late September of 2016, the Smithsonian's National Museum of African American History and Culture will exhibit pieces of the São José. Those pieces will include the iron ballasts used to weigh the ship down and the copper fastenings that held the various wooden pieces of the ship together. They will be small pieces, but they will be meaningful.
And that will be in some small part because of how rare it is to see this particular kind of exhibit. As the museum's director, Lonnie Bunch III, has noted: "There has never been archaeological documentation of a vessel that foundered and was lost while carrying a cargo of enslaved persons."  
Finding the São José was a distinct challenge—and only partially because, when he started, Bunch hadn't realized that it was the São José he was looking for. He simply knew that he wanted to bring a slave ship—not just a diagram, but an actual ship—to the museum's visitors.
"As I began to think about what this museum should be," Bunch told the Bloomberg columnist Margaret Carlson during the Washington Ideas Forum on Wednesday, "I realized that even if we made it the most technologically sophisticated museum, it would fail, because at the Smithsonian, people go to see the Greensboro lunch counter or the Wright flier."
"So I thought, 'What it is it that people haven't seen?' And I thought, 'a slave ship.'"
Bunch figured that finding such a ship would be fairly simple—this was the Smithsonian, after all, and there had been many, many slave ships in operation—but that assumption didn't take into account the fact that, as he put it, "almost every slave ship was on the ocean floor."
So Bunch and his team joined forces with scholars from around the world—creating a project, basically, to map the ocean floor. They talked with government officials in their attempt to find and acquire ships. ("We thought we had a slave ship that went to Cuba—oh, I can tell you for hours about negotiating with the Castros about getting the slave ships from Cuba," Bunch told Carlson.) They employed divers to explore their findings.
Finally, the ocean-scouring team found the São José. Or, more specifically, the wreckage of the São José. The vessel, they discovered, "represents one of the earliest attempts to bring East Africans into the trans-Atlantic slave trade."
But then came the logistical problems—or, well, more logistical problems. "I didn't want to bring up an entire ship, because it's in pieces," Bunch told Carlson. "I just wanted to have a few almost religious-like relics." Even small pieces—even those relics—would allow people, Bunch thought, to think of the slave trade not as an abstraction: not just as something "where 15 or 20 million people were involved." He wanted instead something smaller-scale. Something that had been, literally and otherwise, touched by humans.
"My goal was to humanize history and make it accessible to people," Bunch said. And a ship—even, and especially, pieces of a ship that have long laid on the ocean floor—achieves that, he thinks. Those pieces speak to a history that is all too human. They whisper, silently but insistently, "Here were 400 people touched by this."
We want to hear what you think about this article. Submit a letter to the editor or write to letters@theatlantic.com.
Megan Garber
is a staff writer at
The Atlantic
, where she covers culture.