The Next Great TV Show (If Someone Will Make It)
The case for Aubrey & Maturin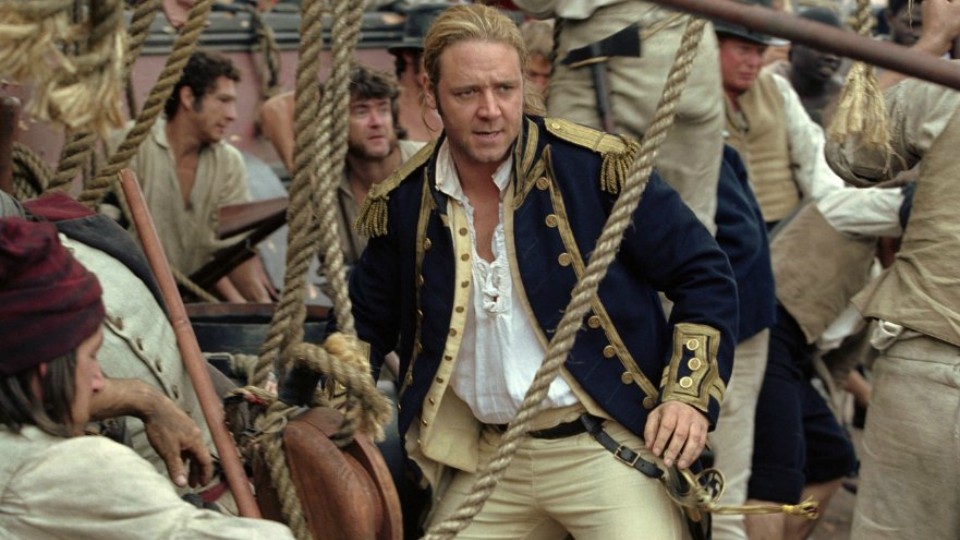 Fifteen years ago, when I finished reading Patrick O'Brian's magisterial 20-novel Aubrey-Maturin series for the first time, I remember thinking, damn you, Horatio Hornblower. C.S. Forester's renowned nautical protagonist was at the time enjoying the starring role in the British TV series Hornblower, and given the close similarities to O'Brian's oeuvre—both concern the Royal Navy during the Napoleonic era—it seemed unlikely bordering on inconceivable that anyone would try to adapt the latter for television.
That was, of course, at a time when it almost went without saying that a project of such scope and pedigree would have to be British. But the televisual times have since changed immeasurably for the better on this side of the Atlantic, and now it's easy to envision O'Brian's books—which The Times Book Review has hailed as "the best historical novels ever written"—being adapted by any number of networks: HBO, obviously, but also AMC, FX, Netflix, USA … the list grows longer by the month.
Which is a very good thing, because if someone would merely get around to undertaking them, the Aubrey-Maturin novels could easily provide material for exquisite television, offering the action and world-building scale of Game of Thrones, the social anthropology (and Anglo-historical appeal) of Downton Abbey, and two central characters reminiscent of (though far more deeply etched than) Rust Cohle and Marty Hart in the first season of True Detective. Someone really needs to make this happen.
I was reminded of this when I rewatched Peter Weir's 2003 big-screen O'Brian adaptation, Master and Commander: The Far Side of the World, on a recent transatlantic flight. It is a fine film (I reviewed it here), but it scarcely attempts to scratch the surface of its principal characters, let alone the rich supporting populations who orbit them.
Those principal characters are Captain Jack Aubrey—brave, gregarious, impetuous, not infrequently subject to romantic indiscretion—and his ship's surgeon, Stephen Maturin, an accomplished but introverted scholar and naturalist. (He's also gradually revealed to be a high-level spy, as well as an uncommonly gifted duelist and assassin.) The two meet-ugly at a concert in Minorca on April 1, 1800—Maturin is infuriated by Aubrey's tapping to the beat "a half measure ahead"—but quickly become fast friends in part thanks to their shared love of music. Together they form what Christopher Hitchens described as "one of the subtlest and richest and most paradoxical male relationships since Holmes and Watson."
In Weir's film, Aubrey and Maturin were played, respectively, by Russell Crowe and Paul Bettany. And while both actors offered solid performances, neither was particularly well-suited to his role: Crowe is too dark for Aubrey, and Bettany not dark (or small) enough for Maturin. Properly cast—a pairing such as that of Chris Hemsworth and Daniel Brühl in Ron Howard's underrated Rush would be closer to the mark—both are potentially career-defining roles, Maturin in particular.
Though you wouldn't know it from Weir's film, which took place entirely at sea, O'Brian provides solid female roles, too, in Aubrey and Maturin's contrasting love interests, Sophie Williams and, especially, Diana Villiers. (It's no coincidence that the author to whom O'Brian is most frequently compared—more than Melville or Conrad or Forester—is Jane Austen.) Outwards from this core are found an absurdly generous constellation of supporting characters: Tom Pullings, Barrett Bonden, Preserved Killick, Padeen (if he wasn't an inspiration for George R.R. Martin's Hodor, the resemblance is a remarkable coincidence), Sam Panda, Mrs. Broad, Clarissa Oakes, Heneage Dundas, Capitaine Christy-Pallière, the poor, doomed Lord Clonfert, and on and on.
There would be some narrative issues to untangle in adapting O'Brian's work for television—chief among them the long, alternating storylines at sea and on land—but material this rich and vast could be sewn together in innumerable ways. And while it would inevitably be an expensive production, Hornblower showed that a similar feat could be pulled off way back in 1998. (Moreover, if financing can be arranged for an excellent but decidedly eccentric literary adaptation such as Jonathan Strange & Mr. Norrell—well worth checking out, incidentally, for those who haven't—surely it could be found for a series with the relative commercial appeal of Aubrey & Maturin.)
So if you happen to know a network executive (or, better yet, are one yourself), please raise the idea with all available alacrity. The possibility of historic television, in both senses of the word, awaits. Until then, we will make do with O'Brian's novels—which, if it is not already apparent, I recommend wholeheartedly to anyone who has not already had the good fortune to encounter them.