The Heartening Success of The Carmichael Show
NBC has renewed the surprise hit comedy, which attracted the biggest summer ratings in a decade.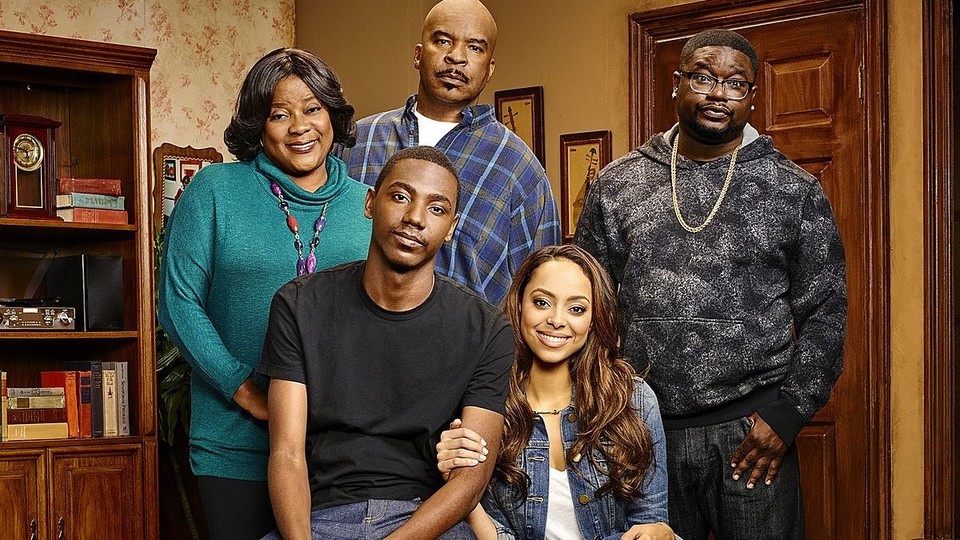 It's usually easy to tell when a network doesn't have much faith in one of its new shows. The sitcom The Carmichael Show premiered on NBC in the summer, after the network television season had formally concluded. Only six episodes were aired, rather than the usual 22 a new show would hope for. But the show—a resolutely old-school multi-camera sitcom that smartly addressed current events without forgetting to be funny—overcame those obstacles to get a second season from NBC after its brief run was hailed by critics and set a summer ratings record.
The Carmichael Show is centered around the comedian Jerrod Carmichael, who plays himself, his liberal-minded girlfriend Maxine (Amber Stevens West) and his more conservative family, including his father, Joe (David Alan Grier), and his god-fearing mother, Cynthia (Loretta Devine). Each episode tackles a sensitive topical issue head-on, with the blunt theatricality of a much older sitcom like All in the Family or Good Times, and in such politically polarized times, the throwback style is extremely refreshing. Episodes titled "Protest," "Gender," "Prayer," and "Guns" sound like they'd be didactic, but they actually allow for varying voices and opinions to be heard, while still being funny sitcom entries.
Unexpectedly, the show became the most-watched summer comedy on network TV in eight years, and actually pulled in more viewers in the second episode than the first. The only other show that accomplished that jump this year was Fox's Empire, which also features a majority African American cast. In other words, 2015's TV ratings continue to demonstrate that there's a major appetite for more diverse TV programming, whether on networks or premium cable.
The Carmichael Show's success was mostly thanks to how it offered a fresh perspective on age-old issues. Flavorwire's Pilot Viruet has written about how the show brilliantly deployed "gallows humor" to deal with current events, like police shootings of unarmed African Americans and the question of how to respond in protest. Other stories the sitcom tackled during its short run featured a teenage basketball player who confides to Jerrod that he's transgender, and Jerrod's real fear that his father's poor diet of fried foods is going to lead him to an early grave.
It's hard to know whether NBC predicted The Carmichael Show would be a success. Running a sitcom in the summer is traditionally seen as a death sentence, referred to as "burning off," because there's very little chance for it to find an audience in August's ratings doldrums. But the rom-com Undateable achieved a similar feat in 2014 for the same network, and has now moved from a summer schedule to primetime. Based on the creative promise shown in its first six episodes, The Carmichael Show should be on the same trajectory.