Is There an Audience for Electronic Dance Music Movies?
Some theories about why We Are Your Friends flopped so badly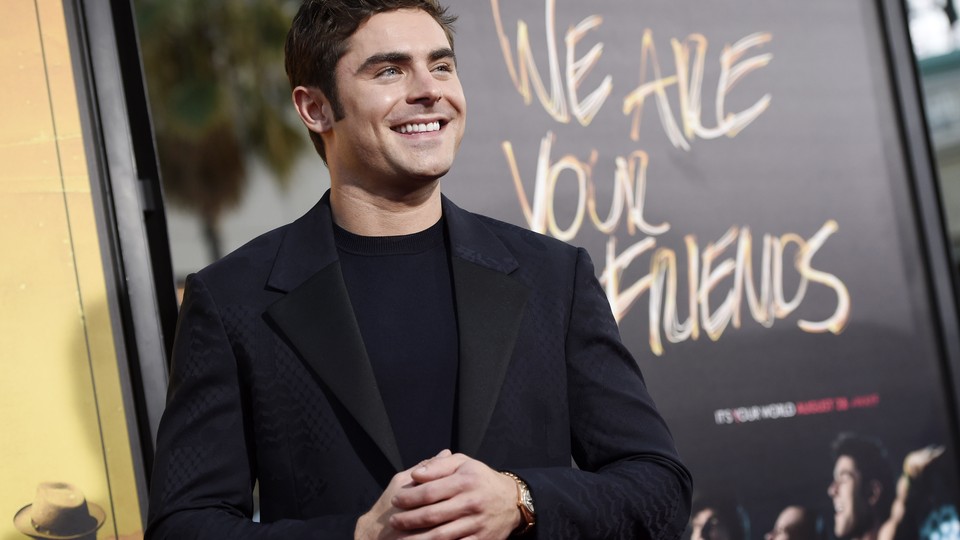 Many of the young festival-goers who've helped make electronic dance music into a $6.9 billion industry, presumably, have some fondness for Zac Efron. The actor starred in the smash franchise High School Musical at the exact same time many of them were of the right age to be watching the Disney Channel.
But We Are Your Friends, a movie combining EDM and Efron, has failed spectacularly. Its $1.8 million haul over the weekend means, according to EW, it had the third worst wide-release opening since 1980.
I wrote about the film last week, noting how it portrayed an ambitious DJ in much the same way pop culture likes to portray visionary rockers and other artists. I said the film is "surprisingly watchable," but I didn't really get into why: the dead-on depiction of suburban Southern California malaise, the appealing performances, and the pulse-quickening soundtrack. The worst thing you can say about the movie is that it's too slick, shot like a credit-card commercial targeting the Coachella crowd.
On Twitter, the music critic Philip Sherburne asked his followers for thoughts on why the film tanked, saying that "a bad opening weekend doesn't reflect on the quality of the film so much as whether there's even an audience for it." Some of the theories that resulted say that most EDM fans ...
… enjoy their music as a weekend activity, not an identity marker (the cultural influence by the genre is too total for this to feel true to me).
… were too busy raving to get to the theater (haha).
… are part of a generation that has "a sense for when its homegrown culture is being co-opted" and the movie "was interpreted as cynical and condescending by many in the EDM community" (definitely true to some extent, judging by the YouTube comments on WAYF's trailers).
At Esquire, Matt Patches suggests that the not-so-cinematic nature of DJ performances—wubba-wubba bass is better felt than watched—contributed, too. But the most fascinating reading of the film's failure comes from Jia Tolentino at The Awl. Like many critics, she points out that the movie's big Hollywood backing and Ken Doll-like star keeps it from feeling fully authentic, but she also picks up on an element of it that I sensed but never quite put a name to. "It's dark," she writes:
The movie's structured like a comedy, but no one is having fun. They are in constant pursuit of fun, but they can't get on top of it, or recognize it, or are too drugged out to remember. The only moment of tangible good emotion comes directly from festival molly; otherwise, everyone's too nervous, too sure that there's something better, always on their way up or down. They're choked with entitlement and dissatisfaction, the L.A. signature that defines [protagonist] Cole Carter's posse: four demanding, lazy hustlers always gunning for a break. Distinctly white in the tenor of their aggression, these guys know it's gonna be better; they're gonna be famous; if you say otherwise, they'll knock you out.
She compares the film with her own experiences as a dance-music consumer, talking about how the joys provided by the music are also, at some point, "ordinary, or something even grosser." To its credit, We Are Your Friends comes close to nailing this. The movie's "crucial ambivalence," Tolentino writes, "is painted over by the scene's real-life participants to a degree that will prevent many of them from enjoying the movie."