The Felt Drudgery of The Muppets
In ABC's new show, Jim Henson's comedy icons produce a late-night talk show—and it makes for a truly dull affair.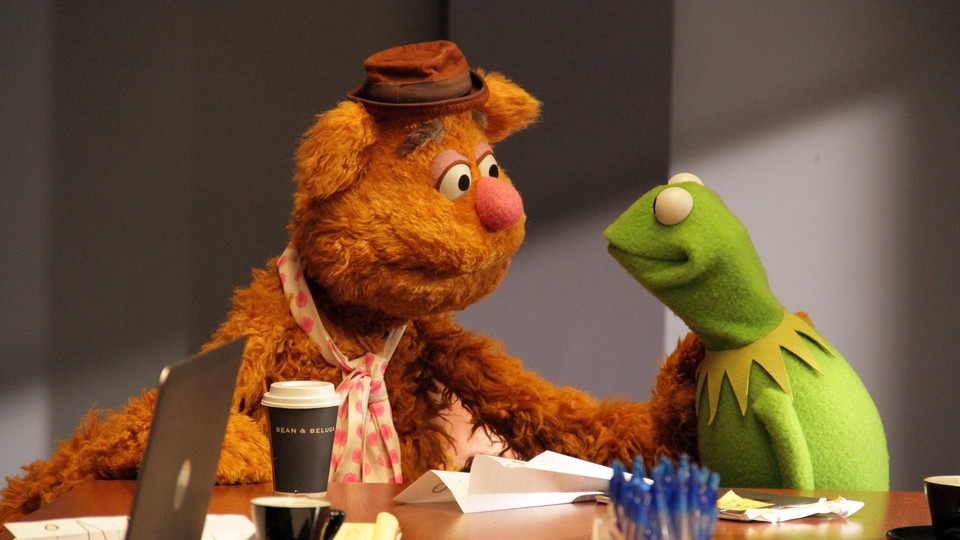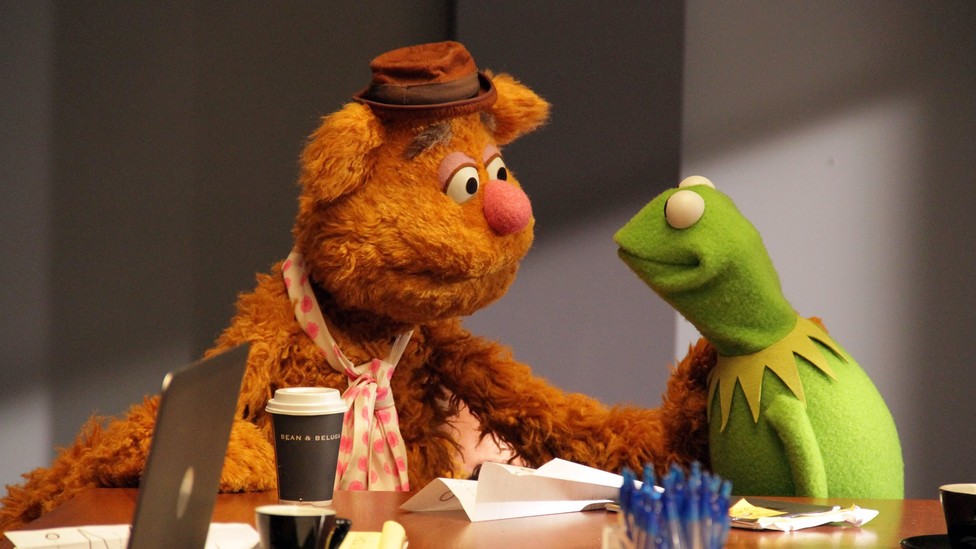 In all of the hoopla over ABC's new "grown-up" take on The Muppets, far too much attention has been paid to the now-knotty personal lives of America's favorite felt creations. Kermit has broken up with Miss Piggy and started dating another pig named Denise; Fozzie Bear is embarking on a complex relationship with a human woman, whose parents do not approve of their cross-species union. It's all very icky if you think about it too hard, which is why the new show doesn't really want you to. What it does want you to think about is the middle-aged mediocrity that Jim Henson's creations have now found themselves in.
The Muppets is the group's first TV show since 1996's Muppets Tonight. And, like its predecessors, it's set behind the scenes of the production, this time on a syndicated talk show hosted by Miss Piggy. Every character is slotted into an assigned role: Kermit is once again a harried producer, Fozzie the cheesy warm-up comic, Miss Piggy the top-billed diva, and other favorites like Gonzo, Rizzo, and Pepe the Prawn litter the writers' room. Celebrity guests can drop by as themselves, poking fun at their public image, and Kermit's new beau Denise generates story drama as a network exec. But entirely gone is the manic energy of The Muppet Show, the classic behind-the-scenes formula that gave Jim Henson's creations their big break. In its place is sardonic drudgery that makes for very unenjoyable viewing.
It's not difficult to guess why The Muppets has gone for the mockumentary formula that helped make shows like The Office and Modern Family easily digestible hits. It's a simple way to make a single-camera sitcom that still features easy punchlines delivered straight to camera, and The Muppets takes full advantage. The gang are also always at their best when they're putting on a show—the Muppets film franchise fizzled out with convoluted stories like Muppets From Space before getting back on track with Jason Segel's 2011 reboot film, where the gang reunites to save their famous variety show. So in The Muppets, ABC has them putting on a show every week. But rather than the singing, dancing, and comedy sketches we'd expect, the Muppets' work life has become as drab as if they worked in The Office's Dunder Mifflin.
Do audiences really want to see Fozzie and Gonzo walking into work clutching coffee like any other regular jobber? How about Kermit having painful conversations with other mid-level ABC stars like Tom Bergeron? Since the show revolves around the unglamorous work of TV production, the wackier, more traditional Muppets humor (like Dr. Bunsen Honeydew randomly tasering his poor assistant Beaker) sticks out awkwardly. Kermit fills the role of the harried straight man as he always has, but his relationship with Denise gives the whole thing an uncomfortable new dimension: The frog hero seems to be trying to escape the realities of his job and his day-to-day interactions with Miss Piggy by rushing into the arms of a one-dimensional facsimile of her. That notion is far more unsettling than trying to unpack Kermit's specific predilections for pig-women.
Denise is the perfect representation of a larger problem The Muppets can't escape: the undeniable fact that since Jim Henson's death, and the retirement of other puppeteer legends like Frank Oz, any Muppets property feels a bit like a cover version of the great original shows and films. Thus even a brand-new character like Denise feels like a copy of a copy (and it doesn't help that she's designed to look more human and less cartoonish than the other puppets, giving her scenes a strange uncanny-valley quality).
That's an unavoidable problem, though. As long as you accept that The Muppets will never quite reach the heights of its forebears, there's still plenty of room for the show to grow from its trudging pilot. It has a competent showrunner—Bill Prady, who got his start working on Henson's shows and later co-created The Big Bang Theory. Though The Muppets's mockumentary premise is worn-out, it offers a skeleton strong enough to support more drama, and every week can at least hinge some humor on whoever the celebrity guest star is (the long list includes Josh Groban, Jay Leno, and Elizabeth Banks). But your enjoyment of The Muppets will likely balance on just how much you care about seeing these characters on screen again, no matter how depressing the circumstances. And even if you prefer the good old days, there's nothing you're missing from skipping this latest entry, the most monotonous Muppet caper of all.