Taylor Swift, 'Wildest Dreams,' and the Perils of Nostalgia
The past is beautiful until you're reminded it's ugly.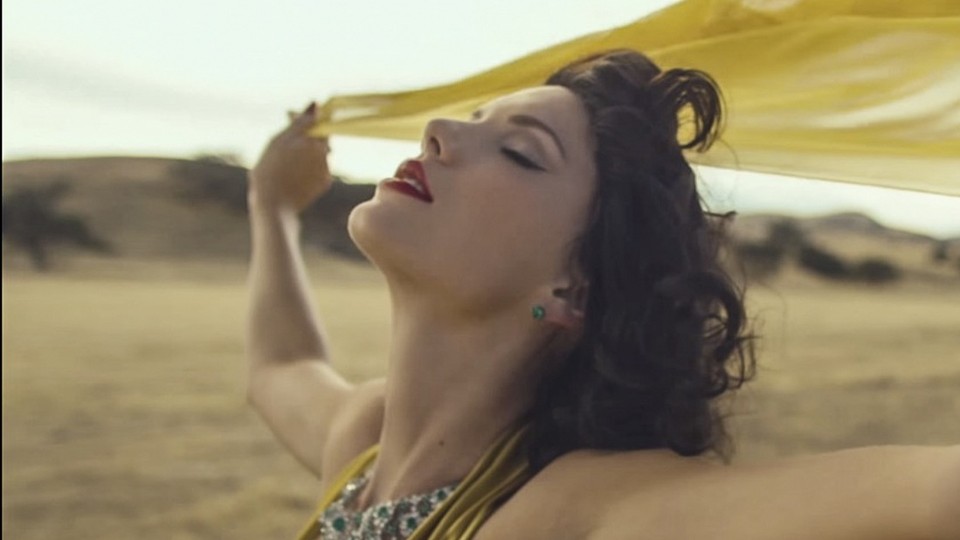 Taylor Swift's music video for "Wildest Dreams" isn't about the world as it exists; it's about the world as seen through the filter of nostalgia and the magic of entertainment. In the song, Swift sings that she wants to live on in an ex's memory as an idealized image of glamour—"standing in a nice dress, staring at the sunset." In the video, her character, an actress, falls in love with her already-coupled costar, for whom she'll live on as an idealized image of glamour—standing in a nice dress, staring at a giant fan that's making the fabric swirl in the wind.
The setting for the most part is Africa, but, again, the video isn't about Africa as it exists, but as it's seen through the filter of nostalgia and the magic of entertainment—a very particular nostalgia and kind of entertainment. Though set in 1950, the video is in the literary and cinematic tradition of white savannah romances, the most important recent incarnation of which might be the 1985 Meryl Streep film Out of Africa, whose story begins in 1913. Its familiarity is part of its appeal, and also part of why it's now drawing flack for being insensitive. As James Kassaga Arinaitwe and Viviane Rutabingwa write at NPR:
To those of us from the continent who had parents or grandparents who lived through colonialism (and it can be argued in some cases are still living through it), this nostalgia that privileged white people have for colonial Africa is awkwardly confusing to say the least and offensive to say the most [...] She should absolutely be able to use any location as a backdrop. But she packages our continent as the backdrop for her romantic songs devoid of any African person or storyline, and she sets the video in a time when the people depicted by Swift and her co-stars killed, dehumanized, and traumatized millions of Africans. That is beyond problematic.
It's hard to imagine that Swift intended to get this reaction, or even anticipated it. But the all-white "Wildest Dreams" video is, in fact, the culmination of a current running throughout her recent output—a powerful but vague nostalgia, defined less by time period than by particular strains of influence that just happen to be affiliated with a certain skin color.
As The New York Times' Jon Caramanica pointed out in his review of 1989, the music on the album contrasts with modern pop by harkening back to when hip-hop hadn't yet infiltrated the mainstream (the only thing she has made in this album cycle that could be thought of as current or futuristic was the "Bad Blood" remix—which, perhaps not coincidentally, included rap). The "red lip, classic thing that you like" and the "James Dean daydream" that are glorified explicitly in "Style" and implicitly in the lyrics of other songs, including "Wildest Dreams," are old-school, definitionally white images of beauty. And the hunky, chiseled love interests of her recent videos ("Style," "Blank Space," and now "Wildest Dreams") have all been white, and all been associated with the past: Gatsby-like aristocracy for "Blank Space," Miami Vice and Instagram-ish memory haze for "Style."
Pointing out these things is not to call Taylor Swift racist, but to emphasize how nostalgia can be inherently political. Swift is white, and she was raised in a society where certain symbols of white dominance and a more-segregated past have been glorified. Popular culture exists in large part to comfort, and the omission of black people from a story set in Africa certainly helps distract from the uncomfortable history of colonialism. But in 2015, there's a growing popular awareness that things often considered "classic" were directly enabled by oppression, and that looking away from the uglier parts of the past will only perpetuate old problems. If that awareness hadn't completely reached Swift with regards to windswept colonial romances set in Africa, the backlash to the video will almost certainly be a lesson.