Who Decides What Makes a Poem Great?
In the debate over whether a byline should be Yi-Fen Chou or Michael Derrick Hudson, everything is subjective.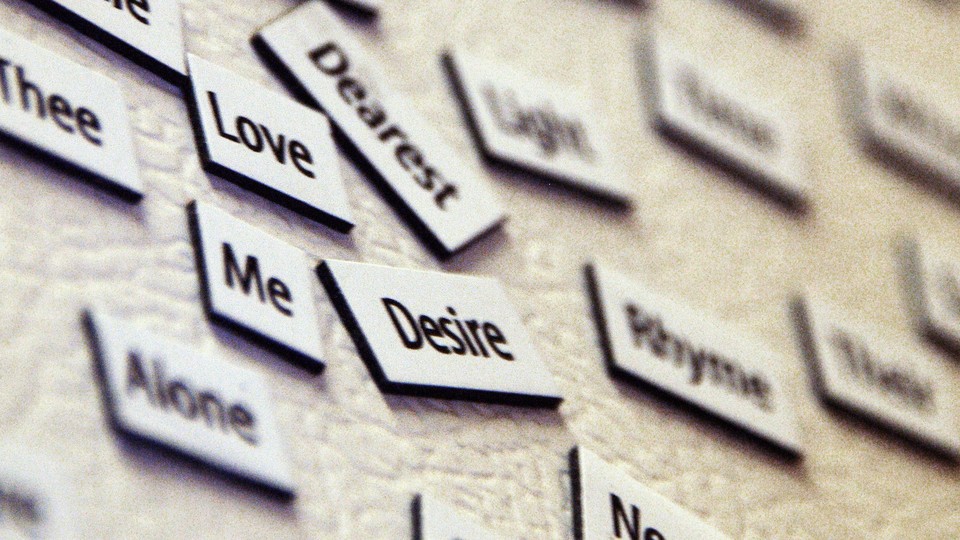 There's an awkward paradox lurking in the bland title of
The Best American Poetry 2015
. On the one hand, the anthology claims to offer something summative, something definitive, something intentionally exclusive: The Best American Poetry. The best! Here are the poems, the volume promises, that are the most worthy and/or the most accomplished and/or the most moving and/or the most formally interesting and/or the most conceptually innovative of all of the poems that were published in a formal or semi-formal capacity in its stated calendar year! As the volume's marketing literature
assures
its potential readers, "
The Best American Poetry 2015
is a guide to who's who and what's happening in American poetry today."
But then there's the book's qualified byline: "Edited by." Which is followed, in this year's edition, by the name of the poet and novelist Sherman Alexie, who did the work, this year, of deciding 1) how to define "best" and 2) which poems made that cut. Which in turns suggests that a more fitting title for this book of Bests might have been The Best American Poetry of 2015 According to This One Poet.  
The subjectivity/objectivity awkwardness—which is of course baked in to the production process not just of
BAP
, but of
The Best American Essays
and
The Best American Short Stories
and
The Best American Magazine Writing
and every other anthology that taps a guest editor in the service of curating a canon—
took center stage this weekend
: It came to light that one of the 75 poems included in
BAP
's 2015 collection was written by a poet who submitted his work under the pseudonym Yi-Fen Chou. The given name of the poet in question is in fact Michael Derrick Hudson. And he is very much not, as his pseudonym would suggest, Chinese American. Nor is he Asian American. He is white. He lives in Fort Wayne, Indiana, where he currently works, he says, at the
Genealogy Center of the Allen County Public Library.
The poem anthologized in
BAP 2015
, listastically titled "
The Bees, the Flowers, Jesus, Ancient Tigers, Poseidon, Adam and Eve
,"
had been, with Hudson as its byline, rejected 40 times. As Chou, it was rejected nine times before it was accepted for publication in the journal
Prairie Schooner.
So while Hudson be-aliased himself in part to make a point—about the identity politics at play in the machinations of the American literary establishment, perhaps about the plight of the white man as an outgrowth of those politics—he also did it, it seems, as a matter of expediency: A pseudonym seemed to be the only way he could get this particular poem published. And Hudson was, partially and belatedly, transparent about that: Upon learning that his poem had been selected for inclusion in BAP 2015, Hudson informed Alexie about the deception.
Alexie published the poem anyway.
That decision—a decision that was Alexie's to make, as 2015's designated arbiter of bestness—has been the subject of controversy, and of mockery, and of anger. ("
YELLOWFACE IN POETRY

," The Rumpus summed it up.)
It is also, now, the subject of
a long blog post
Alexie wrote in response to the controversy. By turns self-flagellating and introspective and charming, the post is valuable mostly because it exposes the paradox inherent in any work that claims to curate the "best of" anything. The whole process, Alexie suggests, is super-subjective! Which of course it has to be. It's one guy, bringing to his selection all the freight of experience and taste and bias and bias-correction that each of us carries around with us, whether we're assessing a poem or deciding which value meal to order at McDonald's.
Alexie, being both a
Native American and
a resident of 2015
, wanted the version of the
BAP
that he got to edit to be diverse. Not just in terms of the types of poems he included in it, but in terms of the types of poets. And so, when he came to a work
by Yi-Fen Chou,
Alexie writes
, "I did exactly what that pseudonym-user feared other editors had done to him in the past: I paid more initial attention to his poem because of my perception and misperception of the poet's identity. Bluntly stated, I was more amenable to the poem because I thought the author was Chinese American."
Alexie, eventually, moved the poem from the "maybe included" to the "definitely included" pile. And then he learned that he had been fooled. ("I was so angry,"
he notes
, "that I stormed and cursed around the room. I felt like punching the wall.") He was going to reject the poem, angrily. But then he thought more about it. He realized that "I would primarily be jettisoning the poem because of my own sense of embarrassment. I would have pulled it because I didn't want to hear people say, 'Oh, look at the big Indian writer conned by the white guy.' I would have dumped the poem because of my vanity."
I had to keep that pseudonymous poem in the anthology because it would have been dishonest to do otherwise.

If I'd pulled the poem then I would have been denying that I gave the poem special attention because of the poet's Chinese pseudonym.

If I'd pulled the poem then I would have been denying that I was consciously and deliberately seeking to address past racial, cultural, social, and aesthetic injustices in the poetry world.

And, yes, in keeping the poem, I am quite aware that I am also committing an injustice against poets of color, and against Chinese and Asian poets in particular.

But I believe I would have committed a larger injustice by dumping the poem. I think I would have cast doubt on every poem I have chosen for BAP. It would have implied that I chose poems based only on identity.

But that's not what happened. In the end, I chose each poem in the anthology because I love it. And to deny my love for any of them is to deny my love for all of them.
Which is another way of saying that Sherman Alexie, the editor of Best American Poetry 2015, defined "best" in an unapologetically subjective way. Or, well, in a subjective way that was also informed by structural considerations of authorial identity and representation. Alexie made judgment calls. As he had to.
"So did I pick the best 75 poems published last year?"
he asks
, by way of concluding his explanation. "Of course not. I picked 75 poems that survived a literary ordeal that happened only in my brain. "
It's useful to read that (and, really,
the whole blog post
) whether you agree or disagree with Alexie's decision in this case or not. It's useful to have an editor of one of these anthologies discuss, in transparent detail, how arbitrary these decisions about goodness and greatness and bestness can can be. We live in a time in which literature is (theoretically) becoming more democratized than it's ever been, a time when fan fiction can make its way from ebook to book-book to feature film and when the barriers to being "published" have been made, to some extent, lower than ever. That dynamic will make the kind of curation the
Best of
series promises, likely, more useful than it's ever been. It will likely help curious consumers—of, in this case, poetry—find the good stuff, the great stuff, the stuff that people who know what they're talking about themselves like and love.
The other paradox of the Best American Poetry 2015 is that its promise of exclusivity is useful particularly because literature itself is becoming—though much, much too slowly—more inclusive.
But! But. The Chou-né-Hudson incident makes clear, on top of everything else, the value of a more networked approach to that kind of cultural curation. Why a single editor, making these sweeping and semi-subjective decisions about literary value? Why not several, making their decision collectively? The Best American Poetry 2015 promises to be, among other things, the first rough draft of the canon. It'd be nice if its poem-selection process reflected that communality.