Samantha Bee Disrupts the Late-Night TV Boys Club
The former Daily Show correspondent, who's the host of a new show on TBS starting in January, will be the only female late-night host on the air.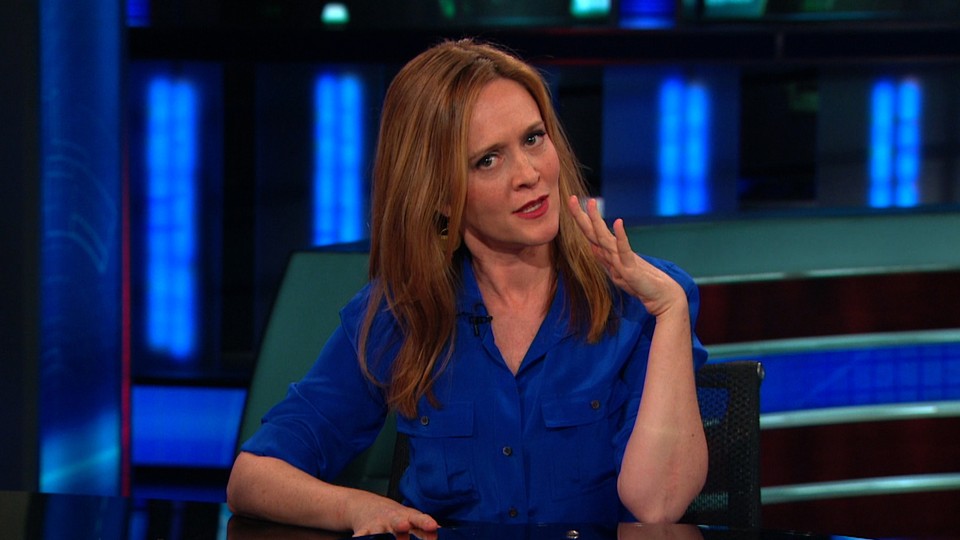 For all the changes happening in late-night comedy, and the new hosts taking the chairs of retired veterans like David Letterman and Jon Stewart, the genre remains one of television's most homogenous fields, populated almost entirely by men. That's a fact Samantha Bee notes in the official announcement for her new show Full Frontal, which debuts on TBS in January. With Chelsea Handler currently off the air (though prepping for a Netflix show) and The Grace Helbig Show in limbo, Bee will be the only female late-night host on the air.
"Don't watch my new show just because I'm a woman," Bee jokes in the promo. "Watch because of my nuanced perspective on world events, my repartee with newsmakers across the ideological spectrum, and of course, these," she says, lifting her skirt to reveal some comically large prosthetic testicles. It seems ridiculous that in 2015 a gag about needing a Y chromosome to host a late-night talk show would be so cutting, but that's how slow change has been in coming to this particular school of television.
Bee, of course, has the chops for late night, and is a much safer choice than TBS's last hire, the stand-up comic Pete Holmes, whose show aired in the slot following Conan for 80 episodes from 2013-14. Holmes's show was frequently brilliant and made a real effort to subvert the formulas of the talk show genre, but he was a largely unproven name in TV and sadly floundered in the ratings. Bee worked on The Daily Show for 12 years and became one of its best-known correspondents, and if she's following Conan O'Brien (still unconfirmed for now), is more likely to mesh with his younger-skewing basic-cable audience.
Still, it's remarkable that Bee is the first female host to emerge in the great late-night shakeup. When David Letterman announced his retirement, CBS and Craig Ferguson also parted ways on The Late Late Show, leaving two big network openings that went to Stephen Colbert and James Corden. Colbert's hiring was, in many ways, a no-brainer. Interviewed in The New York Times today about The Late Show with Stephen Colbert, CBS's CEO, Les Moonves, said, "I know people were clamoring: 'Well, why don't they get a woman? Why don't they get somebody diverse?' All of which we considered." But when he learned Colbert was available, he realized, "There's not anything better than that."
Moonves doesn't address what led him to pick Corden for The Late Late Show, although he's previously commented that he found the British comedian "so appealing" and liked his mix of classic vaudeville comedy with newer, online-friendly stunts. Other recent hires were similar fait accompli to Colbert's; Lorne Michaels had long had Seth Meyers in mind for Late Night on NBC, thanks to his long work at Saturday Night Live, and Jon Stewart personally picked Larry Wilmore to take Colbert's place on Comedy Central at 11:30 p.m., where he's since thrived. The South African comedian Trevor Noah, who takes over The Daily Show this month, remains the biggest unknown, and one of the most agreeably surprising choices by a network in this era.
How Noah and others will fare remains to be see, and the specifics of Bee's show are still to be announced, but on paper, she's a safe bet with tons of behind-the-scenes experience. That such a smart, obvious hire can signal a major change in the late-night landscape shows just how much progress remains for TV comedy in the 21st century.