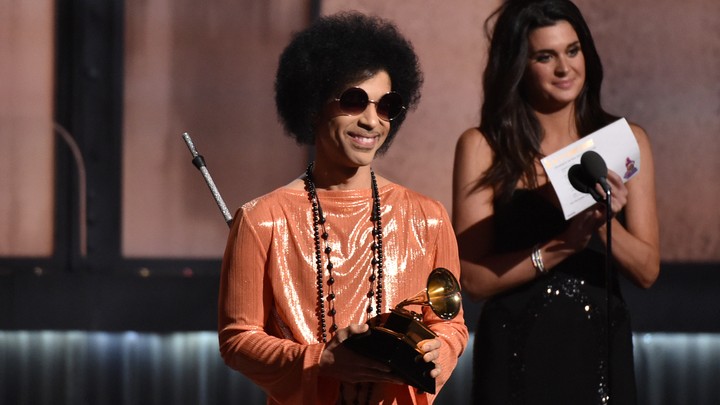 Partway through the second song on Prince's 2014 album Art Official Age, the British singer Lianne La Havas broke through a funk-romantic reverie to play sci-fi nurse. In a spoken-word segment, she told a certain Mr. Nelson that he'd been in suspended animation for 45 years, but that now, "Where you are is in a place where time does not exist."
That very same line is sampled and chopped up on Prince's new release, HITNRUN Phase One, and it's not the only moment of déjà vu. One track is a reworking of another 2014 song, "This Could Be Us," and the album opens with snippets of the Prince classics "1999" and "Let's Go Crazy." Lyrically, he tries to collapse the space-time continuum a number of times; the album closes with him singing that he wishes he'd been born in a different era (on stage at Woodstock, maybe), and at one point he squeals, "Black don't crack / Beige don't age."
Time indeed does not exist on Prince albums. Perhaps that's why he's kept releasing one or two every few years even long after his hit-making days ended. At age 24, on "1999," he established a dichotomy—"I don't wanna die / I'd rather dance"—and at age 57, he seems to be taking that idea of dance-or-die more literally than ever. Who cares if fewer and fewer people are listening? Who cares if releasing exclusively to Tidal will limit his audience further? What matters is that Prince is working, and that the holy devoted will follow him.
True to its name, HITNRUN Phase One feels like an ambush, a lark, a momentary excitement designed to be forgotten, much like its three-day release party, where the artist barely showed his face. Most of the studio work was done by the producer Joshua Welton; Prince recedes for significant portions of the songs, with, for example, almost all of the vocal duties on the album opener handled by the singer Judith Hill. Instead of the gnarly funk-rock and R&B that made Prince famous, the album offers a rhythmically powerful, heavily electronic journey through hip-hop and EDM that shoots for amusement rather than transcendence. Sometimes, the mix is so tastefully cosmopolitan (G-funk keyboard whining! Exotic scales! Trance drones!) that it sounds like something you'd hear playing in the background at a no-longer-trendy fusion restaurant. Other times, though, there's real momentum and scale, allowing Prince to get as freaky as anyone could want.
Among the highlights are the back-to-back tracks "Ain't About to Stop" and "Like a Mack," a bonkers toy box of rap tropes that features the singer Rita Ora, the emceeing duo Curly Fryz, and Prince pushing past parody into awesomeness when singing "I come from north Minny / And I never run from any." More classic pleasures come from the camp seduction of "Hard Rock Lover," which features periodic eruptions of hair-metal guitar as he vows to please a woman. Another throwback is "X's Face," a short but grimy slice of electro-funk with Prince telling a noir-ish tale of adultery that recalls "Darling Nikki."
Perhaps the least Prince-like but most straightforwardly fun thing here is "FALLINLOVE2NITE," a electronic-dance whirlwind that he originally recorded with Zooey Deschanel in connection with a New Girl cameo. Zooey's gone and Prince's voice sounds pitch-shifted up; the lyrics about dance-floor abandon are generic enough to have been given to any pop star in the past 10 years. But there's a sense of increasing acceleration, of giddiness, as woodwinds and synth melodies enter the mix and Prince asks, over and over, if you want to fall in love tonight. Who cares if the song, or this album, or any of his recent work, will endure? At Prince's party, remember, there is no clock.
We want to hear what you think about this article. Submit a letter to the editor or write to letters@theatlantic.com.
Spencer Kornhaber
is a staff writer at
The Atlantic,
where he covers pop culture and music.