The Oscar Hopefuls Gathering Early Buzz in Toronto
A space epic, a transgender-rights biopic, and an investigative-journalism drama are among the most-discussed movies at TIFF this year.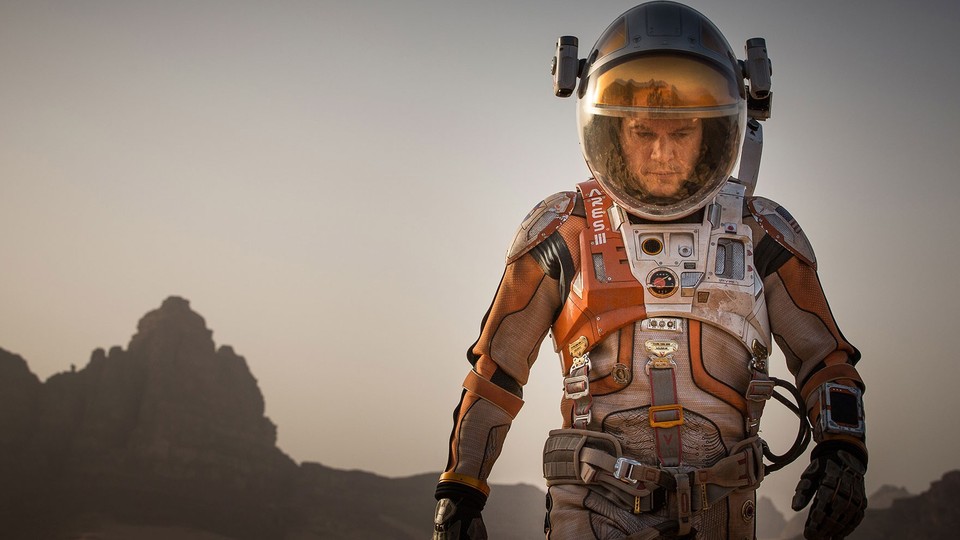 For a film director craving highbrow acclaim or status, the Toronto International Film Festival isn't necessarily the most important date on the culture calendar. But in recent years, it's become a valuable staging area for the winter Oscar season. At Toronto, the biggest film festival in the world, big-budget studio pictures and the year's most-hyped indies jockey for press attention and for the chintzy-sounding People's Choice Award—an incredibly reliable bellwether for award-winners. It's not hard for a surprise crowd-pleaser to get anointed as a Best Picture favorite and then later actually win the golden statuette.
The biggest debuts this year included Ridley Scott's space thriller The Martian and Tom Hooper's transgender-history drama The Danish Girl, but unlike previous festivals, no single film has managed to run away with the buzz. In 2008, Danny Boyle's Slumdog Millionaire won the People's Choice and then the Oscar, as did Tom Hooper's The King's Speech in 2010, as did Steve McQueen's 12 Years a Slave in 2013. But this year, as Katey Rich put it in Vanity Fair, critics are bemoaning "the lack of a five-star, shout-it-from-the-rooftops masterpiece."
The most scrutinized premiere was The Martian, a hard sci-fi adaptation of a bestselling novel in which Matt Damon plays a NASA astronaut stranded on Mars waiting to be rescued by his fellow scientists on earth (played by a huge ensemble of stars). Scott, the director, is responsible for two of the most beloved sci-fi films of all time—Alien and Blade Runner—but Toronto critics expressed relief that The Martian didn't turn out like his underwhelming Prometheus. Variety's Peter Debruge praised the film's "rigorous realism," while The Hollywood Reporter's Todd McCarthy lauded its surprising cheeriness, a rarity for the normally downbeat director, whose filmography includes Thelma & Louise, Gladiator, and Black Hawk Down.
It seems likely The Martian will become a commercial hit, but it's harder to predict awards success for a genre thriller, no matter how intelligent. The Danish Girl, on the other hand, seems guaranteed to spark Oscar interest just for being a mainstream film that deals with transgender rights. It tells the story of Lili Elbe, the first-known recipient of gender-confirmation surgery. A swirl of controversy around the casting of Eddie Redmayne in the lead role has only attracted more press, but the film apparently strives above all to respect its subject, lending it the kind of "worthy but safe" vibe of many Oscar-nominated biopics. The emerging star Alicia Vikander, who made a splash in Ex Machina earlier this year, has also attracted raves in her role as Elbe's supportive wife.
Though no film quite stands out as a clear favorite, several performances have been earmarked as standouts, including Johnny Depp's transformation into the Irish mobster Whitey Bulger in Black Mass, which goes into wide release Friday. Along with Damon, Redmayne, and Vikander, the biggest draws have been Brie Larson, the lead in Lenny Abrahamson's Room (an adaptation of Emma Donoghue's novel); Idris Elba, who plays an African warlord in the upcoming Netflix film Beasts of No Nation; and Tom Hardy, whose role as both of the notorious Kray Twins stands out in Brian Helgeland's gangster film Legend.
As the festival winds down, one other surprise critical hit has emerged—Tom McCarthy's Spotlight, a true tale about Boston Globe investigative journalists digging into a major Catholic Church scandal—that features the meaty ensemble of Mark Ruffalo, Michael Keaton, John Slattery, and Rachel McAdams. Though the film isn't the wide-screen epic affair of some of the festival's most-publicized premieres, Time Out's Dave Calhoun called it "a movie that's both important and engrossing" and Vanity Fair's Richard Lawson praised its sober, economical approach, avoiding sensationalism to tell "a knotty story with boundless intelligence, wit, and insight." The film, barely noticed on the fall schedules before its festival debut, may end up being Toronto 2015's surprise success.
The awards-season machine can be a depressing part of the film world, highlighting mainstream and worthy works at the expense of more radical approaches. But, at the very least, it stills prompts an industry increasingly dependent on worldwide grosses to fund small-scale work less guaranteed to turn a profit. Every year, some films seemingly designed to generate Oscar slobber succeed at their goal (plenty don't), while deserving micro-budgeted efforts find acclaim against the odds. In that respect, this year at Toronto is no different.