Novak Djokovic, the Best Player in Men's Tennis
He deserves the title for his consistency and his defeat of Roger Federer in the U.S. Open men's final.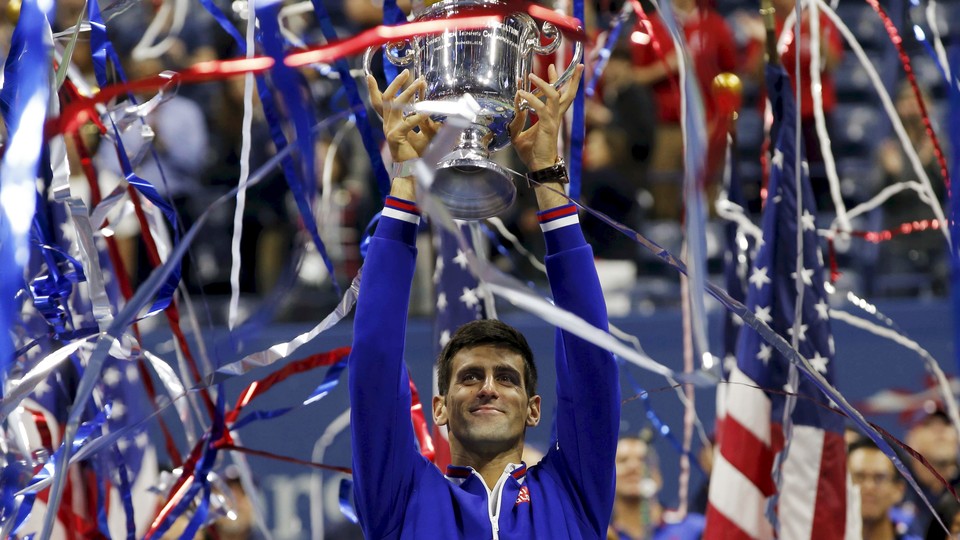 So much of the hype at this year's U.S. Open surrounded Roger Federer—from a sneak-attack move that flustered his opponents to his nearly impenetrable service game. Caught up in all the chatter, the tennis community seemed to ignore a simple truth: Novak Djokovic is the best men's player in the world. By far.
Djokovic's 6-4, 5-7, 6-4, 6-4 victory over Federer in the U.S. Open men's championship on Sunday served as a pointed reminder that the ATP Tour is his party and every other player should feel fortunate just to be invited.
As championship matches go, it was an odd affair. The game was delayed for three hours due to rain, and there was a noticeable breeze, despite reports that a semi-completed roof over Arthur Ashe Stadium offered near total relief for the once gusty court. Djokovic took a violent tumble early in the match. The normally pro-Federer New York crowd turned more aggressively partisan after the first set—the jeers aimed at Djokovic flew in the face of tennis decorum. And also making history was the chair umpire Eva Asderaki-Moore, who became the first woman to oversee a U.S. Open men's final, and almost stole the show by correctly overruling a multitude of calls missed by the match's line judges.
Amidst this mix of novelty and chaos, Djokovic's supremacy as a tennis player slowly emerged. There was a brief moment in the third set when it seemed as if Federer had rediscovered enough of his shot-making prowess to overcome early match jitters and recapture the U.S. Open title, which he's won five times. But Djokovic quickly powered through it with a few brilliant service games and enough breaks of serve to win the third set. From there the match turned into a slow and depressing seminar on why fundamentally sound defense so often thwarts high-octane offense. Federer emptied his bag of tactics: drop shots, SABR (Sneak Attack By Roger) returns, desperate volleys. But Djokovic, like the impenetrable brick wall he so often resembles on a tennis court, took Federer's best balls and sent them back with enough velocity to make the Swiss maestro look slow at certain points and downright awkward at others.
You could say that the match boiled down to mental fortitude. That Djokovic played the bigger points with more confidence, which allowed him to save 19 of the 23 break points he faced on his own serve and convert six of the 13 break points he earned on Federer's. At one point during the match, the ESPN commentator Patrick McEnroe spoke highly of Djokovic's "steely reserve," a weary sports cliché that somehow doubled as the only appropriate way to describe Djokovic's on-court disposition.
That phrase serves not only to explain why Djokovic was able to trump an in-form Federer in a major final for the second time in a few months, but also to reinforce a larger narrative that's been slowly taking hold within the men's game: Djokovic is staking a claim as one of, if not the most, consistent men's tennis player ever to swing a racket. Consider that he's not only won three grand slams this season—the second time he's accomplished that feat—but also made the final in every major tournament (Masters 1000 series or higher) that he's entered. His presence in the ultimate matches of major tennis events is nearly as inevitable as death and taxes.
It's understandable why tennis analysts spent most of the U.S. Open openly wondering if—and maybe secretly hoping that—Federer would find a way to win his 18th grand slam championship. Federer's style and general likability have long made him a fan favorite and media darling, and there's always something fun about rooting for a cagey veteran vying for one last bit of glory. (Had Federer won the match, he would have become the oldest player to win a grand slam title in tennis's Open Era.)
Djokovic has never held as much appeal. There's something Ivan Drago-ish about his persona. His highly regimented workout and diet and his ruthless style of play can make him come across as "the perfect tennis machine," as commentators have noted in the past. He lacks the transcendence of Federer, the infectious energy of Rafael Nadal, and the scrappy lovability of Murray. He's complete, yet uninspiring. Though coached by Boris Becker, he's eerily reminiscent of Ivan Lendl, the domineering Czech whom John McEnroe once referred to as "a robot" and the player who helped introduce the power-baseline game that Djokovic has taken to a whole new level. And like Djokovic, Lendl was rarely the crowd favorite.
Yet it seems likely that sooner rather than later fans at the U.S. Open and other major tennis championships will come to applaud Djokovic with the same fervor they continually shower upon Federer. They'll do this if for no other reason than Djokovic is slowly earning the right to be loved by winning big tournaments with unfathomable consistency—and in sports consistent winning is still the only surefire way to accumulate mass adoration. His dominance will translate into appeal.
When Federer defeated Djokovic earlier this summer in the finals of the Western & Southern Open, he was asked in a post-match interview what his goal for the U.S. Open was. He said that he hoped to make the final. At the time, it seemed like an understandably modest answer from a player who hasn't won a grand slam since 2012, but in hindsight Federer's answer seems strikingly prescient. So long as Djokovic continues to play with the brilliance he's displayed throughout the 2015 season, all opposing players can reasonably hope for is to make the finals at any grand slam Djokovic enters, because beating him in those finals is a nearly impossible task. Yes, there's always a chance a player will explode and find a way to stun Djokovic, just as Stan Wawrinka did at this year's French Open in an upset that ranks only a few Richter Scale levels below Roberta Vinci's defeat of Serena Williams. But more likely than not they'll succumb to Djokovic's soul-crushing consistency, like Federer did on Sunday.