Nicki Minaj, Person
An ABC Family sitcom may continue the pop star's humanization campaign.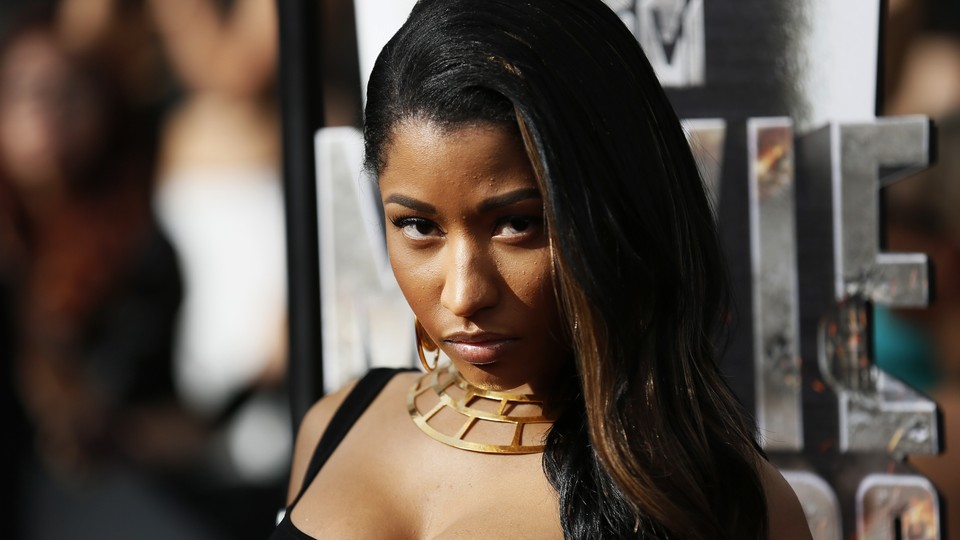 When I first saw the news that a scripted TV show was being made about the rapper Nicki Minaj, my first thought was that it might be on Cartoon Network. You can envision it, right? The various personalities Minaj has constructed through her music—the unhinged Roman Zolanski, the brash Nicki Lewinsky, the sweet Harajuku Barbie—rendered in zany, anime-inflected colors, like Samurai Jack or The Powerpuff Girls or the "Only" video, with fewer Nazi overtones.
But the show that's actually being made is a live-action sitcom on ABC Family that "will focus on Minaj's growing up in Queens in the 1990s with her vibrant immigrant family and the personal and musical evolution that lead to her eventual rise to stardom," Deadline's Nellie Andreeva reports. Kate Angelo, who penned the 2014 Cameron Diaz/Jason Segel comedy Sex Tape, will write it; Minaj will executive-produce and act in it.
The show, no doubt, represents another front in Minaj's efforts as "a business, woman," sitting alongside holdings in perfume and alcohol that keep her on the Forbes annual list of wealthiest rappers. It's also a fairly on-brand move for ABC Family, whose other programming—including the warmly reviewed lesbian family drama The Fosters (executive produced by another American Idol judge, Jennifer Lopez) and the wildly popular mystery series Pretty Little Liars—appeals to young people, especially women.
But the show also might have more intangible benefits for Minaj and pop culture in general. With her extravagant costumes and alter-egos and crazy voices, Minaj was often initially grouped alongside Lady Gaga, part of a boom of self-consciously weird divas who rarely talked about their personal lives. The otherworldliness was part of her appeal, a high-concept riff on the fact that she was a genuinely novel presence in mainstream music: an aggressive female rapper who also unabashedly embraced feminine dance pop. In the process, she provoked an all-sides backlash that, to lot of pop observers, seemed to go beyond what most stars received. Rap gatekeepers accused her of being fake, a perversion of the genre; criticism from other quarters focused on her abrasiveness and often included coded language about her body (or not-so-coded—one otherwise measured respondent to the Quora entry asking "Why do people hate Nicki Minaj so much?" offers that he's "not a big fan of her face").
Lately, though, Minaj has started to shed much of the glitter and rubber. Her newest full-length, The Pinkprint, basically abandoned her multiple-personality shtick and instead served up some surprisingly tender songs about her upbringing, her love life, and her birth country (Trinidad and Tobago). Rather than beginning with a party-minded banger, it opened with the confessional ballad "All Things Go," which addressed a marriage proposal from a decade ago, the murder of her cousin, and recent difficulties she's had with her relatives.
At the same time, she has become increasingly overt in her politics; Minaj has been on a mission not only to humanize herself, but to stand up for the huge portions of humankind who resemble her in various ways.The Internet-breaking "Anaconda" video, for example, was a sexual tease that was also meant to flip the script on some of society's racial and body-type biases, at least to hear Minaj tell it on Twitter. When she called out Miley Cyrus for trash-talking her in the press, it was a very simple statement: What's good—a.k.a., I'm here, I see you, and I hear what you've said about me. I'm a person.
Now, after the announcement of the ABC Family show, the hashtag #YoungNicki is trending, with social-media users suggesting various actors who could star as the young immigrant Onika Maraj. It's an example of the power that a show like this can have, asking girls to envision themselves growing up to be someone with both Minaj's business success, cultural power, and uncompromising vision (fans have long known she's been after this: She raps on "I'm the Best" that she's "fighting for the girls who never thought they could win"). In the process, she can also remind the public that superhuman performers are, by definition, still human.