The Saddest Honeymoon
Lana Del Rey is lonelier, slower, and realer on her third album.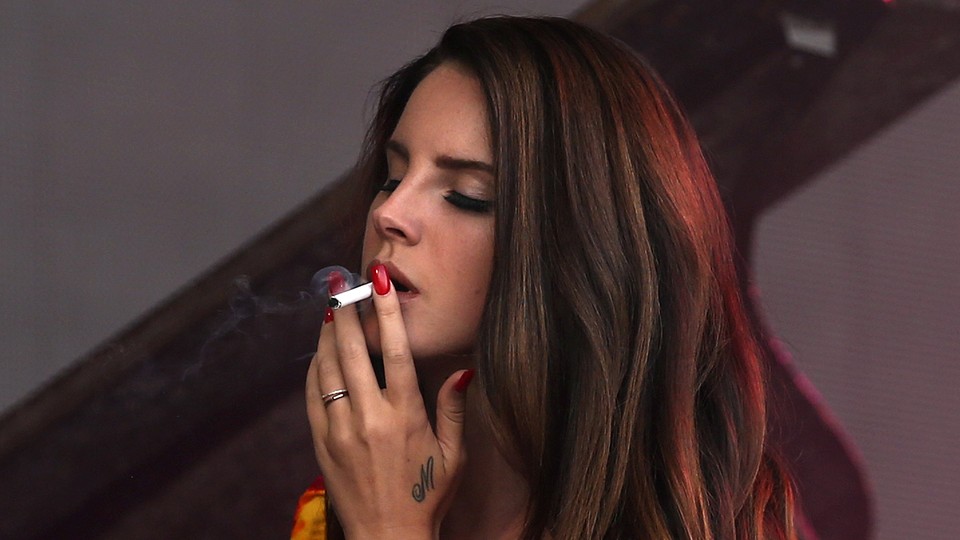 Last year in Nautilus magazine, the composer Jonathan Berger explained how sound can do that very thing Prince says it can do—stop time.
Music creates discrete temporal units but ones that do not typically align with the discrete temporal units in which we measure time. Rather, music embodies (or, rather, is embodied within) a separate, quasi-independent concept of time, able to distort or negate "clock-time." This other time creates a parallel temporal world in which we are prone to lose ourselves, or at least to lose all semblance of objective time.
Perhaps Lana Del Rey read the essay. She certainly understands the concept. Her career is all about music as a time warp, with her languorous croons over molasses-like arrangements meant to make clock hands seem to move so slowly that it feels possible, at times, they might go backwards. In the four years since she arrived, famously shakily, on the SNL stage, her pout and her unapologetic nostalgia—flowers in hair, Super 8, Nancy Sinatra and Leonard Cohen, Fellini and Polanski films, icky gender relations, cigarettes—have become objects of parody. But there's meaning in her shtick. Desire, loss, love: All are rooted, somehow, in a desire to regress.
The concept of her third album, Honeymoon, is in its title. She's obsessing over, and trying to defy, the finitude of bliss. At one point she counts the hours spent beneath the covers with a lover, and at another she refers to the entire era after a breakup as a single "blackest day." Of course, time can't actually be tamed. The title track opens the album with a cello moan and high, creeping violins and then floats for nearly six minutes as Del Rey promises glorious, aimless freedom—"We could cruise to the blues / Wilshire Boulevard if we choose." But she sounds utterly alone. You suspect she's singing to someone who's long gone.
The imagery surrounding Honeymoon also centers on lonely vacationing, with Del Rey holed up in a beach house, or taking a solitary Hollywood stars tour, or just standing by herself, hair in the wind for eternity. (You can contrast this with the many hunks and silver foxes populating her previous videos and GIF sets.) Appropriately, her music is more cavernous than ever. After an excursion into rock reverb and claustrophobia for her 2014 album Ultraviolence, she and producers Rick Nowels and Kieron Menzies have brought back the "cinema score + hip hop" template of her fabulous and filthy debut, Born to Die. But whereas her early songs were ironic, morose party-starters, Honeymoon is all about wallowing. The drum machines skitter at a geological pace, sometimes seeming to sputter out and die even as the orchestration—flutes, flame sounds, guitar spindles—gets thicker and thicker.
This may all sound intolerably self-involved, or boring, and sometimes it is. But it helps that Del Rey is a great writer—funny, specific, knowingly over the top. Previously, the cleverness and irony often kept her from conveying emotions that seemed real, but here those things just make the feelings heavier. One highlight is the bridge to "Terrence Loves You," a spare, opera-flavored elegy for a musician she loved. When the drums finally kick in, Del Rey sings about putting the radio on and holding the guy's memory in her head, and then interpolates David Bowie's "Space Oddity" to communicate insurmountable distance. It's arch, post-modern pastiche, yes. It may make you cry.
The purest slice of melodrama here is "Blackest Day," with multi-tracked vocals and harp strumming and Del Rey appealing to god. Expect it to be in a movie trailer soon. And yet even that song has dark wit, with sentences broken up to create little, funny plot twists:
Give me all, got my blue nail polish on...
it's my favorite color…
and my favorite tone of song.
I don't really wanna break up, we got it going on...
is what you gathered from my talk...
but you were wrong
On the next track, "Swan Song," she considers retirement, pleading for her listener/lover to don the "white tennis shoes" of procrastination that Ayn Rand wrote about and leave the workforce with her forever. It's perhaps the most relatable moment on an album full of visions of impossible escape. In the chorus, she promises, "You won't work another day / I will never sing again." After such a sumptuous performance, it's hard to root for her to get what she wants.