When Black Artists Declare Their Autonomy
Kanye West mirrors Nina Simone, Lauryn Hill, and Dave Chappelle, all of whom were derided following audacious, confrontational live performances.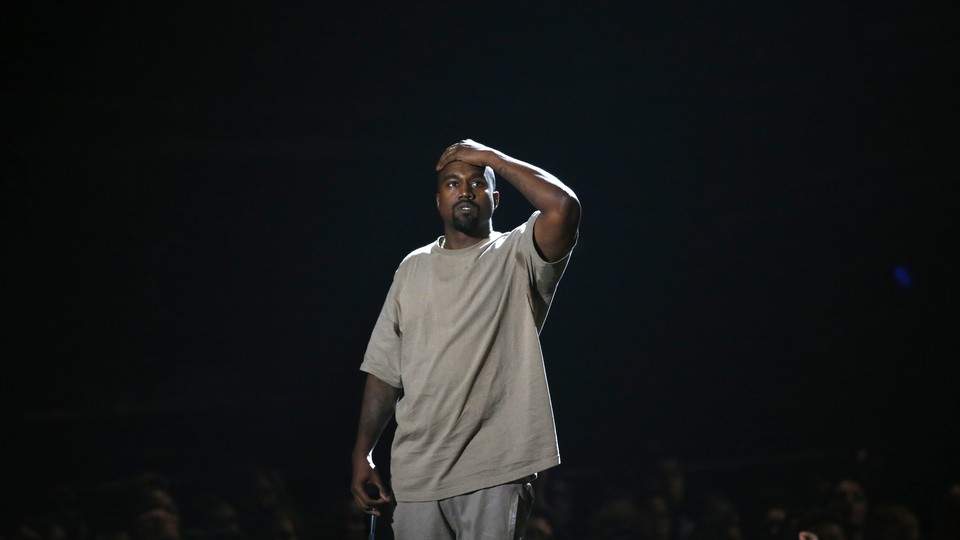 When Nina Simone walked onstage at the Montreux Jazz Festival in 1976, her eyes widened by the applause of an audience who hadn't seen her in eight years, she bowed exaggeratedly and stood completely still for nearly a minute. She remained silent long after the applause died down, prompting murmurs from the crowd, who were seemingly confused as to why the performer wasn't starting to play. Even before she sang a note, there was something radical about her command of the stage, the way she stared right back at the audience, and more importantly, the way she was redefining the person for whom she was ultimately performing—herself.
When Kanye West received the Video Vanguard Award at the MTV Video Music Awards last week, he offered something completely different from Simone, which is to say neither music nor stillness, but a rambling 13-minute monologue. Although his oratorical skills often leave a lot to be desired, his ad hoc soliloquies—frequently labeled as "rants"—have become a crucial part of his canon of work. But the way he used the VMA stage to assert his autonomy as a black artist—with apparent disregard for what the audience or show organizers might think of him—recalled similarly bold performances by Simone, the singer Lauryn Hill, and the comedian Dave Chappelle after periods of self-imposed isolation. The fact that many critics and fans derided all four as being unstable or "crazy" at the time reveals the public's discomfort with black artists who violate what's expected of them as entertainers.
West, however, represents something different. While Simone gradually retreated from her position of influence, as did Hill and Chappelle, West claims it aggressively, willingly, and confidently. His stage presence is a dare: You're never quite sure if he's in on the joke, because you can't even be sure there's a joke at all. His form of defiance is both in conversation and conflict with some of the most significant black voices in contemporary culture.
West's connection to Simone is easy to point out, at least superficially, thanks to his sampling of her rendition of "Strange Fruit" on his last record's monster track "Blood On the Leaves." Both artists have at times used their public performances as a way to assert their personal politics, West most infamously during a Hurricane Katrina telethon when he brazenly went off script to declare that "George Bush doesn't care about black people." Simone, who performed at a number of civil-rights events in the late-'60s and incorporated the movement's message into nearly all of her performances as the decade progressed, eventually left the United States for Africa in 1970, finding the movement stagnant after the death of some of its most prominent leaders. It was there she stayed until she moved to Switzerland six years later. Her alignment with the more radical figures of the era—she was vocal about her skepticism toward non-violence—left many to reassess Simone's work and cultural influence, and the audience at Montreux would come to serve as a symbol of her strained relationship with the U.S. itself.
In her Montreux performance, Simone comes across as acerbic: She chides the audience as not being "worthy" of hearing a song she wrote after watching a documentary on the late Janis Joplin. At one point, she scolds an audience member for standing up during a song and stops playing to demand they sit down. At some moments, her absent manner comes across as vulnerable—"I'm very tired," she repeats a number of times—while at others, it seems resentful. But that transparency is key to the show's energy. The way Simone challenged the audience's idealized image of her as a performer and their decontextualized love of her songs proved to be an important act of confrontation.
Hill did something similar in her 2002 MTV Unplugged performance, the recording of which she released as her second official LP. Four years earlier, she'd taken home five Grammy awards, including Album of the Year, and at the podium, she appeared shocked and humbled, declaring that her win was "for hip-hop music." But in the MTV studios, Hill mostly abandons hip-hop arrangements in favor of an acoustic guitar she's still in the process of learning. In between songs, she inserts personal observations and reflections. During one song, Hill begins to weep in front of her enraptured audience. At the top of the performance, she acknowledges her lower register, explaining that her voice is one of the many things she's consciously allowed to fall away. "It's just a voice. I use to get dressed up for y'all, but I don't do that anymore," she continues. "I'm sorry, it's a new day."
Critics panned the album, calling it "messy and rambling." The Village Voice cited the album as "one of the worst albums ever released by an artist of substance." Rolling Stone panned the performance as a "public breakdown." In the years since her debut, Hill had almost entirely retreated from the spotlight. Rumors of the crushing weight of high expectations for a follow-up record plagued the singer, but when the recorded live album of her Unplugged session failed to sell well, coupled with the vulnerability on display in the filmed episode, Hill's mental health became the de facto topic of discussion.
Like Simone's show in Montreux, Hill commanded the stage with the intention of confronting the audience's perception of her. The fact that her performance was blamed on vanity or illness is telling, even if it's nothing new: Black artists who push back against their own success are often met with confusion from the public. To see an artist claim the platform the public has given them as a space to redefine and question that very persona is seen as both a betrayal and something potentially more dangerous. It's seen as a challenge.
That same tension infused a 2013 stand-up performance by Chappelle, returning to the stage in Hartford, Connecticut, for his first tour since abandoning the acclaimed sketch series Chappelle's Show in the middle of its third season. Many interpreted the comedian's walking away from a $50 million payday as a sign of drug use or mental-health problems. When he emerged publicly for the first time in eight years, an unruly crowd greeted him with chants expressing everything from excitement to indignation. According to Chappelle, the audience called out catchphrases from the Comedy Central show throughout his act, which turned into heckling so loud he refused to go on performing. Audience reports claimed that he read a book quietly until his time ran out, at which point he walked off stage (to West's "New Slaves," no less).
For some, the performance was proof that Chappelle had indeed suffered a mental break and that he had yet to recover. But he "wasn't having a meltdown," wrote Lesli-Ann Lewis in Ebony:
This was a Black artist shrugging [off] the weight of White consumption, deciding when enough was enough … Chappelle's Connecticut audience, made up of largely young White males, demanded a shuck and jive. Men who seemed to have missed the fine satire of the Chappelle show demanded he do characters who, out of the context of the show look more like more racist tropes than mockery of America's belief in them. When he expressed shock at the fact that he'd sat there and been yelled at for so long, people yelled that they'd paid him. They felt paying for a show meant they could verbally harass him, direct him in any tone of voice, as though they'd bought him.
All of this leads back to West, who's used the VMA stage for similar acts of protest throughout the years: his infamous Taylor Swift interruption in 2009 and his public apology via "Runaway" in 2010. Simone and Hill's performances both display a kind of vulnerability that West teases, but the connective tissue between all four of these performances is black artists performing incredible acts of autonomy for a public that has no idea what to do with it. For Simone, her return to the Montreux Jazz Festival was a grudging reclamation of the stage after a period of tension back home. For Hill, her Unplugged performance was a gentle but unapologetic expression of her new identity as an artist. Chappelle's performance in Hartford felt consistent with his decision to leave his show eight years prior (his departure was in and of itself perhaps the most profound act of self-definition any black artist has committed in the 21st century).
"I still don't understand awards shows," West said. "I don't understand how they get five people who work their entire life, won, sell records, sell concert tickets, to come, stand on a carpet and for the first time in their life, be judged on the chopping block and have the opportunity to be considered a loser. I don't understand it, bro! I've been conflicted. I just wanted people to like me more. But fuck that, bro! 2015. I will die for the art—for what I believe in—and the art ain't always gonna be polite."
In a 2013 essay for Buzzfeed, Heben Nigatu frames West's vanity as a way of "boldly asserting yourself in a world that is not meant for you." But the reclamation of space isn't just a spectacle, but also an integral act of cultural power—a subversion of Audre Lorde's notion that you can't dismantle the master's house using the master's tools. There's a sense that prominent black voices are always sending dispatches from within the storm. Simone's performance seems to capture a woman standing on the edge of it. Hill is a performer gently trying to come out of it, while Chappelle is a man shocked to find himself still right in its eye. By contrast, West is the storm itself.
West has become the definitive figure of the VMAs's third decade, and the complicated nature of his identity—his deliberate rebellion butting up against his desire for acceptance—captures a fractured culture whose values often seem to be in direct conflict with practice. His inarticulateness may at times prove frustrating, turning him into an unreliable narrator for his own story, but this is radical; West's ambition is inherently political. The fact that he was given 13 minutes, without interruption, to speak his mind is perhaps a hopeful sign that what Simone, Hill, and Chappelle stood for will no longer be viewed as a joke, an insult, or a sign of betrayal. To quote Hill, and Simone before her, it's a new day.