Justin Bieber's Instagram: A Portrait of the Artist as a Young Man
The former child star doesn't want to be a punchline or a has-been. It's not yet clear whether he'll succeed.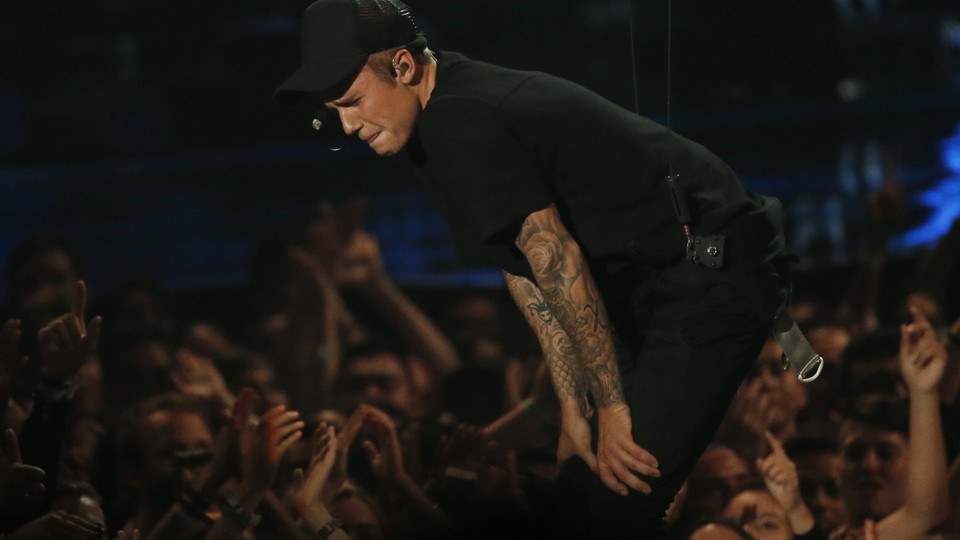 For anyone in need of a dose of surprise pathos, I direct you to the Instagram video of Justin Bieber attempting to shotgun a can of Corona. The setting is Las Vegas; a dance version of Zombie Nation's sports-arena classic "Kernkraft 400" booms overhead; girls in bikinis mill about. As a Bieber buddy—black baseball cap, sunglasses—downs his beer with ease, the 21-year-old pop star in a park-ranger hat cocks his head at an awkward angle and sloppily, slowly slurps. "I lost," Bieber's caption says, "but I didn't go to college."
It's all too easy to see this scene as a symbol of Bieber in 2015, straining to prove himself as All Grown Up and not completely pulling it off. That he would eventually struggle in this way has been part of Bieber's narrative all along. "Naturally, none of this can last," The Atlantic 's James Parker wrote in a 2011 appraisal of the young Canadian. "His collision with biology can be postponed no longer. Gravity, muscles, sag, paunch, depression, hair growing in the ears … All too soon, all too soon."
The same prophecies have been made about all child entertainers, of course, from those that those who managed lifelong stardom to those who disappeared into obscurity. But there's a unique poignance to Bieber's efforts to transcend his status as a hero to children and a punchline to everyone else. Perhaps that's because, unlike with the most recent and famous example of post-teen male success, Justin Timberlake, Bieber's story is one of self creation—he came up through amateur YouTube singing, not through the Disney pipeline, and has what appears to be a deep and sincere connection with his fandom. Perhaps it's that he's been the symbol of Facebook-era teenagedom, and it's not quite settled yet what his generation's adulthood looks like. Perhaps it's just those puppy-dog eyebrows. My best theory, though, is that Bieber's story is compelling because it's suspenseful—it's very clear what Bieber wants, but it's also clear that whether he gets it is not entirely up to him.
His musical output this year has so far consisted of electronic ballads as plaintive as the questions that give them their titles—"Where Are Ü Now" (released by Jack Ü, Diplo and Skrillex's collaboration) and "What Do You Mean?" As pop, they're fascinatingly restrained, discarding the chipper come-ons and pep-rally-ready choruses of Bieber's past work and of rivals like One Direction. And unlike with Timberlake or Bieber's contemporary Nick Jonas when they attempted to evolve, these tracks are not overt announcements of sexual maturity (though one of the videos is). Rather, they try to show off sonic curiosity and emotional complexity.
Bieber isn't shy about his ambitions for these songs. At the VMAs last month, he performed them on a stark stage, dancing with try-hard verve and then breaking down crying when it was over. He later told Jimmy Fallon what the tears were about: "Last time I was at an awards show I was booed. I worked so hard at this album—I worked so hard at becoming the man I want to become … It was authentic and real … I was just wanting it so bad."
Now, "What Do You Mean?" has become his first No. 1 hit, and also one of the few songs in history to premiere at the top of the Billboard Hot 100. So: Mission accomplished? Not quite yet. At Slate, Chris Molanphy notes that the song's placement on the charts is a "triumph of market-timing over hitmaking," propelled—through downloads, video streams, and social-media support—by "the same rabid 'Beliebers' who've been screaming for him since 2009." The true gatekeepers of mainstream musical success, radio programmers, have not embraced the song with as much enthusiasm. "People with jobs, degrees, and fully developed pituitary glands are the bread-and-butter of radio audience measurement and advertising, and even back to the heyday of Backstreet Boys and N Sync, radio has been cautious about overplaying boy bands and TRL fare, putting a glass ceiling over the chart success of many teenpop acts," Molanphy writes. "That goes double for Bieber."
What Bieber still faces, then, is a perception problem—the need to be seen as a grown-up. Who can't relate, thinking back on or looking forward to their early 20s? Whether he can get what he wants that after six years of mop cuts and sophmoric scandals being seared into the public memory will be answered soon enough, when the initial burst of fan support for "What Do You Mean?" dies down and wider audiences decide if they accept him. For now, his yearning is almost a performance in itself.