The Intern: A Paean to the Power of Gentlemen
In Nancy Meyers's new film, Robert De Niro plays a wise old man who helps a start-up CEO played by Anne Hathaway find the right work-life balance.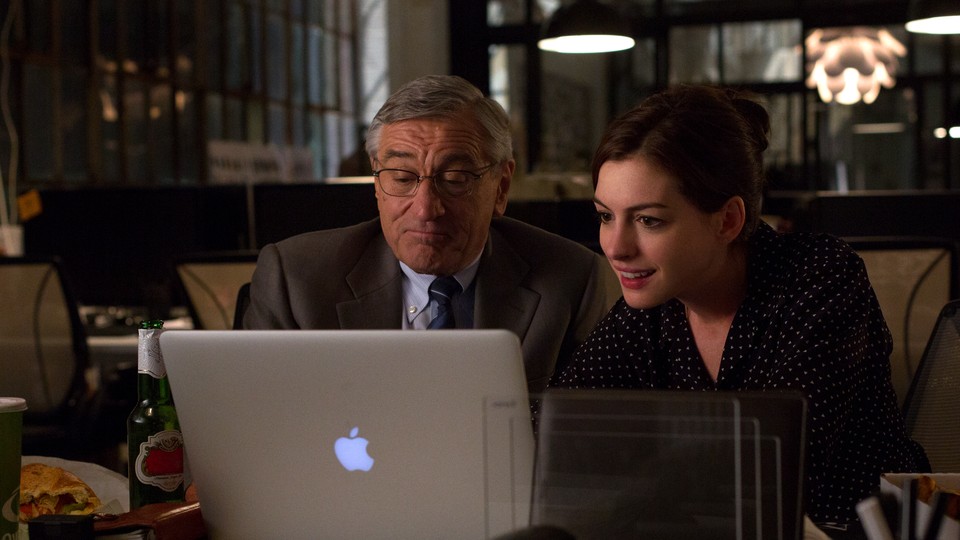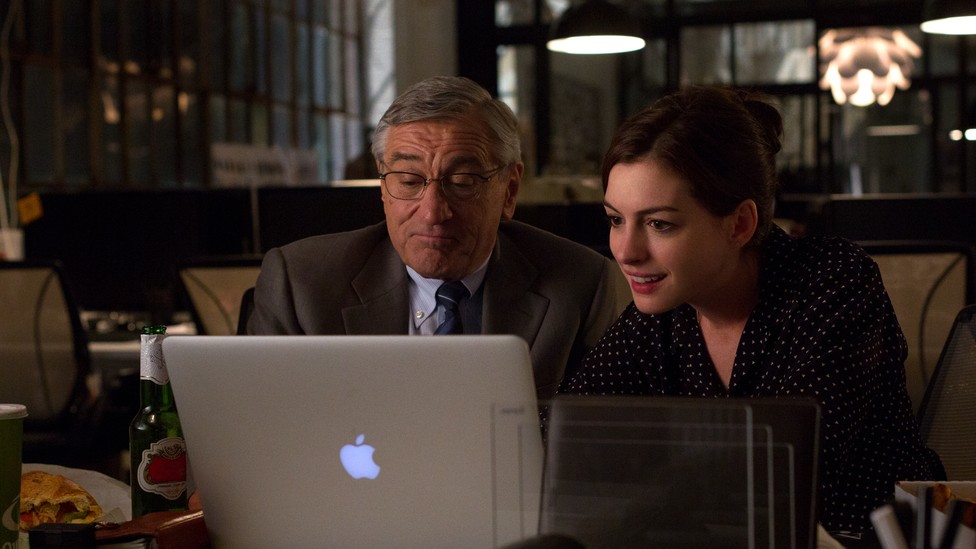 In The Intern, the businesswoman Jules Ostin (Anne Hathaway) and, by extension, the writer and director Nancy Meyers, has a question: Where did all the "real men" go? Jules mourns not for the bossy, sexist fools of the Mad Men era, but for grown-ups, men who could rock a pocket square, who had a handkerchief at the ready, who had a good head on their shoulders and ambitions for existence. Into this vacuum walks Ben Whittaker (Robert De Niro), her new senior intern, a magical old man blessed with the wisdom of his generation but none of the baggage, ready to bring balance to her life.
It's easy to scoff, but The Intern is clearly a Nancy Meyers movie. Her previous films (Something's Gotta Give, It's Complicated) saw heroines bemoan the romantic appeal and destructive foolishness of alpha dogs played by Jack Nicholson and Alec Baldwin. The Intern tweaks this formula by making its central relationship platonic: Its main character, Ben, is free of foibles and is a helpful fountain of paternalistic advice. Thanks largely to performances by De Niro and Hathaway, The Intern is a gentle, enjoyable fantasy—and certainly Meyers's best film in more than a decade.
As befits a modern generation-gap comedy, The Intern is set at a start-up: a successful shopping website Jules founded called About the Fit that's colonized a converted factory in Red Hook, Brooklyn. (As she has many other locales, Meyers fetishizes the borough's architecture, giving it an almost artificial sheen.) Ben is a retired widower with plenty of time on his hands and a seemingly bottomless reserve of can-do spirit who applies to a senior internship program. Once he's assigned to Jules, his inexhaustible patience with her mild Type-A personality makes them an unbeatable team as she weathers the bumps of expanding her company and balancing work and her personal life.
The Intern's stakes are appreciably low—there's a major set-piece revolving around an inappropriate email that Jules accidentally sends—but the challenges of running a company make for a good narrative spine to build around. Meyers often struggles to make her central premises remotely relatable—It's Complicated was about the expensive remodel of a Santa Barbara kitchen—but Ben is such a do-gooder that you're instantly rooting for him to win Jules's favor. Once she accepts him as a person with valuable insight to contribute, her life is suddenly besieged by a million tiny crises for him to solve.
Meyers has some fun with traditional fish-out-of-water humor: Ben struggles to set up a Facebook account, astonishes his fellow twenty-something interns by carrying a briefcase, and dispenses chivalrous dating advice that basically amounts to "maybe go easy on the texting." But the pivotal piece of generational commentary comes when Jules gets drunk at a bar with her interns and starts bemoaning the arrested development of her generation's men, doofuses who have no concept of their career goals or even how to dress beyond business casual, supposedly outstripped by her generation of women raised in the "Take Your Daughter to Work Day" era.
Chief among these offenders is Jules's househusband Matt (Anders Holm), for whom the film has a hilarious lack of respect compared to Ben. Jules is late to meetings and a bit of a micromanager, but as start-up CEOs go, she's pretty angelic: Her major conflict is finding time to be at home with Matt and their precocious moppet Paige (JoJo Kushner). Ben is there to gently nudge Jules away from the idea that she should scale back her life's work out of some societal ideal of womanhood. But as is often the case, Meyers has her characters articulate each side of the debate a little too obviously, then fashions an ending that tries to have it both ways.
The Intern works, however, mostly because of the strength of its leads. De Niro hasn't played anyone this mild-mannered in years, but he's cute and reserved in the right ways, giving his trademark squinty nod-grins anytime they're needed. Ben spends much of the first hour in a slightly melancholy mood, hovering on the outside of Jules's life just waiting to be given a purpose again, but De Niro makes him sympathetic. Hathaway, too, takes Jules right up to the edge of being annoying over and over again, then pulls back each time with just the right amount of self-awareness. The various chuckleheads who constitute the supporting cast (including Adam DeVine, Zack Pearlman, and Nat Wolff) function as easy but weak punchlines for how feckless their generation of men have become. But The Intern has a solution: Two hours of concentrated Baby-Boomer wisdom and a drawer full of pocket squares, it posits, are all it takes to right even the most wayward path to adulthood.