In Praise of Emmy Losers
Because winning really isn't everything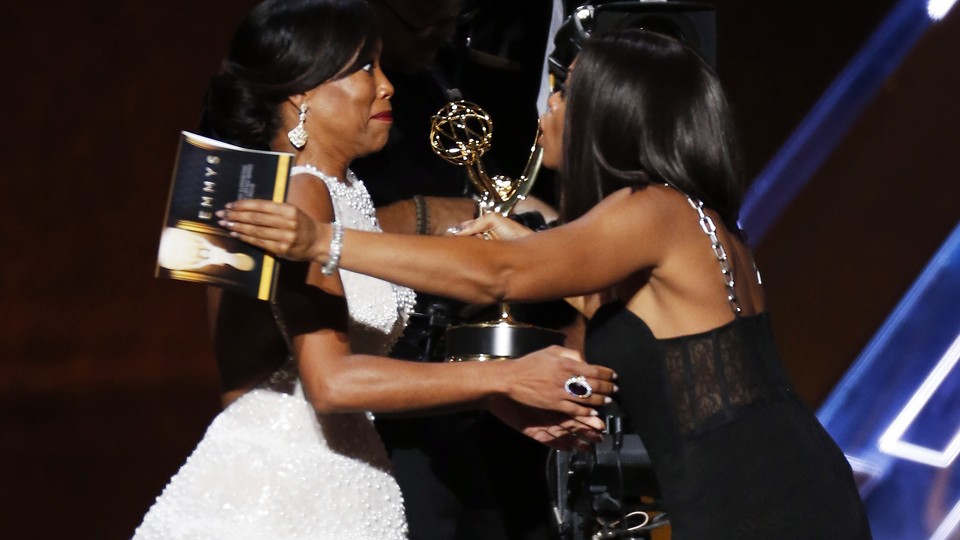 The big winner of last night's Emmy Awards, in pretty much every possible way, was Viola Davis. Accepting the award for Outstanding Lead Actress in a Drama, Davis spoke in poetry, invoking Harriet Tubman—and also Kerry Washington and Gabrielle Union—and uttering two sentences that will likely be remembered for years to come: "The only thing that separates women of color from anyone else is opportunity. You cannot win an Emmy for roles that are simply not there."
Another thing that made the speech so powerful: Davis was sent to the stage not only with thunderous applause from the occupants of the Microsoft Theater, but also with a standing ovation of one: her fellow nominee, Taraji P. Henson.

The women may have been competitors, but Henson—Cookie on Empire—made clear that the far more salient point was that they were fellow nominees. They were both contenders to be the first black woman to win an Emmy for Lead Actress in a Drama. Davis, for her work in How to Get Away With Murder, happened to be the one to win the honor.
So while Henson did not win an Emmy last night, she distinguished herself in another way: She was a nominee who seemed genuinely happy for her fellow nominee. She applauded Davis, passionately. She rose to her feet when no one else did. She made clear that she was rising because Davis's win was, in its way, a win for her, too.
In that assumption—shine theory, in action—Henson was joined by Anna Chlumsky, who squealed and cheered and hugged and high-fived and omg is this really happeninged when Veep's writers (and also its supporting actor, and star, and self) won their awards. Chlumsky, like Henson, was nominated for an Emmy of her own—in this case, for Outstanding Supporting Actress in a Comedy Series. She, too, lost. She, too, did not seem to care all that much. She was too busy being extremely excited about other people's wins.
It's a favorite pastime of awards show-watching, to watch the faces of losers reacting to the news that they have been cast, for the evening, as such. The strained smiles. The forced applause. The "maybe next year" nods. The bitterness that simmers beneath the spray tans. It's a conceit Amy Poehler, who last night lost out on her last chance to win an Emmy for playing Leslie Knope, made fun of through her hoodie-and-gum-and-sunglasses schtick: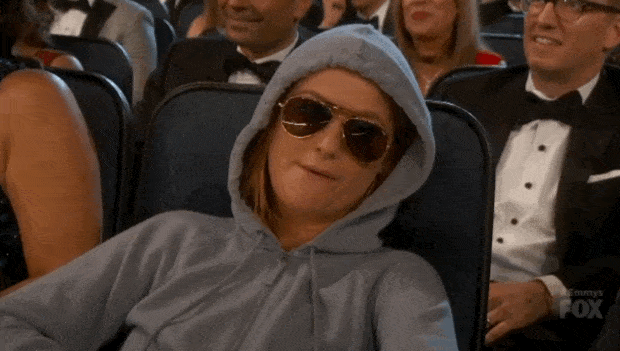 But it's a conceit that Henson and Chlumsky—losers only in the strictest sense—rejected. They made a show not of concealed disappointment, but of genuine delight.
And Henson, in particular, embraced the role of Vicariously Happy Person. ("Most Supportive Friend," E! News dubbed her.) Henson couldn't contain her excitement when, along with Terrence Howard, she announced the award for Outstanding Supporting Actress in a Limited Series/Movie. The award went to Henson's friend Regina King. Henson screamed in delight when she read King's name. She engulfed King, when King got to the stage, in a bear hug. It was one of the most warm and wonderful moments of the night. It was sort of magical.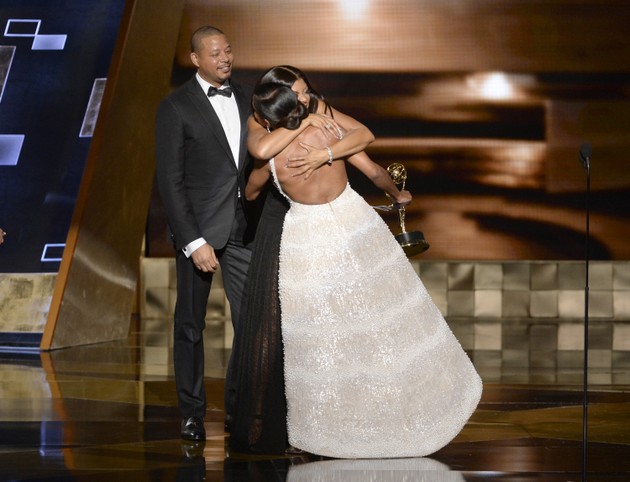 You could, sure, read that whole exchange as calculated. You could read Henson's reaction to Davis's win the same way. You could read Chlumsky's reaction to the Veep wins that way, too. These are actors, after all. But the hows and the whys of their grace-in-defeat almost don't matter. Their joy at the wins of others—steadfast, passionate, personal, political—doubled as the symbolic message of this year's Emmys: The awards, last night, were about much more than spiky statuettes. They were about acknowledging the systems that make Hollywood run the way it does, that make our entertainment what it is. They were about the simple truth that you cannot win an Emmy for roles that are simply not there. Last night, Viola Davis made history. That she did so after receiving a standing ovation from her fellow nominee is a reminder of how deeply her win doubles as a win for everyone.