Socality Barbie Hits Uncomfortably Close to Home
A tongue-in-cheek Instagram account underscores the paradox of social-media authenticity.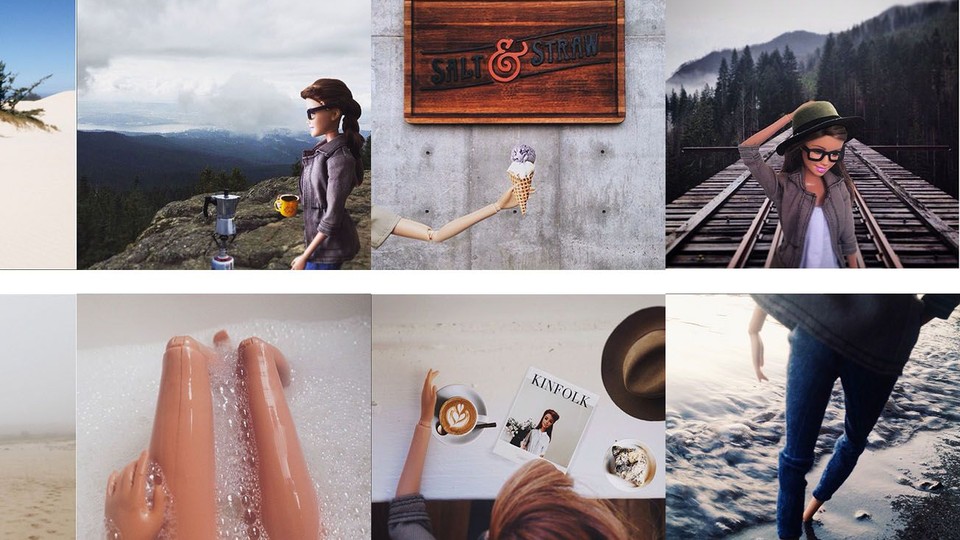 Don't you love your life—your single-origin morning coffee, your holidays in nature, your conscious-consumption choices? Those heavy-frame glasses, that analog camera, the washed-out Instagram filter? You're mindful. Grateful. #blessed.
You are not alone.
In fact, the carefully crafted casualness of your life, and its aesthetically pleasing authenticity, makes you one of thousands—maybe millions. And Socality Barbie is here to show you, with just the right amount of irony, how clichéd the #liveauthentic aesthetic really is.
"I created the account to make fun of the people who were using the 'liveauthentic' hashtag on Instagram. All their pictures looked alike to me and I couldn't tell them apart anymore so it just didn't seem all that authentic," the Instagram account's creator, a Portland-based wedding photographer in her mid-20s who didn't disclose her identity, told Koin 6 news.
Socality Barbie's name is inspired by Socality, a Christian organization founded in 2014—according to the official website, the name means "social community all for eternity"—that connects people, mostly online, with the aim of creating a community that embeds the Christian faith in life. Instagram photos tagged #socality tend toward the same homespun, clean-living, mountain-hiking look as the photos on Socality Barbie's feed.
But Socality Barbie's pictures also seem to be a critique of a larger slow-living hipster aesthetic that goes beyond religious communities, and includes anyone sufficiently dedicated to their lifestyle to heft fancy coffee-making gear on a hike for the perfect sunrise espresso.
In a statement commenting on Socality Barbie's account, Socality pointed out that its vision "has always been bigger than social media, photography, or any trend or specific aesthetic."
That may be so. But if you've ever ordered an iced agave-sweetened almond milk flat white, or arranged organic, sustainable wildflowers in a mason jar, this parody account will likely hit uncomfortably close to home.