Fresh Off the Boat: Still Pretty Fresh
ABC's hit show about an Asian American family returns for a second season in a TV landscape that desperately needs it.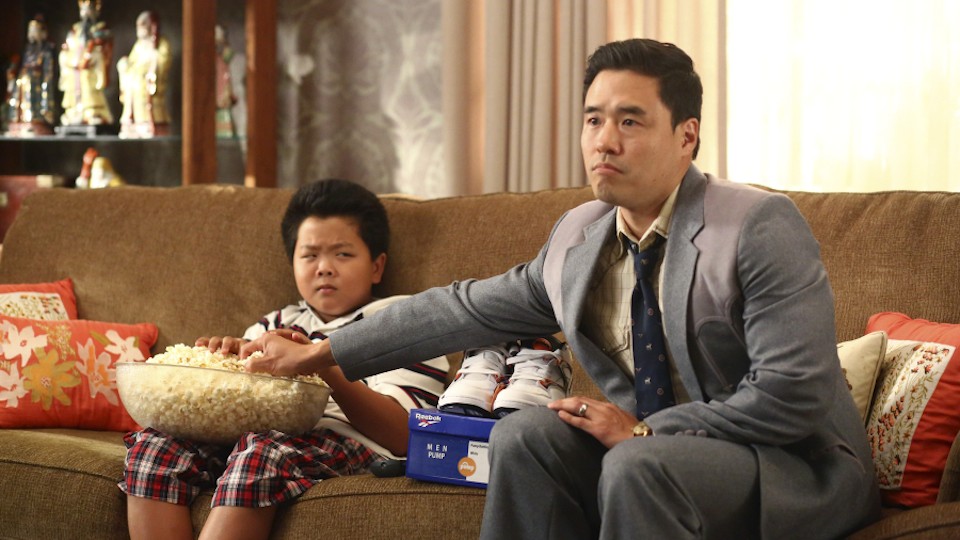 Sunday was, by most accounts, a good night for diversity in the television industry. Among a series of well-deserved Emmy wins (Transparent, Uzo Aduba, Regina King, Jill Soloway) came Viola Davis's victory as the first black woman named best lead actress in a drama. Her speech offered some much-needed candor: "The only thing that separates women of color from anyone else is opportunity. You cannot win an Emmy for roles that simply are not there." After some tears, the ceremony ended, and the bubble of optimism was punctured somewhat by the show that followed: 2 Broke Girls, a sitcom known for its bungling use of racial humor, often involving a Korean American restaurant owner. It served as an uncomfortable reminder of how much farther Asian Americans have yet to go on the small screen, even as more lead roles open up to them.
ABC's Fresh Off the Boat, which returns for its second season Tuesday, didn't get any Emmy love after its debut run (the snubbing of worthy comedies like Parks and Recreation prove the awards' fallibility), but it's also the kind of show that could conceivably push Asian Americans closer to a statuette. Its lead actress, Constance Wu, was praised for her breakout role as Jessica, the sharp-tongued but loving matriarch of the Huang family. And the show's first season displayed some of the heart and charm that made Modern Family a long-running comedy favorite until Veep unseated it this year. If Fresh Off the Boat's second season premiere is any indication, the show hasn't made any drastic leaps in humor, quality, or ambition. But it looks like the series will continue to deliver consistent chuckles and cleverly subvert stereotypes of Asian American experience—even if they come wrapped in a fairly standard family-sitcom package.
That package, generally, is this: Eleven-year-old Eddie Huang moved with his family from Chinatown in Washington, D.C. to Orlando, Florida, where his father Louis (Randall Park) runs a Golden Corral-style steakhouse and his mom finds her calling as a real-estate agent (both parents emigrated from Taiwan). A hip-hop lover, Eddie struggles to fit into his new school while his younger brothers Evan and Emery have no trouble. Most episodes play off the conflict that arises between the family's more traditional Asian values and roots and their American ones. But where the show succeeds is in showing how two sets of identities, seemingly at odds, can and do coexist, however messily. And it's the kind of commentary that only a show with multiple Asian American characters can really achieve.
No, the show doesn't get into some next-level cultural theory about identity politics, but it makes those types of questions accessible and relevant to an average American audience. Take the season-two premiere episode, "Family Business Trip," for example: Louis tries to convince his wife that his trip to a business conference is not an attempt to sneak in some summer relaxation, because the family doesn't "believe in vacations." (As Louis tells one of his employees, "Your job is a vacation from poverty.") It's ostensibly making fun of how relentlessly hardworking immigrant families can be, until you remember—Americans are notoriously awful when it comes to taking a break from work, even when they're offered paid leave to do so. In tapping into a stereotype, the show gets at another truth, and the joke becomes less "wow, how Asian" and more "wow, how American."
Still, newcomers to the show are best off starting from the very beginning if they want to better appreciate the nuances of the Huang family's dynamic. In this season's premiere, Jessica's lovable side doesn't get as much attention, and there's not much background about their stressful (but hilarious) collective efforts to get the restaurant off the ground. Also missing from "Family Business Trip," and probably the rest of the season, is the voiceover narration from the real Eddie Huang, whose memoir served loosely as the basis for the show. Not that the show really needs him—but it'll have to work a bit harder to bridge the gap between the interior world of younger Eddie (played by the delightful Hudson Yang) and the audience. Also gone is the sense of an adult looking back and reflecting on his childhood—instead, the show seems now fully its own thing, unmoored from the darker realism of Huang's actual life story.
Much was made last season of Huang's ambivalence about the show, mainly for its apparent whitewashing and neutering of his memoir.
But if some of the dissenting Twitter comments Huang received after calling the show unrelatable are any sign, Fresh Off the Boat is still managing to reach many. And at a time when a show as beloved as How I Met Your Mother only last year deployed yellowface, and when Asian actors still have little representation on TV, it's nice to have another that lets Asian Americans characters define—and laugh at—themselves.