Ferrell Takes the Field With a Straight Face
HBO's baseball mockumentary isn't the funnest of the comedian's small-screen experiments, but his commitment to his role deserves praise.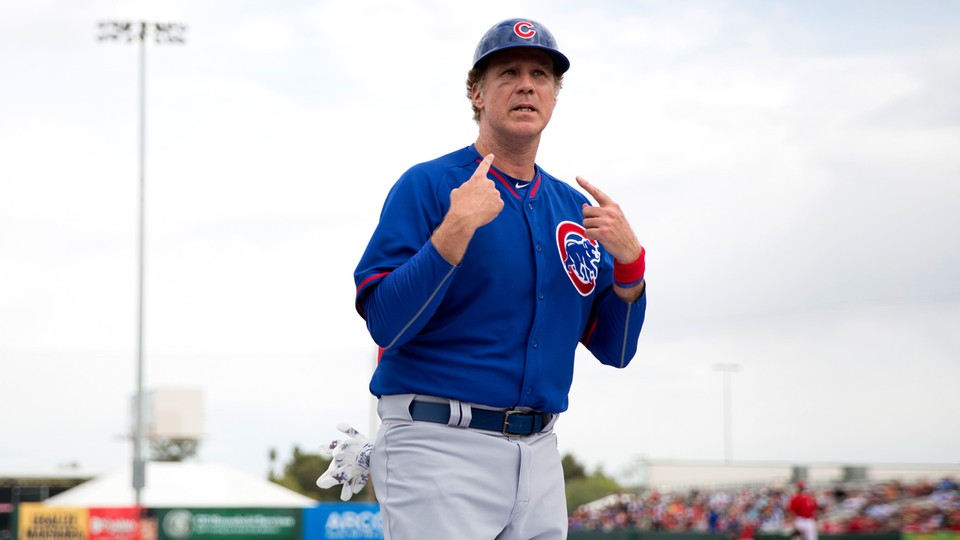 Throughout his career, Will Ferrell has never been afraid to embrace the power of television as pop culture's most expansive and strange medium. He rose to fame on the most mainstream comedy show there is, Saturday Night Live, but in recent years he's been spotted in some of the oddest TV experiments. His latest, an HBO baseball mockumentary called Ferrell Takes the Field, follows Ferrell as he takes 10 positions for 10 different baseball teams in one day, to beat a famous sports history record set by Bert Campaneris in 1965. Proceeds from the film will go to a charity that helps send cancer survivors to college.
As a charity stunt, it's sweet; as a TV special, the thin premise doesn't quite work. But it's rescued from total failure by Ferrell's total commitment to his role. He chats with players, opines on baseball, and trots between teams with the weariness of a utility infielder being traded over and over again. It's hardly laugh-out-loud funny, but it's the usual approach of Ferrell's performance-art stunts—they linger in the memory more for their devotion to accuracy than for securing a big comic payoff.
For instance, there was his Super Bowl commercial for Old Milwaukee Beer, which consisted of 30 seconds of slow-motion footage of Ferrell walking in a wheat field, catching a beer can, and cracking it open before being abruptly cut off mid-sentence (the ad aired in only one TV market in Nebraska, but instantly became a viral hit). There was his Lifetime movie Deadly Adoption, where Ferrell and Kristen Wiig played a married couple tormented by the child they take into their home. Viewers tuned in expecting a camp-fest, and got a schlocky, self-serious Lifetime movie like any other, which compounded the absurdity.
Most recently, Ferrell was a guest on an episode of Fusion's The Chris Gethard Show where host Gethard married three couples on the air. Ferrell was called on to play their best man, and used his improvisational skills to deliver toasts for each couple, as if he'd been their friend for years. Ferrell Takes the Field has a similar feel—the joke is that Ferrell will not, under any circumstances, let his mask drop. TV comedy often trends towards the meta, and indeed Ferrell's most successful films (like Talladega Nights or The Other Guys) brilliantly play with the fourth wall. Ferrell Takes the Field, meanwhile, finds a middle ground: It's short on big laughs, but admirable nonetheless for Ferrell's ability to disappear into his characters.