The Invisible Labor of Fashion Blogging
Much of the job involves making it look like you're not doing any work at all. But for many, the reality involves 80-plus-hour work weeks, financial instability, and no real breaks.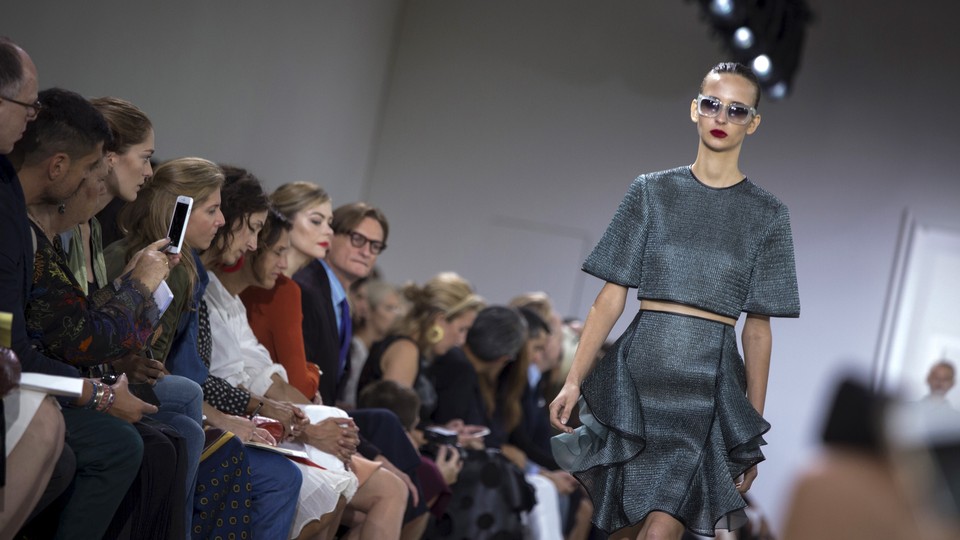 Earlier this month, the biannual circus that is New York Fashion Week saw non-stop coverage on social media via Instagram, Twitter, and Snapchat, with the scene repeating itself in London, Milan, and Paris through early October. Though coverage of designers, models, A-listers, and celebrities was in no short supply in mainstream and industry publications, there was another formidable yet familiar force on the scene: fashion bloggers.
It's been nearly a decade since these independent voices "took over the tents," as Women's Wear Daily proclaimed of the fashion blogosphere's first wave in the mid-aughts. While industry veterans initially saw the inclusion of bloggers as an invasion, the latter's presence at runway shows and designer fetes no longer draws the ire it once did. Instead, both designers and fashion editors recognize the power of bloggers. The resurgence of Birkenstocks, the frenzy over fringe, and the ubiquity of off-the-shoulder styles are among the recent trends that have been brought into the mainstream by a collective of online tastemakers, whose scrappy origins grow more and more distant every year. With annual incomes of top-ranking bloggers climbing into the seven-figure range, it's not surprising that they're frequently hailed as savvy entrepreneurs.
In the popular imagination, blogging has become a viable career path with legions of aspirants. As many other creative workers struggle to find stable and fulfilling careers, bloggers and others with digital clout seem to have shaped their careers with ease. The impeccably curated online presences of these young women—fashion blogging is heavily skewed female—seem to offer hope and a sense of control in an economy marked by persistent instability and precarious employment conditions.
But this idealized profession is less glamorous than it first appears. In a new study to be published this fall in the journal Social Media + Society, we examine the gap between the rhetoric and reality of fashion blogging. (Our analysis of 760 Instagram images by 38 top-ranked female professionals is part of a larger, multi-year project on the subject.) Pro-bloggers, we learned, must continually reconcile a series of competing demands: They have to appear authentic but also remain on brand, stay creative while tracking metrics, and satisfy both their readers and the retail brands that bankroll them. Many work up to 100 hours a week, and the flood of new bloggers means companies increasingly expect to not have to pay for partnerships. Meanwhile, the nature of the job requires obscuring the hard work and discipline that goes into crafting the perfect persona online.
* * *
Bloggers often chalk up their success to sheer enthusiasm, describing their work as some version of "a creative outlet fueled by a passion." However, this passion-project narrative often renders their investments of time, energy, and money invisible. More often than not, the blogger's road to fame is anything but smooth: Many launched their endeavors in response to an uncertain professional future. "I started the site when the economic downturn had affected the amount of work I was doing at my full-time job," said Kate Arends of the lifestyle blog Wit & Delight. "[It was a] way to focus on work that interested me and hope that I would be able to drive a few freelance projects my way." Similarly, Jessie Holeva of Trend Hungry recalled how after graduating from college in 2009, the only offer for work she received after countless interviews was an unpaid writing gig at a magazine, prompting her to start blogging instead.
Creating and maintaining a successful blog in the aptly named "attention economy"—where social media metrics are the currency du jour—requires countless hours of thoughtful planning. The bloggers we interviewed unanimously described their work as more than a typical full-time job; many estimated they devoted more than 80 hours a week to their blogs and related activities. Others shared how they were up into the wee hours responding to commenters, crafting posts, and editing images to fit the technical and strategic requirements of various platforms. (The qualities of a popular image on Instagram, for example, aren't the same for a popular image on Pinterest.) Candace, one of our subjects who wished to remain anonymous, explained that curating a single post on bargains is a "full day's work." Others noted that styling outfits and photographing them for a post can take a similar amount of time.
Bloggers seeking to stand out are encouraged to cultivate a distinctive point of view—advice creative workers have received for generations. But in the digital era, a creative point of view really means a personal brand—with an active social media presence that is "an extension, or representation, of [yourself]."
Scores of advice columns, manuals, and websites dedicated to creative careers highlight the significance of self-branding for landing a job. Branding has been hailed by the venture capitalist Mark Suster as "the most important way to proactively control your career development and how the market perceives you." A personal brand is supposed to come across as authentic, despite the countless hours and financial resources typically required to create it. Navigating this paradox—translating oneself into a consistent yet distinctive visual aesthetic, online voice, and potential partner for commercial brands—is a continuous project. As Crystal, another subject who asked to remain anonymous, explained, "Your world revolves around promoting yourself and your blog while trying to run a business." Sometimes this means endorsing products you don't entirely believe in. Megan Collins, the founder and editorial director of the men's lifestyle site Style Girlfriend, said this is particularly true for bloggers with smaller followings who tend to live a feast-or-famine lifestyle.
Though blogging A-listers seem to have their choice of collaborators, several women we interviewed confessed that the oversaturated market is making it increasingly difficult to generate income. Rachel Lynch of I Hate Blonde told us that "now [brands are] so overpopulated with floods of emails from wannabe bloggers that they're ... reevaluating all [their] relationships." She explained how a company that used to pay her recently asked her to do a holiday-themed promo—this time without remuneration. Holeva noted that people see bloggers getting free items and living a life that seems impossibly glamorous, when in reality, "it's a lot of work and there's a lot of competition."
Holeva also mentioned the "Instagram filter" effect, or the performative culture of digital-media platforms, wherein images and moments appear much more vibrant and picture-perfect than they might be in reality. Bloggers might post pictures of themselves on the streets of New York, or sitting on the beach in Koh Samui. But even their moments of seeming candor—often with family, friends, and pets included—don't disrupt their well-crafted social-media personae. Their shots are often cannily staged to ensure a particular aesthetic—one that obscures the staging itself. ​
Quite a bit of other "work" takes place behind the scenes, too, such as product launches, PR events, and conferences that require bloggers to sustain a frenetic schedule—sometimes with as many as 20-plus events in a week. For example, when we interviewed Holeva, she had just finished a week where she said she had "an event every night, [and] some nights I went to two or three." Critical blowback also often takes an emotional toll on bloggers; one described how she parried an organized group of online bullies who targeted her while trying to cope with the anxiety and dread brought on by their attacks. Others explained how their work life and home life became indistinguishable from each other—what the technology researcher Melissa Gregg terms "presence bleed." Even a seemingly casual social event becomes an opportunity to network with potential partners—or readers. As Alice Chan of Dalabooh told us, "You are your brand, so you have to market yourself and be professional at any time [be]cause you don't know who's sitting next to you."
The public, performative aspects of the job make taking a break essentially impossible. Bloggers are beholden not only to immediate collaborators but also to their many followers, who sometimes freak out when their favorite bloggers waver from their regular, several times-a-day posting. Similarly, Crystal said, "One of the biggest cons [of blogging] is that you always have to be on." Vacations, unlike for those in other professions, aren't a time to disengage and reset—they just offer another tempting opportunity to build your brand and gain followers. The result? "I was ignoring my husband," she said, aside from asking him to take her picture.
* * *
There's an important historical precedent to bloggers' concealed labor. In the early 1980s, the sociologist Arlie Hochschild coined the term "emotional labor" based on her studies of service workers whose jobs require them to manage their presentation of feelings: the fake smile, the feigned interest, the hollow expression to "have a nice day." The gendered nature of emotional labor is part of a long history of "women's work"—think child-rearing, housework, care for elders—that tends to be essential to the functioning of society but is often undervalued and underpaid.
Bloggers' emotional labor takes a different form—glamorous living is documented frame by frame—but remains, like Hochschild's service workers, concealed. Bloggers look like they have fulfilling careers, financial success, flexible schedules, and fun lives. But these creative mavens are ostensibly also regular women. As such their digital images of perfection make it seem accessible to everyone: just a lot of passion and a few social media accounts away.
Some top bloggers have publicly addressed the personal issues behind the online personae—anxiety, loss of privacy—but they're a tiny minority. The imperative to appear perfect while laboring behind the scenes remains the norm. So while scrolling through Fashion Week photos online, it's healthy to remember that what's significant about fashion blogging isn't just the opportunity it provides to show off Valentino pumps or rave about Phoebe Philo, but also its role as a bellwether for the changing nature of consumerism and self-expression in the digital era.