A Call for Change at the Emmys
After a historic win, Viola Davis stole the show by calling out the television industry's slow progress.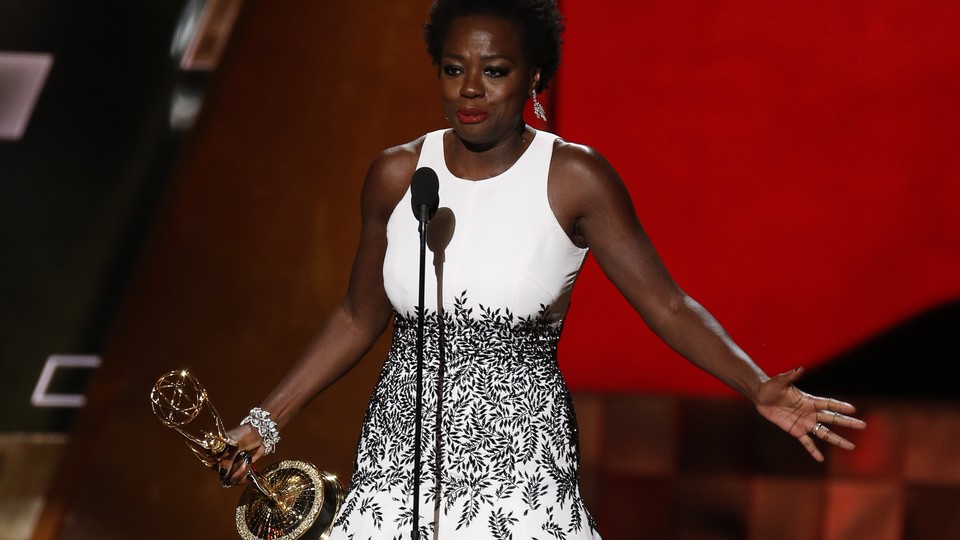 The Emmy Awards, long known for repeat winners and playing it safe, aired its first genuinely exciting show in years Sunday night, with HBO sweeping the major categories and the longtime bridesmaid Jon Hamm snaring an accolade for the final season of Mad Men. More memorable still was the milestone win of Viola Davis for How to Get Away With Murder, the first black woman named Best Lead Actress in a Drama, who stopped the show with a powerful speech pointing out Hollywood's lack of effort in encouraging roles for actresses of color.
Even within the formal genre of awards show, the Emmys have a reputation for being stodgy, in recent years handing out endless trophies to fun but predictable shows like Modern Family and The Big Bang Theory. It was by that slim yardstick that this year's winners could be declared genuinely surprising, with first-time winners in both the drama (Game of Thrones) and comedy (Veep) categories, and diversity among the individual winners, who included Orange Is the New Black's Uzo Aduba (Best Supporting Actress in a Drama), American Crime's Regina King (Best Supporting Actress in a Limited Series) and the openly gay director Lisa Cholodenko (who won for her work on the HBO miniseries Olive Kitteridge). It built on the recognition of TV's growing landscape shown in the nominations, but as Davis reminded the viewing audience, progress is slow. "The only thing that separates women of color from anyone else is opportunity," she said. "You cannot win an Emmy for roles that are simply not there."
When Kerry Washington was cast as the lead of ABC's Scandal in 2012, she was the first black female lead of an American TV show since 1974. Washington wasn't nominated for an Emmy this year, but Davis made sure to note her among TV's small but growing group of black female stars in her speech. When King took the stage for her American Crime win (the only Limited Series trophy that didn't go to HBO's acclaimed Olive Kitteridge), she seemed genuinely stunned; only four years earlier, she had written an op-ed for the Huffington Post decrying the Emmys for being "as white as ever." Though these wins (along with Aduba's) made up only a small portion of the show, they stood out as TV's most meaningful accolades in a long time.
From an industry perspective, the biggest news of the night was likely HBO's feat of capturing both Best Comedy and Drama Series—the last time a network took both was in 2002, when NBC's Friends and The West Wing won. Veep, a longtime Emmy favorite, triumphed in the categories of Lead Actress (Julia Louis-Dreyfus, taking her fourth trophy in a row) and Supporting Actor (Tony Hale, his second in three years). In taking the Best Comedy prize for the first time, it finally ended Modern Family's five-year streak. Game of Thrones, meanwhile, gave HBO its first Drama Series win since the finale of The Sopranos in 2007.
Thrones's major sweep (it won 12 awards in total, the most ever for a continuing series) included awards for directing and writing (for the first time), and Supporting Actor for Peter Dinklage (his second trophy). Its fifth season met with a more mixed reception from critics, but its ratings popularity remains absolute, and the show benefited from a vacuum at the top with the departure of Breaking Bad. Its most serious rival was AMC's Mad Men, nominated for its swansong season, but that show fell from Emmy favor after sweeping Drama Series for its first four years, and until Hamm's triumph tonight had never won an acting award.
The Emmys often fail to make up for past mistakes in time—Steve Carell never won for his work on The Office, nor Hugh Laurie for House, nor Angela Lansbury for Murder, She Wrote (nominated an incredible 12 times). You can add Amy Poehler to that list for Parks & Recreation, shut out again (while taking it in good humor), but at least Hamm got to take the stage in honor of his performance as the '60s ad-man Don Draper, certainly inscribed in the annals of TV's most legendary protagonists. It was Hamm's first win in 16 tries (he's also been nominated for his work on 30 Rock and Unbreakable Kimmy Schmidt) and he received a standing ovation, thanking family and friends in a brief but moving speech.
Other memorable speeches came via the critically acclaimed Transparent, which collected trophies for Best Directing in a Comedy Series (Jill Soloway) and Lead Actor (Jeffrey Tambor), both of whom paid humble homage to the transgender rights movement onstage. Tambor's win was another well-deserved career accolade: He had been nominated seven times for his totemic work on Arrested Development and The Larry Sanders Show. On the more irreverent side, there was Amy Schumer (winner of Best Variety Sketch Series) thanking the makeup artist who made her eyes "smoky," and the pithy Frances McDormand (Lead Actress in a Limited Series for Olive Kitteridge), who said simply, "My colleagues Jane and Lisa have already given the thank-yous that need to be said. We're all here because of the power of the stories that need to be told. Sometimes that's enough. Thank you."
Both funny and moving was Tracy Morgan, the final presenter of the night, making a rare appearance after suffering debilitating brain injuries in a car accident 18 months ago. Starting slowly, he quickly warmed up into his old self, a heartening sight to end a show that was in general very crisply run. The host, Andy Samberg, quickly went at his audience with material that poked fun at Hollywood's subtly discriminatory hiring practices, and ploughed through unaffected despite only scattered laughs from the audience. On balance, it was probably the best hosting job at the Emmys since Conan O'Brien's work nine years earlier.
The idea that a few memorable speeches and deserved trophies will solve the television industry's ills is of course ludicrous, but there's no questioning the power of awards show pageantry, which can disrupt the status quo as easily as affirm it. The mere fact of Davis's justified victory would have sent a powerful message on its own, but on top of that, she used the global audience it granted to call for change. Hopefully that moment bears weight long after the rest of this year's awards have been forgotten.