Japanese Demons and Crotch Bombs: The Tense State of Asian Cinema
Movies from South Korean, China, and Japan have become increasingly nationalistic, thanks to ongoing territorial disputes and the 70th anniversary of World War II.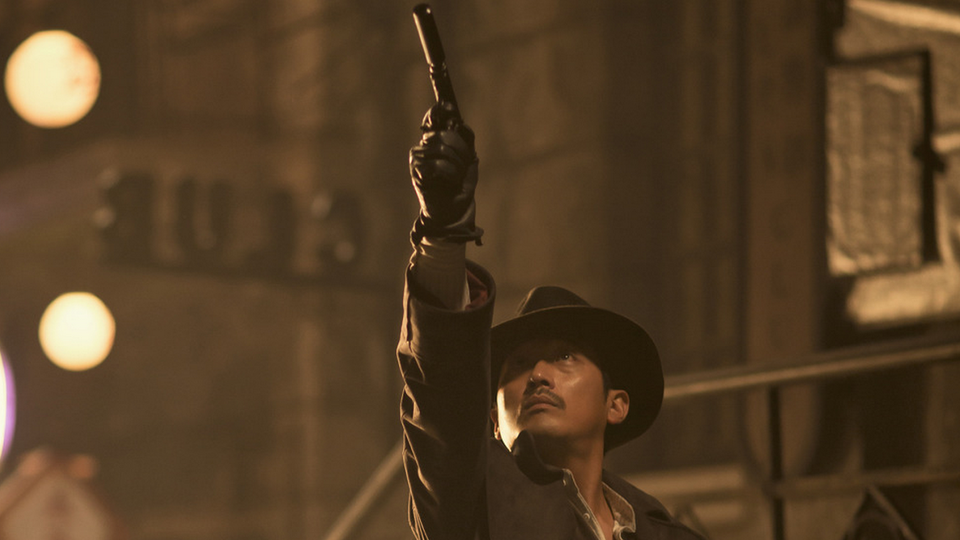 In August, the South Korean film Assassination became the year's biggest box-office hit in the country, surpassing Avengers: Age of Ultron, and taking its place as the eighth highest-grossing domestic film of all time. Assassination has all the hallmarks of a summer blockbuster—plenty of action, star power, a lengthy running time—but it's also the kind of movie South Korean audiences have gobbled up in recent years. Specifically, it's a nationalistic period piece where the Japanese serve as the villains.
Assassination takes place in the 1930s, during the Japanese colonial period, and centers around a group of Koreans tasked with killing a Japanese commander and a pro-Tokyo sympathizer. Its success comes at a time when the region has been marking the 70th anniversary of the end of World War II, and when relations between Korea, China, and Japan remain tense, due in part to the latter's wartime actions. Many in the first two countries say Japan hasn't shown enough remorse for what it did, especially when it comes to acknowledging the use of sexual slaves known euphemistically as "comfort women."
China has also ramped up its patriotic programming over the last few months, leading to a military parade last week celebrating Japan's defeat. (Though it's worth viewing the country's reported box-office numbers with some skepticism: Some analysts have claimed the government inflated ticket-sale numbers for a new Chinese patriotic film ahead of the war anniversary.) Even Japanese theaters have seen a new wave of popular, war-focused films in recent years. Big patriotic movies are hardly unique to East Asia—the United States certainly isn't lacking in this genre—but consumers in China, Korea, and Japan are embracing them against the backdrop of real-world geopolitical drama, and the demand for them has grown as diplomatic relations have worsened. So it's no surprise these nationalistic tales are a financial boon for filmmakers. A recent Pew study found the three countries mostly have negative views of one another, which are reinforced by cultural depictions—China and Korea want to see Japan as a villain, while Japan wants to feel like it didn't do anything too bad in the conflict.
Around a decade after World War II ended, Asian countries formerly occupied by Imperial Japan began making movies that reflected the scars Japan's violent march through the continent had left. In mainland China, films such as 1956's Guerilla Railroad, 1962's Landmine Warfare, and 1965's Tunnel War gave life to the archetype of the so-called "Japanese demon." "He possesses not a single redeeming quality and exists only to be reviled and vanquished," Timothy Y. Tsu, a professor at Japan's Kwansei Gakuin University, writes in his essay "Recollection Onscreen." He also points out how these films helped bolster the public image of the then-fledgling Communist Party.
Some of Korea's earliest silent films, meanwhile, had been anti-Japanese affairs, spurred by the 1926 feature Arirang, which eventually led to Japan clamping down on cinema in the 1930s. But for years after that the Japanese popped up as antagonists in Korean films, most notably in the "Manchurian Westerns" popular in the 1960s.
Eventually, anti-Japanese films were balanced out by more nuanced looks at the war and the people involved on all sides. For every Hanbando—a ridiculous 2006 Korean action film in which Japan tries to colonize the country again—there was a film critical of the U.S., such as The Host. Korea also saw plenty of works taking aim at former leaders such as The President's Last Bang (a film heavily criticized for its portrayal of former President Park Chung-hee, who was depicted in unflattering terms as an occasional Japanese speaker).
As relations in East Asia have worsened between the three countries in recent years, however, films have again taken on a more nationalistic bent. Assassination's box-office success is impressive, but falls well short of last year's historical blockbuster The Admiral: Roaring Currents. That film reached well into the past for its subject matter—the Battle of Myeongnyang in 1597, where the Korean admiral Yi Sun-sin used a dozen ships to defeat a Japanese fleet of 330—to become the highest-grossing Korean film ever. While Assassination took recent history, The Admiral used a box-office-friendly, patriotic underdog story to remind viewers of Japan's long history of imperialism.
The Chinese movie industry released its own much-anticipated historical film focusing on Japanese atrocities: 2011's The Flowers Of War, which portrays the mass murder, rape, and looting perpetrated during the 1937 Nanking Massacre, as well as the aftermath of the campaign. The movie was also an attempt by China to score a hit in the Western world, hence Christian Bale in the starring role. Flowers failed overseas, but Chinese viewers flocked to theaters and made it the highest-grossing film of the year upon its release. Meanwhile, newer TV programs like Anti-Japanese Knight and Fight the Devils Together relied heavily on the "Japanese demon" trope, featuring scores of actors portraying Japanese soldiers being killed, sometimes in ridiculous fashion.
So, what of Japan? The country has also seen a recent bump in war-centric films—but these works tend to soften the country's image as an aggressor. Some, such as Fires On the Plain and the famed animator Hayao Miyazaki's The Wind Rises, offered conflicted views of World War II, ultimately taking a pro-peace stance. The recent anti-war film The Emperor in August did the same. Yet it was 2013's The Eternal Zero that became one of the highest-grossing Japanese films in recent memory for its focus on kamikaze pilots near the end of the conflict. Miyazaki slammed the film for glorifying the suicide pilots, while its director, Takashi Yamazaki, disagreed. The Eternal Zero doesn't exactly paint the war in a positive light, but it does offer up a sympathetic view of Japan. One notable fan? Prime Minister Shinzō Abe, a conservative recently criticized by Japan's neighbors for delivering a "watered down" war apology.
More telling than such fare, however, might be the World War II films Japan hasn't released. 2014's Unbroken featured elements Japanese moviegoers usually love—Angelina Jolie as the director and the rock star Miyavi in a lead role—yet the movie has yet to be picked up by any domestic distributors. Right-wing groups criticized Unbroken for being "anti-Japanese," due to its depiction of how brutally Japanese prison guards treated their prisoners. Now, nearly a year after its U.S. debut, it's unlikely Unbroken will see a Japanese theatrical run at all.
That said, the situation isn't all bad. Despite this boom in jingoistic media, 2015 has also highlighted how much these three East Asian nations have come to enjoy one another's artistic output. In a year where the number of Chinese tourists to Japan has kept rising, China allowed the first Japanese film in three years to be screened in the country—and it was a smash hit. Stand by Me Doraemon, starring Japan's famous blue robot cat, did big business at the box office, despite the character being labelled by the Chengdu Daily as "subversive." Korean dramas and pop music have carved out a lucrative niche in Japan, while Japanese anime and manga have likewise made inroads in South Korea.
This isn't to say that consumers in these countries blindly appreciate everything patriotic that's offered to them. Despite the number of anti-Japan programs on air in China, many people have complained about them due to their general absurdity (highlights range from Japanese soldiers being literally ripped in half by magical kung-fu moves to planes being destroyed by grenades chucked from the ground).
"The authorities have banned foreign TV shows—only to let us see this?" one Chinese Internet user wrote following a much derided scene from a wartime drama where a woman killed Japanese soldiers using a bomb hidden in her crotch. Films such as Assassination and The Admiral don't hide their nationalistic sides, but they're also the kind of big-budget popcorn films that viewers might love anyway. And The Flowers Of War wasn't just a work of phoned-in propaganda; it aimed to be Oscar-worthy. The lesson is people might embrace patriotism, but they want to be entertained, too: If relations improve in coming years, expect the film industries in all three countries to try to win over a new audience—one another.