Beyoncé Returns
Made in America, her first real concert of 2015, reasserted the power of a pop star who knows she has to work to stay on top.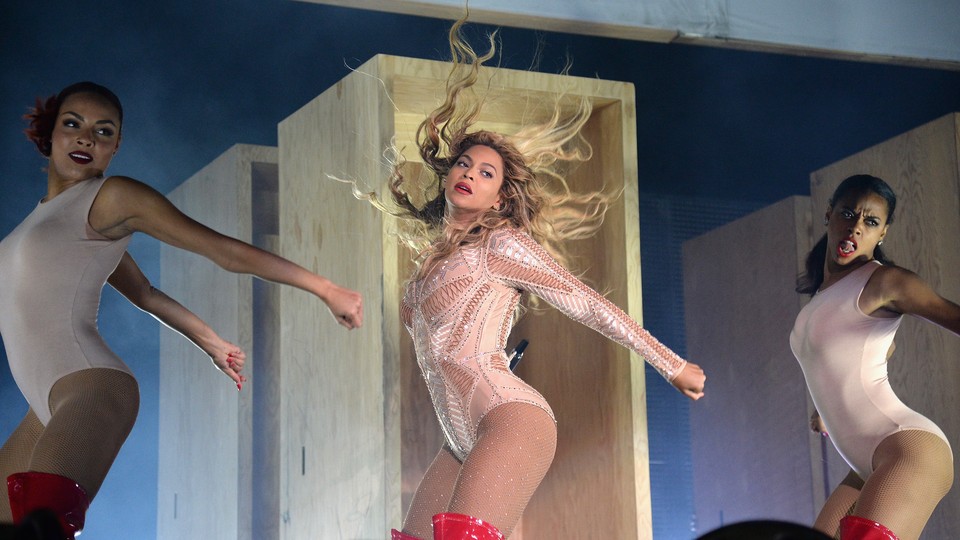 If Beyoncé's fans wanted to be totally accurate in their acclaim, perhaps they wouldn't call her Queen Bey. Queens are born into their power, but the story that she wants to sell is more meritocratic than monarchist—one about wanting, and practicing, and straining, and failing, and transcending. Her self-created documentary lavished attention on all the effort that goes into her rehearsals; her Super Bowl performance let America see her sweat; "Flawless" opens with a clip of her Star Search defeat, so that when she says "I woke up like this—flawless," it's a winking joke. Greatness, her music says, isn't easy.
Another thing about queens is that they serve for life whether they're good at their jobs or not. But Beyoncé must realize that in pop music, rulers tend to be term-limited. Her former Destiny's Child buddies, once equal to her in fame, are now overshadowed; her idol, Whitney Houston, had a relatively short run as the very most important singer in America. So why would her eternal reign be ensured? Her biggest smash, "Single Ladies," was in 2008; the follow-up full-length, 4, didn't have a mega hit. Only with the surprise release of her self-titled, sonically adventurous, critically acclaimed, best-selling "visual album" at the very end of 2013 did her final coronation happen. The year that followed was one in which she seemed ubiquitous and beloved, a star everyone agreed upon (or else).
Here comes the suspense: What happens next? How does she maintain her status? Casual fans might not have noticed, but 2015 has been a hibernation year for Beyoncé: no new music, no public performances outside of some tribute songs for the Grammys. She appeared on the cover of September's Vogue, but the accompanying story contained no interview with her. It was as if she'd let the magazine use her image simply to remind people that she was still around, watching silently during a year when attention has mostly been on Taylor Swift.
On Saturday, a day after her 34th birthday, she broke her silence, performing for the second time as a headliner for the Made in America festival in Philadelphia, founded by her husband Jay Z and ostentatiously sponsored by Budweiser. She debuted no material. But she did rework her catalogue extensively, and the show felt like a reassertion of Beyoncé's powers—the effortful singing and dancing, the impeccable choreography, the attitude, the personal politics.
The first song was the gothic ballad version of "Crazy in Love" from the 50 Shades of Grey soundtrack, followed by a refrain from the peppy original. She arrived on stage in a framed box, next to a bunch of other framed boxes filled with dancers slinking as lights and shadows strobed over them, making for a sexy, hypnotic game of Whac-A-Mole. It's hard to describe; until there's a legal video up, you can peruse her photos.
The rest of the show also served up striking visuals, most of which were new—not, as would be the case with other stars, recycled from previous concerts or awards ceremonies. Her On the Run tour with Jay Z last year at times bogged itself down with lengthy video interstitials; she had fewer such clips this time, and they were more amusing. In one, she balanced a birthday cake on her head as she walked along the East River, and in another, she tried to use a vacuum cleaner on a cracked sidewalk.
The message was more overtly feminist than ever. For a portion of the show, she and her dancers wore sparkly leotards emblazoned like basketball jerseys, featuring the wearer's hometown (Houston for Beyoncé, Cali and Harlem for others), underscoring the idea that feminine pop performance is athletic labor. The Chimamanda Ngozi Adichie TED talk that she sampled on "Flawless" appeared, but so did two new monologues—Maya Angelou's seduction poem "Phenomenal Woman," and a recorded snippet from the MMA fighter Ronda Rousey talking about the difference between herself and the archetypical "do-nothing bitch." A portion:
Just because my body was developed for a purpose other than fucking millionaires doesn't mean it's masculine. I think it's femininely badass as fuck because there's not a single muscle on my body that isn't for a purpose, because I'm not a do-nothing bitch.
It's a vivid and progressive quote, but has drawn some criticism for promoting a good woman/bad woman dichotomy and shaming people who embrace traditional roles out of choice. For those skeptics of Beyoncé who say her brand of feminism is confused or exclusionary, too focused on physical perfection and too disparaging of those who choose to "lean out," the use of Rousey's words—not to mention interstitial videos in which Beyoncé smashes domestic symbols like sewing machines and vacuum cleaners—may be another offense.
But the overall sense from the show was that Beyoncé wasn't really looking to make headlines or modify peoples' ideas about her. The most radical thing about the performance was how self-contained it was. Nicki Minaj had made a surprise appearance on the stage earlier in the day for Meek Mill's set; online rumors said that Minaj might also join Beyoncé for "Feelin' Myself" or "Flawless." Similarly, the fact that Beyoncé was playing Jay Z's own festival made a lot of audience members expect an On the Run-style collaborative song or two. It didn't happen. While Taylor Swift hauls out a Pinterest board's worth of celebrities on her tour stops, Beyoncé is her own squad.
And why not? Check out the setlist, so full of mashups and alternate versions and mini-covers that it practically requires footnotes. This was a show all about Beyoncé's music as a language in itself, able to be recombined and emphasized in different ways for different effects. Destiny's Child's hits were annexed into Beyoncé's solo career; so were the Beyoncé parts of a Minaj song. Though the material was old, there could be no autopilot from the woman at the center of it all—she has never performed these songs in quite this way before. She danced and sang as hard as she ever does, and if she made mistakes, I couldn't tell. It looked liked hard work, and it looked like she could keep doing it for a long time.