The Bonkers Best Time Ever With Neil Patrick Harris
The new NBC variety show isn't exactly fresh, but it benefits from being unrestrainedly bananas.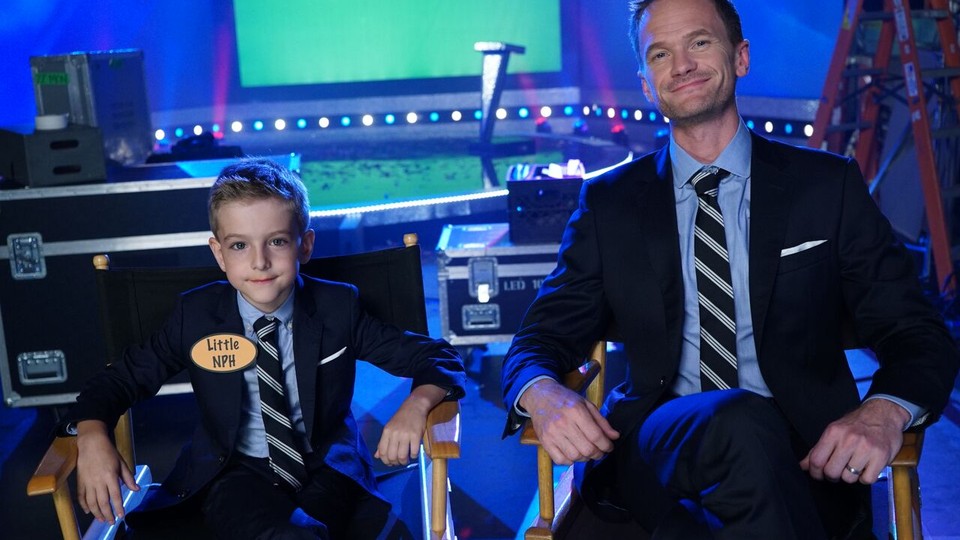 What do Maya Rudolph, Rosie O'Donnell, and the Osbournes have in common? At one point or another, with varying degrees of success, they've all made efforts to revive the TV variety show, and turn live song-and-dance into the ratings bonanza it used to be (albeit by relying on a tired formula featuring musical numbers, celebrity guests, and stilted audience interaction). NBC's newest effort, Best Time Ever With Neil Patrick Harris, seems to be sticking to that template and may be equally doomed, but it has one trick up its sleeve: Even with all the strictures of the format, it's genuinely demented.
Recalling Harris's many stints hosting awards shows like the Tonys, Emmys, and Oscars, Best Time Ever, which debuted Tuesday night, should be a lazy pitch down the middle, with Harris performing a big musical number and perhaps an elaborate magic trick (who can forget his doomed Oscar bit involving a sealed envelope filled with predictions). To his credit, Harris is aiming in an entirely different, and much more peculiar, direction. The premiere of Best Time Ever was a truly chaotic series of stunts, and enjoyment of it probably derives from just how staged you thought the audience interaction was. Either way, at a certain point it had a manic energy no other variety show of recent decades has come close to capturing, and that in itself is a strange sort of achievement.
To open the show, Harris revealed he had infiltrated the wedding of one couple in the audience months before, bringing them onstage and surprising them with creepy photobombs showing him in the background at their blessed day. Later, he activated cameras and microphones that were planted in the houses of viewers at home, supposedly against their knowledge, so they could sing live karaoke with Gloria Gaynor. By the time Harris was challenging Reese Witherspoon to race him to the top of a steel crane, the show's increasingly chaotic atmosphere finally felt like it was boiling over into something genuinely spontaneous. No doubt Best Time Ever was a rigorously managed production from start to finish, but there was a faint glint of exasperation in Witherspoon's eyes after she failed to beat Harris in their race atop an American Ninja Warrior edifice that was impossible to fake.
Perhaps the strangest, and most compelling, part of Best Time Ever was that it made no acknowledgement of just how weird and occasionally invasive Harris's stunts were, with its host gently smiling and laughing all the while as he told an impassive-looking couple that he had been lurking in the background at their nuptials and rolling around in the honeymoon suite of their hotel before their wedding night. Witherspoon, the first in a revolving set of guest announcers, cheered him on from an onstage booth (before she was asked to take part in a ninja challenge, that is), and a tow-headed child in a suit was presented to audiences as "Little NPH," at one point having a copy of Gone Girl snatched out of his hands because it "didn't end well" for Harris's character (himself a clingy stalker) in the film adaptation.
The simplest question to ask of such a baffling TV oddity is: Why does this exist? The variety format, outside of late-night talk shows and Saturday Night Live, hasn't been a ratings winner for years, but NBC is clearly hoping that throwing a spectacular live event every week will draw audiences that are increasingly used to catching up on TV shows online. Musical events like The Sound of Music Live! and Peter Pan Live! marked the first wave, and the sitcom Undateable will perform its third season live every week starting in October, but Best Time Ever is bigger than either, and made game efforts to cross-promote with practically every other NBC brand. Carson Daly of The Voice was a guest, that show's judges (Blake Shelton, Pharrell, Gwen Stefani, and Adam Levine) were part of another one of Harris's pre-taped pranks, and the aforementioned American Ninja Warrior got a big old plug.
But it's hard to imagine American audiences warming to Best Time Ever, no matter what Harris's personal popularity might be. The show is based on the British hit Ant & Dec's Saturday Night Takeaway, a variety show hosted by two super-popular comedians (glimpsed onstage at the end of the Best Time Ever premiere) who perform a similar mix of live comedy and stunts. But the British TV landscape has always been more suited to such theatrical antics, which never really went out of style. Unless it's in a gameshow (and Best Time Ever had more than a whiff of The Price Is Right in its staged audience interactions), American TV has bade goodbye to those stagey traditions. Harris seems to know that, and clearly hopeful that by dialing Best Time Ever's energy up to a thousand, he can reverse the trend. He's probably wrong, but there's something strangely compelling in watching him try.