Baseball Players Don't Always Make Good Managers
The sport widely continues to hire athletes with no experience running a team for the top position—but it should stop.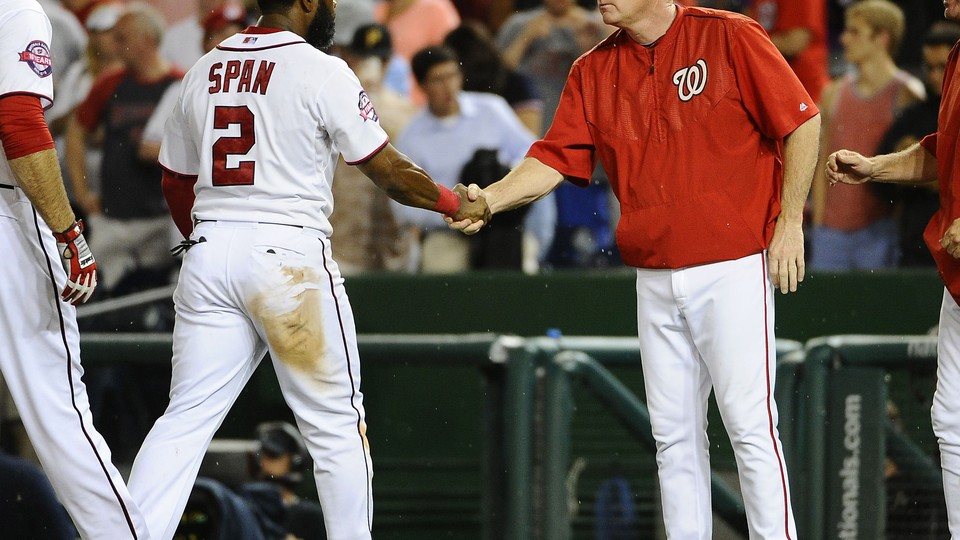 In about a week, the Washington Nationals—picked by many to reach the World Series before the season started—will finish well behind the New York Mets and miss the postseason altogether. In all likelihood, manager Matt Williams will lose his job over the underperformance. His firing, if it happens, won't be terribly surprising—he's well-documented as a terrible tactical manager. But Williams did about as well as could be expected given his history. He had virtually no managerial experience before the Nationals hired him prior to the 2014 season, and his greatest asset was perhaps being an exceptionally good player years ago. Given that Williams wasn't hired for his managerial know-how, his poor performance says more about the team who hired him than it does about Williams himself.
Quite obviously, "once played baseball well" isn't a qualification for management; playing and running a team are unrelated skill sets. In virtually any other industry, hiring a relative novice to command the nine-figure payroll of a franchise valued at over a billion dollars would be malpractice. In Major League Baseball? It's commonplace. In an era where data analysis is more important than ever to on-field success, the practice of hiring managers like Williams is especially damaging.
When Michael Lewis released his 2003 book Moneyball, a chronicle of the successful moves and analysis performed by the cash-strapped 2002 Oakland Athletics, it marked a major milestone in baseball analysis, known as sabermetrics. Although many of the book's lessons were well-known for years within the analysis-focused community, Moneyball popularized sabermetrics and gave it enough credibility to become part of all MLB front offices. Indeed, teams that don't embrace advanced analytics suffer—the last-place Philadelphia Phillies, who only recently committed to a greater focus on analytics, have long been laggards in this field.
Yet Moneyball itself is really only notable for the credibility bump, not for what it taught. Many of the tactics employed by the 2002 A's were derived from Bill James's Baseball Abstract publications of the late '70s and '80s. Clearly, the field of baseball research has evolved since then—especially when it comes to measuring player defense. It's easy to agree on the definition of a .300 hitter (someone who gets a hit in 30 percent or more of their at-bats). It's far harder to agree on what a good team defense, or even a single good defender looks like. Not every defensive blunder involves dropping the ball or making a wild throw. Some miscues aren't even notable—consider a slow-footed outfielder versus a fast one: Both might never drop a ball, but the fast outfielder will reach more balls and thus have more chances than his slower counterpart. This is a gross oversimplification—in many cases speed is only a small component of defense; a player who takes a straight route to the eventual landing spot of a ball can make up a speed gap versus a player who takes a more circuitous route.
All of which is a long way of saying "it's complicated." And if the complexity weren't frustrating enough, getting a clearer sense requires numerous data points—enough that it's virtually impossible to structure it in a way that's usable and downloadable to laypersons. Yet there's no question that this information is useful to the analysts and statisticians employed by MLB teams. The Pittsburgh Pirates, resurgent after two decades of losing, have their own analyst that travels with the coaching staff. (For those who enjoyed Moneyball but want a refresh, Big Data Baseball is a good choice.)
A great deal of work goes into forming a baseball system capable of having its big-league club qualify for the postseason. Yet all of that work is wasted when the field manager ignores it and instead manages by gut feeling. One could argue that the Kansas City Royals lost (and the Giants won) the World Series last season on the back of a single managerial decision in Game Seven. The Royals' manager Ned Yost managed as if there were a Game Eight and held back from using his dominant bullpen despite his starting pitcher struggling. Meanwhile, the Giants' manager Bruce Bochy immediately removed his own struggling starter and eventually used his best pitcher—starter Madison Bumgarner—to hold the Royals at bay in the season's final innings. It was a high-visibility move with obvious consequences, yet "use your best pitchers to attempt to win in the postseason" is still somehow a controversial tactic.
Despite the preponderance of useful data and the potential for a non-savvy manager to render it useless, most MLB managers are former players. Contrast this with the NFL, NBA, and NHL, where fewer than half of all head coaches are former players. These sports, by and large, recognize that a managerial or head coaching role is too important to assign to someone whose only success came when playing.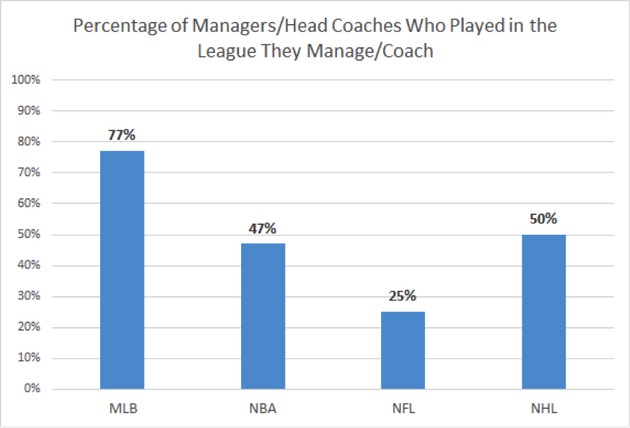 Why is MLB so different from its other major counterparts? There doesn't seem to be a very clear answer. It may be a function of legacy—MLB is a much older league than its counterparts, and transitioning from the field to the dugout became ingrained in the league's culture. (Yet the NHL and NFL formed at roughly the same time and clearly have very different hiring practices from one another.) And in all cases, the sports played in each league have dramatically evolved over time. No one would confuse a 19th-century baseball game for one played today, Conan O'Brien's attempts notwithstanding. Or it may be because baseball has a distinct position—catcher—which is regarded as more cerebral than other positions and thus creates the perception of grooming players into managers. Whatever the reason, MLB has clearly been slower than its counterparts in moving away from using playing experience as a proxy for managing experience.
Even today, the sport doesn't seem to be learning its lesson. A recent article by FOX Sports's C.J. Nitkowski (himself a former player) points out numerous managerial candidates with no previous experience being considered for 2016 hires. Yet the article highlights current managers with no experience either: Mike Matheny, Robin Ventura, Walt Weiss, Craig Counsell, and Brad Ausmus. If one wanted to make a case that managerial experience isn't a prerequisite for success, this is an awfully strange list of examples to make that case. Of those five managers, all but Matheny oversee teams that have lost far more than they've won. Two of those five manage clubs in last place in their division; two more are next to last. Ausmus is likely to be fired at the end of the season. Even Matheny, the manager of the Cardinals, seems to win in spite of his inexperience even while his blunders are well-chronicled.
Certainly, even a great tactical manager is limited by the talent he's able to put on the field. Given the injuries, age-related decline, and general lack of talent on the rosters of many of these managers' teams, you'd be hard-pressed to claim a different manager would've gotten appreciably different results. Data analysis and good use of data almost certainly can't take a team from last place to first.
But baseball is a sport played at the margins. Given that the Pirates and Cardinals are currently locked in a dogfight for their division title, that the Pirates manager is arguably more receptive to analytics than any other manager, and that Matheny is rather lesser regarded, managers may well make the difference in this instance. As shown previously, managerial maneuvers absolutely make a difference in the postseason, where a bad decision is magnified due to the small sample of games—there's simply no time for the talent of a roster to normalize away from the impact of bad managing.
To be sure, managing a baseball team isn't simply done on spreadsheets: Like any managerial position, it requires people skills. Someone with an analyst background may transition poorly to the dugout. The Pirates manager who uses analytics, Clint Hurdle, is a former player. Being a former player should by no means disqualify a potential candidate, but neither should it augment a candidacy: A manager's ability to use the information his team gives him is in no way informed by how many home runs that manager hit during his playing days.
The solution to solving the conundrum of bad managerial hires may lie in separating the roles of "clubhouse manager" and "in-game tactician." NFL head coaches, in many cases, focus on actual managerial tasks while ceding offensive and defensive decisions to their respective coordinators, for example. It's not unreasonable to believe that an MLB team could enjoy similar success with such a division of labor. If MLB teams hope to keep up with the rapid advancements in understanding on-field success that data analysis offers, they cannot continue to use a managerial candidate's baseball card as his resume.