An Elegy for McDonald's Breakfast Hours
With the beginning of all-day Egg McMuffins, America is reverting to its adolescence.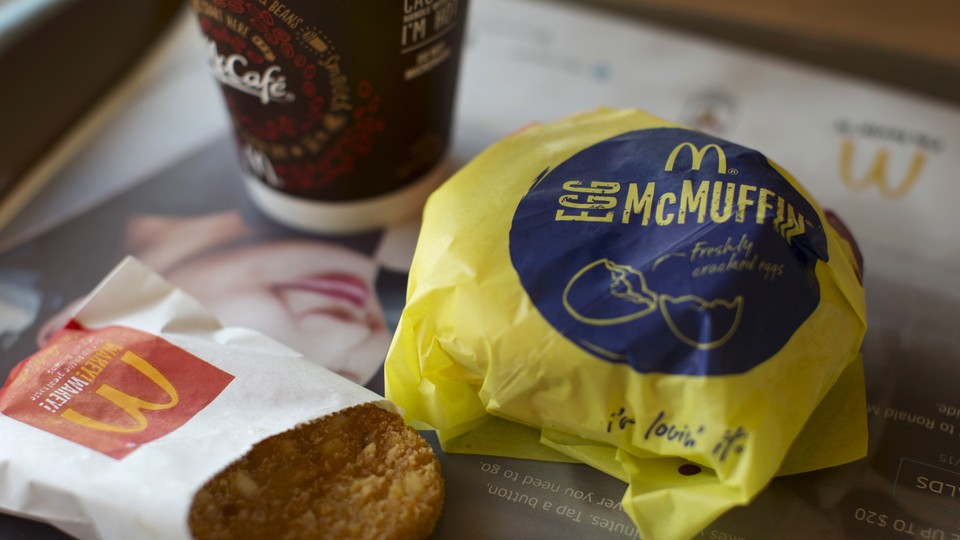 To fully gather the vital feathers of the Egg McMuffin, you first have to start with Eggs Benedict.
The Benedict is an American invention. While its origins are disputed, the dish is generally credited to Lemuel Benedict, a Wall Street stockbroker and society gadabout who wandered into the Waldorf-Astoria with a hangover one morning in 1894 and made a fussy order. The alchemy of buttered bread, egg, pork, and hollandaise was undeniable. A variation of the dish became a staple on the hotel's menu, before eventually becoming ubiquitous at breakfast spots—from white-cloth napkin joints to paper napkin downtown diners—across the globe.
One man who loved Eggs Benedict was Herb Peterson. Three-thousand miles from Park Avenue, the former ad man and McDonald's franchisee futzed around in a kitchen in Santa Barbara, California in 1971 and created the Egg McMuffin. It was designed to be a quick-service version of the Benedict, an homage that replaced poached eggs and hollandaise, respectively, with eggs cooked in a Teflon ring and cheese. American cheese, naturally.
Though we may revel in regional cuisines, somewhere between Betsy Ross and economic deregulation, the Egg McMuffin became America's national breakfast sandwich. By 1987, 25 percent of all breakfasts eaten outside of the American household were consumed at McDonald's.
On Tuesday, in a yield to customer demands and some business struggles, the company finally announced that next month it would begin offering some of the items in its breakfast arsenal all day. "America's breakfast prayers have been answered," one lede crowed. "Now, McDonald's has heard our call," another added.
But this news should also make us sad. As breakfast's gyre widens, a national ritual will be lost. A sacred context of time, place, and sustenance will be betrayed, and a nook where something inviolable once fit will be filled in.
On the off-chance you don't have an example, memory, or regimen, I'll spot you one that an old coworker of mine posted on Facebook on Tuesday.
Breakfast before daycare with Mama is one of my earliest memories. We had just moved to Chicago and she was both working overnight ER and going to medical school in the daytime. Our quality time was in the mornings. Sometimes between buses on our schlep to my daycare in Skokie, we would stop at the McDonald's Play Land. Every time I passed her on the carousel she'd give me a bite of a hash brown or some sausage. What a boss—achieving her career goals while making sure my ass was full of energy and love and play. Sometimes I do a McMuffin with the dog and nostalgic flavonoids transport me to being three. The standardization of the sandwich has allowed me to have that sensory memory so many years and miles away. And that's why I love corporations.
Part of why we now demand breakfast at all hours is because the old strictures of workday and place have been shed. "In our 24/7 world, consumers want what they want, when they want it," a Dunkin' Donuts executive told Slate in May. "We are seeing breakfast permeate through the entire day."
Indeed, earlier this year, Taco Bell, which got into the breakfast game just last year, launched a dystopian ad campaign, "The Routine Republic," likening the ubiquity of the McDonald's breakfast ritual to a Communist regime. The virtuous were a group called the Breakfast Defectors, who broke with conformity by decamping to a dacha where Egg McMuffins were not welcome. (As of this writing, Taco Bell's breakfast still ends at 11 a.m.)
Despite all this terrifying freedom, the cruel breakfast cut-off was something that not only kept order, but also united us as eaters. Over the past few weeks, as speculation about the expansion of breakfast has grown, many have referenced the famous McDonald's scene from the 1999 comedy Big Daddy in which Adam Sandler and his adopted son scramble and fail to get to McDonald's before breakfast ends. Semi-hilarity ensues:
Big Daddy, you might remember, is about a grown-up child upon whom adulthood is unexpectedly thrust when he hastily adopts a boy to win back the heart of Kristy Swanson. The McDonald's scene works because most of us know the frustration of missing the cut-off for breakfast. Many of us also know the joy of making it and the slyly intimate experience of quietly sharing breakfast with a room full of strangers. The subtext here is that adulthood consists of both knowing that breakfast ends at 10:30 a.m. and getting there in time.
The seeming injustice of Big Daddy isn't why McDonald's is turning breakfast into an every hour affair. The fast-food breakfast freakout scene in Falling Down, the 1993 Michael Douglas drama, feels like a better representation of what's actually happening here.
"Every act of rebellion expresses a nostalgia for innocence and an appeal to the essence of being," Camus once wrote.
In demanding eternal breakfast, America is reverting to its adolescence. It wants what it wants and cares not for the rules or the structures that kept us together. Or to put it another way: "This is the consumers' idea," one McDonald's executive told The Wall Street Journal on Tuesday. "This is what they want us to do."