For 20 Years, Americana Has Celebrated Artistry in Music
The genre is hard to define but easy to appreciate.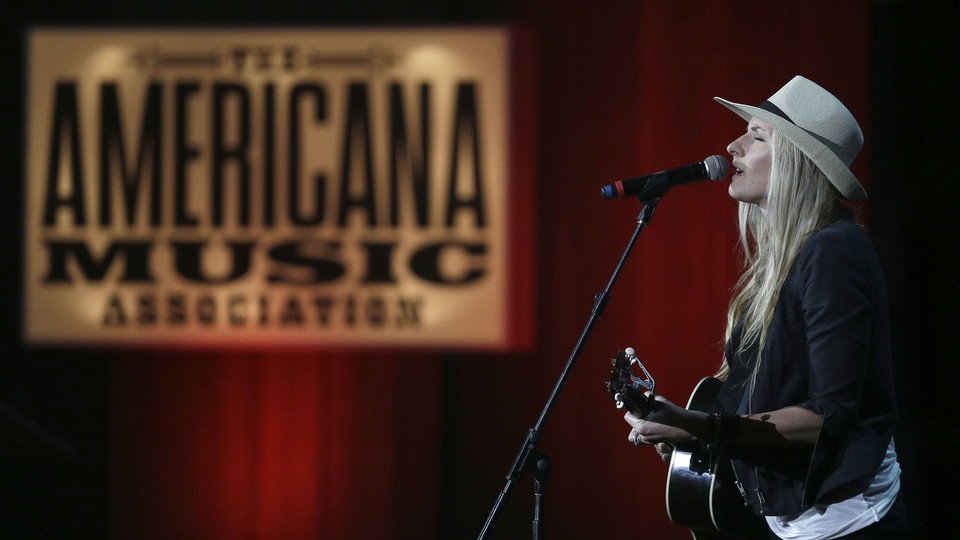 Earlier this year, the former CEO of Sony Music Nashville, Gary Overton, made a controversial statement: "If you're not on country radio, you don't exist." He was pandering a little—his claim came shortly before the Country Radio Seminar, when record-label executives flirt with radio programmers in hopes of getting airtime for their musicians. Overton's claim sparked no shortage of debate, but there was truth to it: Country radio is the kingmaker for aspiring musicians in the genre, and it doesn't just want musicians—it wants stars.
For fans who've grown weary of the more pop-infused, mass-produced sounds that have come to dominate the country-radio airwaves, Overton's words are hardly encouraging. The same goes for professional artists who simply want to write, sing, and perform, and who don't quite fit into the rock or alternative molds. But in the roughly 20 years since it emerged as a radio format, Americana has offered another way for those musicians to exist. Not only do they make music, but they're increasingly likely to experiment with other genres and come from more diverse backgrounds—and, to top it off, many go on to achieve a degree of mainstream success anyway.
Americana is a fairly broad label, but at its most basic, it's contemporary music that draws from American roots music styles, such as folk, R&B, bluegrass, and, of course, country. With artists ranging from Lucinda Williams to Carolina Chocolate Drops to St. Paul and the Broken Bones, the result is a sound that's independent of any single genre. The organizing backbone is the Americana Music Association, which was founded in 1999 in response to artists such as Rosanne Cash and Wilco being overlooked by radio programmers and mainstream music media alike.
Sixteen years later, the association is preparing to hold its 14th annual awards show honoring top musicians on Wednesday, to be followed by a showcase on Saturday. For the group's executive director, Jed Hilly, Americana is less about how the music sounds than about how it's made: "The common thread [in the genre] is singers who can sing, players who can play, and writers who can write."
Americana has at times been dismissed as a genre for "everything that's not something else," in the words of the music historian Don Cusic. Even the singer Margo Price, who will be playing at AmericanaFest this year, told Rolling Stone earlier this year that she hates the term because it's "overused" and "people put it on things when they don't know what to call it." Still, it's become a useful umbrella for artists who want to work across a spectrum of sounds and influences without necessarily worrying about how radio-friendly their music will be.
Small advances have brought the genre closer to the spotlight in the past few years. Americana officially became a Grammy category in 2009, and Merriam-Webster added the term to its dictionary in 2011. Far from being a genre for artists destined to never have mainstream appeal, Americana has its share of marquee success stories. For example, Mumford and Sons were recognized in the 2011 Americana Honors and Awards, before they went on to win several Grammys in 2012 and 2013. In 2007, The Avett Brothers were playing a small Americana event in front of a crowd of just 150. Just last year they played Bonnaroo in front of 85,000 people.
Another Americana favorite, Jason Isbell (who swept the Association's awards last year) released his fifth studio album, Something More Than Free, in July and has made it to the top of several Billboard charts, even nabbing the number one position on the country chart. As Hilly points out, "You can't listen to him without hearing folk, country, and gospel. That's Americana." The AMA's website calls the group a "refuge for artistry in a time of tumult for popular music," which seems like a jab at other genres and their reliance on formula to produce hits.
In 2013, Giovanni Russonello argued in The Atlantic that the genre is overwhelmingly male and white—and not very representative of America. It's only just recently become more racially diverse with the rise of artists like Rhiannon Giddens (a 2015 nominee for Artist of the Year), Dom Flemons, and Robert Randolph, among many others. As The Wall Street Journal points out, these "history-conscious" performers have helped make the genre more sonically interesting, and more reflective of the U.S. today. But women have long played a large role in the advancement of Americana from the beginning, and their presence has only increased significantly in recent years. In the first year of the awards in 2002, the association recognized Gillian Welch, Emmylou Harris, and Julie Miller. Now 13 years later, the lineup for Saturday's AmericanaFest boasts six women—Loretta Lynn, Gillian Welch, Valerie June, Nikki Lane, Tift Merritt, and Emmy Rose Russell. The men? Just Eric Heywood and Steve Earle.
As Americana has evolved, it's become more comfortable with roots music genres like R&B and jazz, and embracing more diverse voices typically absent from the mainstream. As the genre continues to grow, it seems inevitable that more boundary-pushing artists will reach a wider audience without compromising their sound to please big labels and radio programmers. And if some of these artists eventually cross over and shake up the world of popular music, so much the better for fans.