After 40 Years, Rocky Horror Has Become Mainstream
But the movie's rise from a shelved failure to a cult hit to a beloved cultural staple is thanks to its dedicated groups of fans.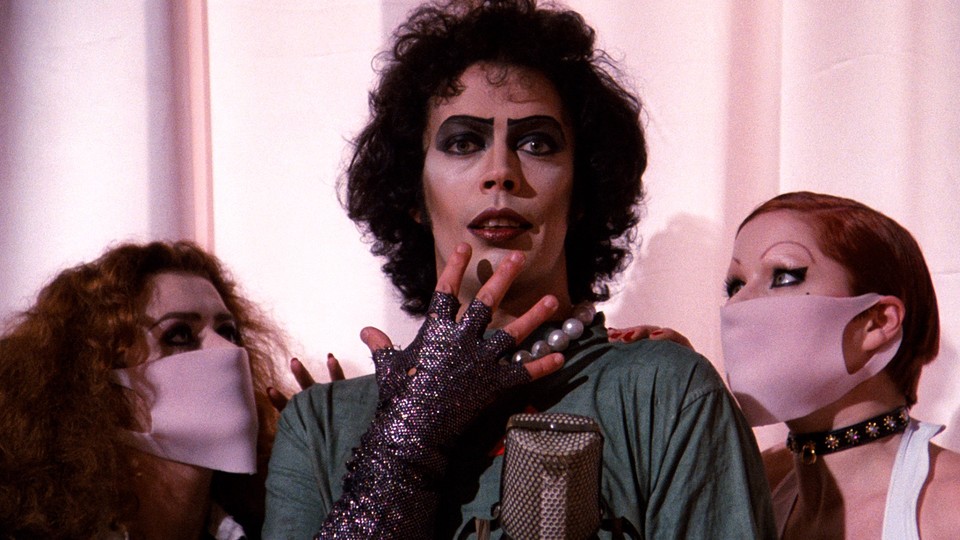 The Rocky Horror Picture Show, that campy beacon of sexuality and self-acceptance, premiered in the U.S. on September 25, 1975, at the Westwood Theater in Los Angeles. The film follows a terribly traditional 1950s-esque couple, Brad (Barry Bostwick) and Janet (Susan Sarandon), as they spend the night in the gothic castle of the cross-dressing alien Dr. Frank-N-Furter (Tim Curry) and his Transylvanian posse. Following its release, it was quickly shelved. But due to the marketing savvy of a young executive at 20th Century Fox, Rocky Horror was revitalized in the form of a midnight screening the next year at the Waverly Theater in Greenwich Village, New York. Over the next four decades, Rocky Horror would be transformed from failed movie-musical to underground phenomenon to rebellious coming-of-age ritual to mainstream icon, all thanks to the hardcore fans who flocked to its late-night showings.
Born in the midst of the punk revolution in the form of Richard O'Brien's 1973 dark cabaret musical The Rocky Horror Show and reincarnated into The Rocky Horror Picture Show by Jim Sharman two years later, the film is currently the longest-running movie in history. Through its immersive, fan-driven screenings and unadulterated idolatry of weirdness, it's ended up so ingrained in the cultural fabric that networks like HBO and Fox are using the film's 40th anniversary to capitalize on its popularity. Rocky Horror, once an embodiment of all that's transgressive and outside the mainstream, has become the ultimate crowd-pleaser.
The film and its endearingly kooky and devoted subculture have been referenced in everything from Sesame Street to Fame to That '70s Show to Glee, which did a "watered-down, Disney-fied version" during its second season. (Instead of being from Transsexual, Transylvania, Frank-N-Furter, played by the Glee character Mercedes, is from Sensational, Transylvania.) Earlier this year, Fox announced a Rocky Horror two-hour TV special directed and choreographed by Kenny Ortega (High School Musical, This Is It) and executive produced by Lou Adler, who also produced the original.
It wasn't always so. According to the National Fan Club's president Sal Piro, who wrote a definitive history of the film, Rocky Horror's countercultural traditions began when a group of regulars made a weekly pilgrimage to New York's Waverly Theater. Sitting in the first row of the balcony, they'd scream for their favorite characters, boo villains, and adlib jokes that would be repeated at future screenings and codified into a kind of audience script.
From the roots of a rowdy small group of filmgoers, entranced by the film's portrayal of transvestism, orgies, and unabashed sexuality as well as its campy charm, came a new trend: A shadow cast began performing the story beneath the screen. Their presence made every Rocky Horror screening more of a mini-musical-dance-party that was entertaining in its own right—if newcomers (referred to as "virgins") weren't familiar with the audience lines or the "Time Warp," Rocky Horror's famous dance-along hit, they were able to pick it up soon enough, and the sense of every screening being an event encouraged more newcomers to experience the movie.
Midnight screenings and new accompanying casts sprung up around the country as word of the New York-based spectacle spread among devotees. Young people who felt disconnected from society could identify with the film's literal aliens, and for those from more strait-laced backgrounds, the initially conservative Brad and Janet's presence gave them a way into a fantasy world outside their immediate experience. Still, the appeal wasn't only in the film's content, but the sense of community and way of thinking that came along with its almost-ritualistic conventions. As Roger Ebert wrote, "The Rocky Horror Picture Show is not so much a movie as more of a long-running social phenomenon" because "the fans put on a better show than anything on the screen."
This combination of inclusivity and immersive entertainment became a key factor in Rocky Horror's growing popularity. And as the nation became more welcoming of alternative lifestyles and orientations, the film became a not-so-cult hit, with "Time Warp" played at school dances and Rocky Horror allusions infiltrating popular culture, turning the film and its ostentatious fans into a reference point.
Regardless of HBO's and Fox's recent attempts to capitalize on Rocky Horror's cultural cachet, the midnight screenings continue and the film's fan base gleefully continues to partake in the mayhem-inducing, intensely participatory experience that can be found in many an indie movie theater across the country. The time-honored traditions—such as throwing rice during the film's wedding scene or toasting along with Frank-N-Furter at dinner—aren't something that can be captured in a television special.
Despite the broad appeal of the movie, the film's most hardcore fans, who often become cast members themselves, continue to congregate around the world to celebrate its message. Sarah de Ugarte, who's part of the official New York cast at Bow Tie Chelsea Cinemas, first saw the show at age 18. Two years later, she has taken time off from Stanford to devote her time to performing Rocky Horror.
This weekend, she's at the Rocky Horror 40th Anniversary Convention in Manhattan, where around 500 performers and fans from around the world are gathering to celebrate the movie, flanked by the film's stars Little Nell (Columbia), Barry Bostwick (Brad), and Patricia Quinn (Magenta). While the film might have achieved mainstream success, the passion of its most devoted fans remains an emblem of Rocky Horror's underground origins.
"I think it has a large appeal because ... people are accepted as they are: fabulous, regardless of gender or sexuality or race or body type," de Ugarte says. "I love Rocky because it lets me and everyone around me be uninhibited and fly our freak flag, and not be ashamed to be ridiculous." It's that mantra that has surely contributed to the lasting appeal of a long-beloved phenomenon: years ahead of its time, but now appreciated by more than its creators could ever have dreamed.