Unwrapped: The Subtle Joys of Food Packaging
Celebrating the art of what our meals comes in, from cookie boxes to condiment bottles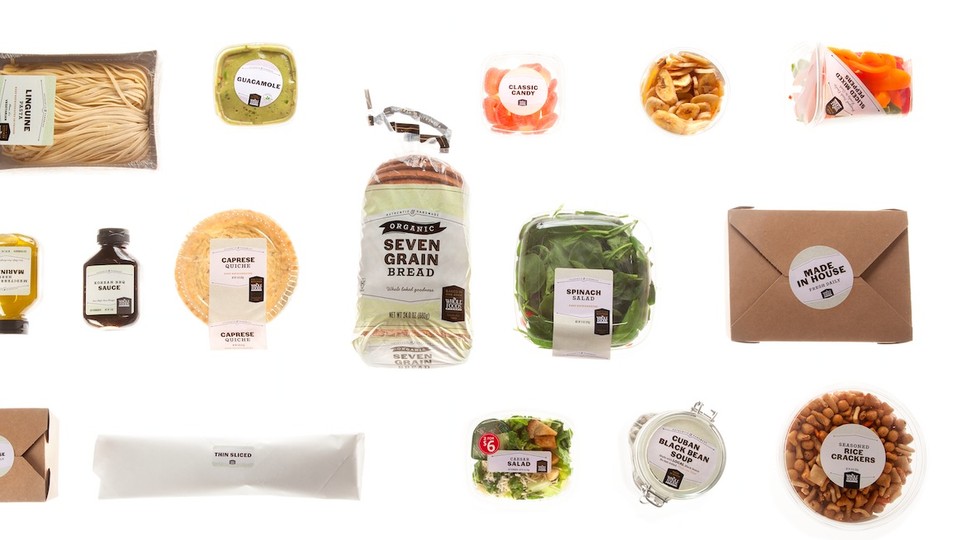 In design jargon, "appetite appeal" describes the level of sensory stimulation that food packaging should have in order to attract consumers. A product covered with only type is by default less mouth-watering than one with photographs of a delicious chicken taco or cheese pizza.
But for brands, elegant typography and bold design can telegraph its own appetizing message. For more upscale chains like Trader Joe's and Whole Foods, getting customers to keep coming back is about more than just hunger: Food packaging has to signal reliability, trustworthiness, and consistency. Different companies might want to emphasize different qualities in their products—Trader Joe's, for example, might want to signal its quirky personality, while the New York-based mini-chain Fairway might emphasize value for money. But for every single product, design has to consider a wealth of different factors in order to best sell and market its products, and, on the whole, American stores are considerably less creative and inspired than their European counterparts.
First things first: Shoppers aren't at the store for beautifully designed labels. They're there for food. So price is often the most important factor, particularly for staples such as milk, butter, eggs, and cereal. Other than a design snob, who really cares whether or not the Trader Joe's generic Bran Flakes box looks like the national brand as long as the product is cheaper? And does it really matter that Fairway's "Golden Honey" plastic bear is a cloned copy of the more expensive original Dutch Gold Honey?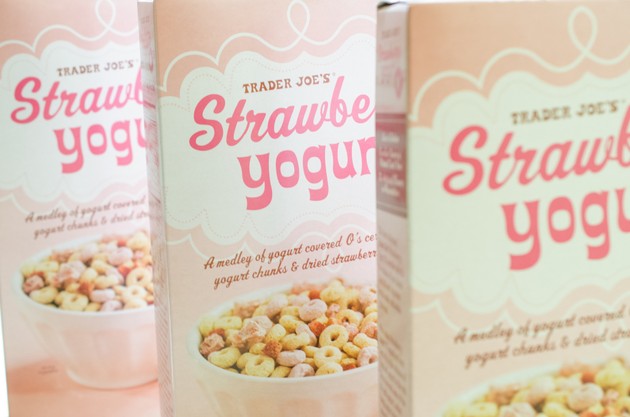 But good design is good business. Supermarket "private labels" don't have to be bland, and there are reasons, aside from aesthetic pleasure, why a little improvement can go a long way. A package contains more than a product—it's a reliquary, of sorts, of that product's story (even its fabricated story), which can be a powerful selling tool. Scores of memorable brands have iconic packaging, like Heinz, Coca-Cola, and Kraft. Companies use bottles and labels to represent their respective reputations, which gives customers a certain pride of purchase and helps maintain the products' market superiority.
There's also a trend among certain independent brands to increase their footholds in competitive markets on the theory that a new product combined with striking design will be the tipping point. The unfettered, elegant packages for Siggi's yogurt, Sarabeth's jams, and Fizzie Lizzie beverages, if not iconic have contributed to a pride of purchase among a growing number of loyal customers.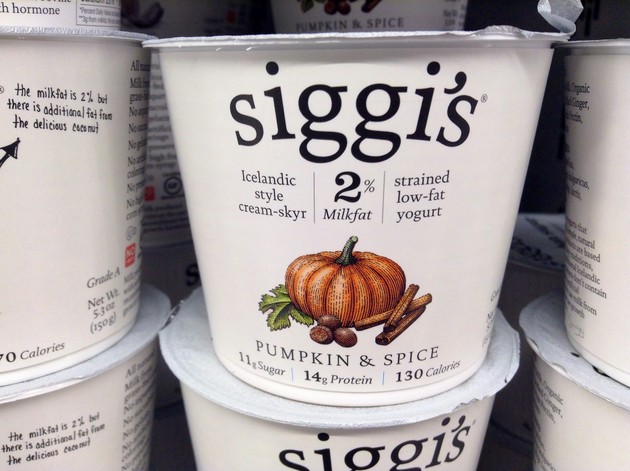 In 1998 I co-authored Food Wrap, a survey of new design styles and techniques for supermarket and specialty stores worldwide. The book's aim was to prove that food packaging was not entirely dictated by design conventions but by more fashionable and personal typography and illustration. In the late '80s, independent graphic-design studios were increasingly taking commissions away from traditional packaging design firms to create a new genre of premium products for a growing yuppie market. Then, during the '90s, a supermarket revolution of sorts took place, with stores undergoing modern redesigns and new upstart products becoming more visible in renovated aisles. Graphic designers found new ways to trigger consumers' Pavlovian responses through more nuanced typography, illustration, and color. The result was a dichotomy between mass-market and upscale products, with audiences often willing to pay more for food products that were designed with more sophistication.
While traditional supermarket brands are designed with straightforward imagery (a ripe tomato says tomato sauce) and stylized marquee logos, designs for the "fancy food" market are subtler in terms of logo, color, typography, and imagery. But in recent years, the line between the two sectors has blurred, with upscale design conceits being introduced to mainstream products.
No one does it better than the British chain Marks & Spencer on its Simply Food collection. Focusing on a young, middle-class, fashion-conscious audience, Charlotte Raphael-Graham, the store's head of graphic packaging, has created a culinary boutique of consistently beautiful and imaginative display worthy packages featuring hundreds of products, from eggs to tea. The soothing colors, delightful illustrations and vibrant typography, designed with wit, create a unified overall store identity and a pleasing shopping experience.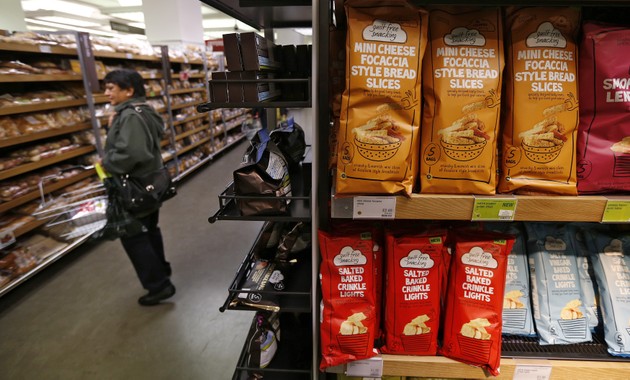 In a close second, the budget French chain Monoprix, has a range of colorful, carnivalesque packing designed by the French agency Havas City that busts supermarket conventions by using only bold sans-serif typefaces in caps covering all sides of the containers—not a picture of a sandwich or soup in sight. When all the products are displayed on the shelves, it's clear that a great design mind is at the helm. Havas has said, that the aesthetic represents the "simplicity, humility, but also the cheerfulness of everyday life."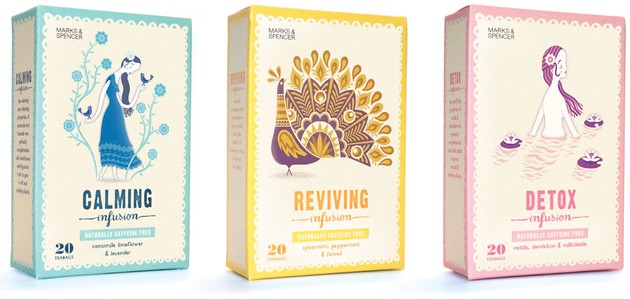 The same can't be said for Fairway. Its Magic Marker-esque Fairway logo doesn't compliment other typefaces well, and most of its house-brands seem like the name has been tacked on anywhere as an afterthought. Although nothing is egregiously ugly, there's a graphic dissonance and brand disconnect between their specific products, rather than an overarching direction, as though the supplier of each item made their own packaging leaving an empty space for the Fairway logo.
The house design at Trader Joe's toes the line, and sometimes achieves excellence. But here too, inconsistency reigns. Some of its cookie and cracker boxes, for instance, are given a nostalgic 19th-century engraving pastiche that suggests something from an old general store and implies "artisanal" production. But TJ's canned and frozen foods, including chili, garbanzo beans, and tomato sauce, retain the blandly generic supermarket look, customized only with the Trader Joe's logo. More attention to the overall graphic design may not influence all customers, but for those attuned to such things it can make all the difference between loyalty and not.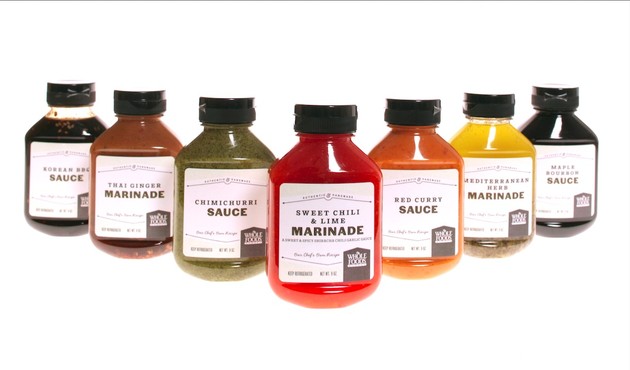 Only Whole Foods, which created a sophisticated yet simple "handcrafted" typographic style for its first store in Gowanus, Brooklyn, deliberately challenged all the rules of conventional supermarket packaging. Designed by Mucca in New York, the system is built solely on simple yet distinctive labels that are fixed to transparent bags and plastic containers. Rather than use a photograph, the actual product—whether seven-grain bread, guacamole, or linguini—is its own illustration. And what further sets the packages apart from other premium products is how well they are integrated into a larger design system throughout the store. The entire environment exudes appetite appeal.
Critics of packaging argue that the best package is no package, suggesting a return to the venerable ways of selling food in bulk from burlap bags and wooden barrels. But branded packaged goods are not going away just yet, and good design can not only addresses sustainability issues, but also make the stressful supermarket experience a little more enjoyable.