Halt and Catch Fire: A Show on the Edge of Greatness
The AMC drama found its legs in season two, and it could prove a worthy successor to Breaking Bad and Mad Men if it scores a third season.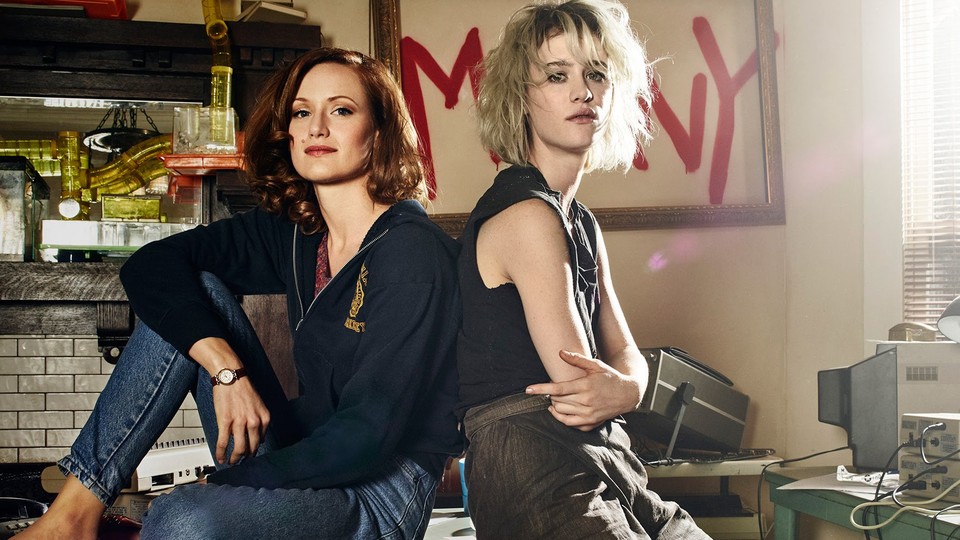 There's a lot to find impressive in the resurgent second season of AMC's drama Halt and Catch Fire, but foremost is the show's confidence. It's a rare prestige drama that would dare dabble in blatant clichés, but Sunday's season finale included a big one—the lead character Cameron (Mackenzie Davis) biting her lower lip, sitting on a plane headed to California, and hoping that her love interest and fellow programmer Tom (Mark O'Brien) would take the seat next to her. Halt and Catch Fire is, at its core, a portrait of the volatile computer industry in the 1980s, as well as a dazzling examination of that world's gender dynamics. But after a rocky and forgettable first year, the show cleverly chose to harness the power of soapy melodrama—stolen kisses, illicit affairs, dark secrets—making it not only one of the smartest shows on air, but also one of the most watchable.
Whether Halt and Catch Fire will return after this critically hailed second season remains a toss-up. Its ratings are underwhelming, and it got a slow start with audiences last year with a first season that tried to do too much, too quickly. It followed an ideas man, Joe MacMillan (Lee Pace), and an engineer, Gordon Clark (Scoot McNairy), as they created a revolutionary personal computer (based on the story of Texas PC company Compaq) in the early '80s. Along the way, Joe recruited, fell for, and broke up with the rebellious programmer Cameron. The story trudged along in early episodes and then tried to cram in the rest of the plot toward the end: Joe and company tasted success with their prototype PC before having to throw their innovations out the window to fit into an IBM-dominated market. Season two wisely hit the soft reboot button and focused on Cameron starting an online video-game company in 1985 with Gordon's wife Donna (Kerry Bishé), while Joe and Gordon receded to the background to pick up the pieces of their own failures.
The new setting and shift in protagonists turned out to be exactly what the show needed: It executed the fastest turnaround (in terms of critical acclaim) since Parks & Recreation's much-mocked first season led into its wildly praised second in 2009. Halt and Catch Fire arrived on AMC last year, facing its network's strong track record and the high expectations that came with Breaking Bad wrapping up its run and Mad Men preparing up to do the same. When those shows launched, AMC found itself in the top tier of cable TV, but with them gone, it only had ratings monster The Walking Dead available as a viable lead-in for a new series. Each of AMC's big new dramas arrives under the shadow of the network's departed behemoths—a burden for Halt and Catch Fire, which needed time to find its characters' voices amid the complex story that creators Christopher Cantwell and Christopher C. Rogers were trying to tell.
The second season focused on Mutiny, the online game company Cameron runs out of a ramshackle house in Austin, Texas, with a bunch of grody young coders and Donna, a mother-of-two struggling to balance her passion for the job with her crumbling marriage. By focusing the season arc on a tech startup run by two women, Halt plumbed largely unexplored dramatic territory for TV, following Donna and Cameron's efforts to avoid being pigeonholed in a male-dominated industry (that, in time, would only become even more male). What's more, the show didn't patronize Cameron's struggle to define her company as more than an act of rebellion, or Donna's resistance to becoming den mother to Mutiny's nerdy employees. The duo's arguments and managerial clashes were resolved without the grunting testosterone of the first season.
Meanwhile, Joe and Gordon—both of whom fit the antihero mold that defined TV's cultural revolution post-Sopranos—faced much more dire prospects. After the relative financial success, but intellectual and moral failure, of their PC project in the first season, the men scrambled to find a new foothold in the booming tech industry as their love interests surpassed them. But even so, the creators Cantwell and Rogers never jeered at their characters' failures—the show simply moved on, as though its two self-destructive male protagonists' luck had run out. Viewers never got to see Tony Soprano, or Don Draper, or Walter White stop being the de facto leads of their own shows, but as season two of Halt and Catch Fire progressed, it became clear that was exactly what was playing out.
Halt and Catch Fire didn't settle for subverting the dramas that came before it, nor did it expect easy applause for making its female characters the stars. It also embraced what many successful TV dramas had for decades before and since the rise of the concept of "prestige"—the delight of stolen kisses, overheard insults, and shocking betrayals. Cameron's budding romance with the arrogant coder Tom, whom she falls for while recovering from her big breakup with Joe, was gripping enough to merit the Friends­-style "Does he get on the plane?!" cliffhanger in the season finale. Gordon's fracturing marriage to Donna played out the same way viewers had seen a hundred times before, but with rare humanity for their ups-and-downs. When Donna made the decision to abort a pregnancy midway through the season, still a rare twist for an American TV show, it felt like neither a plot chip to be cashed in later, nor like an impetuous act of revenge against Gordon.
In Halt's second season, Cantwell and Rogers found their way into the show by upping the personal drama without letting go of the larger story of an industry they wanted to tell. By focusing on its ensemble's personal lives, the writers justified a year-long arc exploring the nascent stages of the Internet, and Donna's discovery that Mutiny users longed for a community to interact in (practically inventing the online chatroom). By stripping down the main plot to focus just on Mutiny and ramping up the soapier elements, the show tapped into the kind of edge-of-your-seat personal drama that AMC has been longing for since the departures of Mad Men and Breaking Bad. Ratings be damned, Halt and Catch Fire has a chance to be one TV's next great milestones in drama—if its network will just give it a chance to continue to evolve. The talent is there and the product is golden, so like any burgeoning start-up, all Halt needs is a little more investment.