Prestige TV: The Next Franchise Frontier
With the loss of Mad Men and Breaking Bad, AMC is betting on spinoffs of former hits like Better Call Saul and Fear the Walking Dead.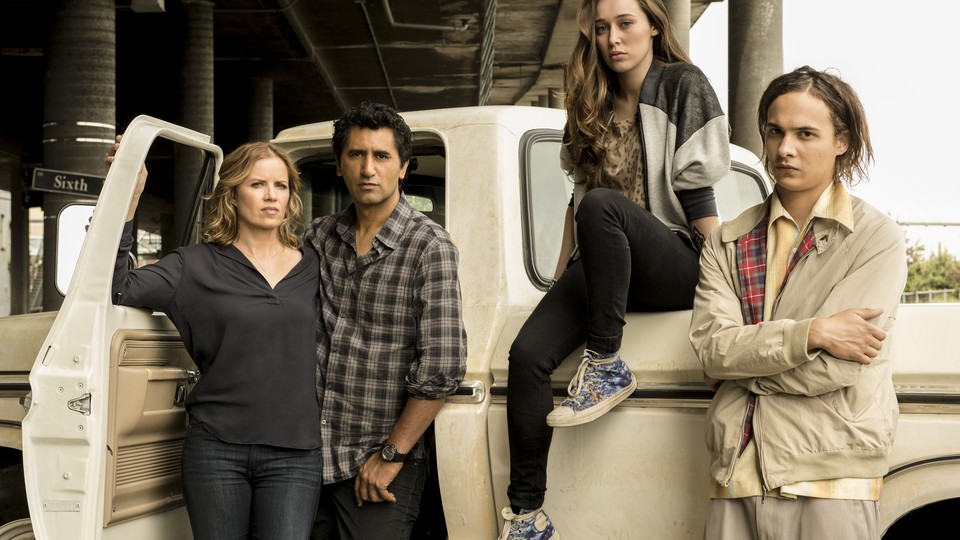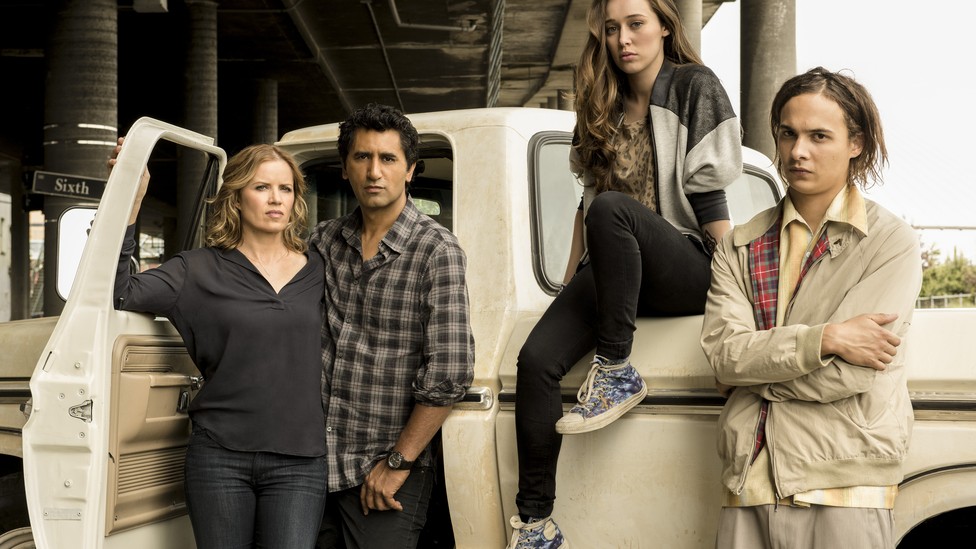 This week, 10.1 million people watched the premiere of AMC's new series, Fear the Walking Dead. That's not only a record-breaking debut for cable, it's the kind of viewership most shows would happily aspire to in this day and age, and it caps a good year for AMC following the success of Better Call Saul. It also puts the network in a unique position: Rather than developing original high-quality dramas, AMC is building a foundation of spinoffs—an unusual gamble in the world of prestige television.
Just nine years ago, AMC was a nobody in the world of original programming, but the 2007 debut of Mad Men made the network an instant quality-TV brand, solidified by the critical hit Breaking Bad and the commercial sensation The Walking Dead—which has grown into a ratings juggernaut that shows no sign of abating. But Mad Men and Breaking Bad have wrapped up over the past two years, and their replacements (including Turn, Halt and Catch Fire, and Humans) have drawn much smaller audiences. In lieu of another out-of-the-box hit, AMC has turned to safer territory—emulating many major movie studios—in taking shows that people watch, and building new versions of them. In an era of "too much TV," is this the next logical step?
Spinoffs and franchises have long existed on television. The Mary Tyler Moore Show spawned numerous popular successors in the sitcom world, and the producer Dick Wolf has somehow created not one but two connected law-enforcement universes, first Law & Order and its ilk, and now Chicago Fire and Chicago P.D. That model has been replicated by cop shows like CSI, NCIS, and Criminal Minds, and shows no sign of abatement, but the procedural mystery show has always been easy to copy. Just move it to a new city, hire some name actors, and bingo, a ratings winner. By contrast, what AMC is doing is more complex: finding new paths for its most critically acclaimed programming without sacrificing quality for ratings' sake.
Better Call Saul, the Breaking Bad quasi-prequel that premiered in February, mostly managed to pull it off. While it's hard to imagine the show ever fully escaping the shadow of its predecessor, it found a funnier, shaggier tone within the Breaking Bad aesthetic, and snagged a slew of Emmy nominations this summer—exactly the kind of recognition AMC wants. More importantly, it got great ratings—nothing like The Walking Dead, but still, an average of 3.2 million viewers for its first season, not far off of Breaking Bad's last, and more than Mad Men ever got.
It's too early to rule on the quality of Fear the Walking Dead—set within the timeline of the zombie drama but in another part of the country—although reviews have been largely friendly. But its massive debut speaks for itself, and for the country's continued appetite for everything Dead-related. The only other AMC show that gets the kind of viewership that Fear attracted is Talking Dead, a cheap-and-cheerful show that airs after every episode of The Walking Dead to post-mortem the week's events. It was partly that show's success that convinced the network people wanted more Dead, and its bet seems to be paying off.
Like movie studios, networks have to find the perfect balance. The CSI franchise did well for itself, but eventually became so sprawling that ratings sagged across the board, with the only remaining entry being the maligned CSI: Cyber. The same goes for Law & Order, which at one point had four separate versions running at the same time, but now only boasts the venerable Special Victims Unit. In the realm of film, questions continue to abound at the sheer number of insta-franchises being built in the wake of Marvel Studios's success, and the mixed box-office reception to this summer's superhero movies.
AMC's bet is a little safer. While Better Call Saul and Fear the Walking Dead have already been renewed for a second season, there's still room for plenty of other shows, and the rapturous reviews of the second season of Halt and Catch Fire were an encouraging sign that its nurturing of smart programming can still pay off. While the network is still in the hunt for its first truly original hit since The Walking Dead (which debuted in 2010), for now, it's drawing the viewership it needs to keep taking those chances. The question is, no matter how much audiences love zombies, how long can that goodwill can be sustained in a crowded world of premium TV drama?