No More Superheroes: A Fall Film Preview
Though there are big-budget franchise pictures on the horizon (Mockingjay Part 2, Spectre), the upcoming movie season sees a wider mix of genres and smaller-scale efforts on offer, with hardly a tentpole film in sight.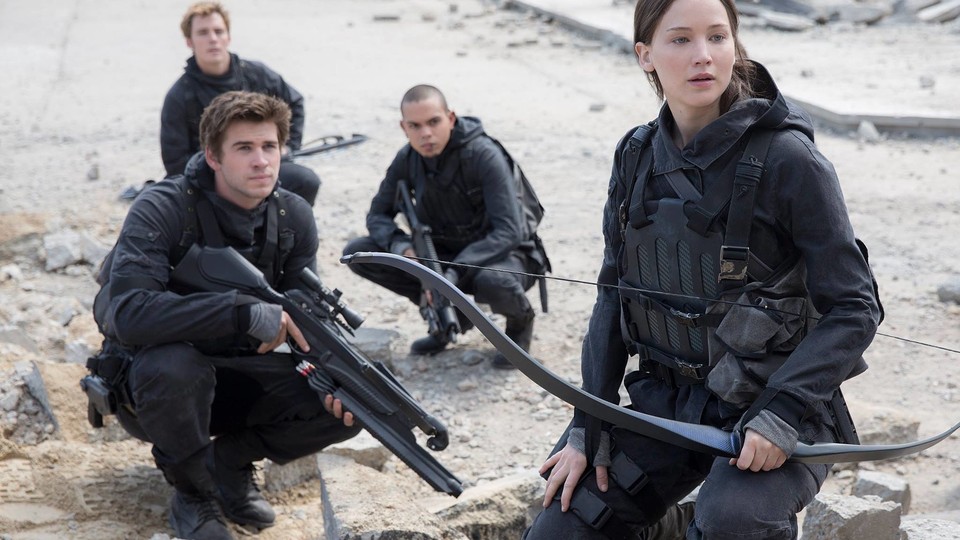 As the summer comes to a close and Hollywood shovels its final franchise efforts into the engine for another year, audiences can look forward to a more varied fall film season, as Oscar races begin and release schedules are suddenly free of sequels and superheroes. There's the odd tentpole movie in the mix, including the final episode of The Hunger Games and the first James Bond film in three years, but those are mixed in with a more highbrow collection of biopics, dark dramas, and festival favorites before the holiday season arrives.
That's not to say there isn't a chance for some real genre efforts, such as M. Night Shyamalan's return to horror with The Visit (September 11), a found-footage film about a brother and sister who go to stay with their two scary grandparents. A string of flops (After Earth, The Last Airbender) have made Shyamalan the butt of jokes in recent years, but he may work best constrained by a tiny budget and a plot built for jumps.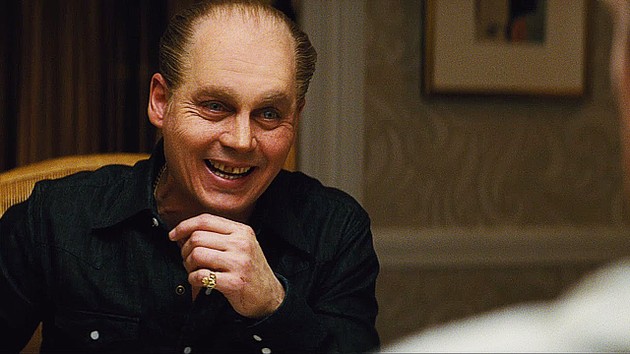 Johnny Depp has also been a recent target of parody thanks to bombs like Mortdecai, but he's making a play for Oscar legitimacy with Black Mass (September 18), a Scott Cooper-directed biopic about the Boston gangster Whitey Bulger, in which Depp looks unrecognizable, if nothing else. Another biopic, Pawn Sacrifice (September 18), sees Tobey Maguire playing the chess genius Bobby Fischer during his famed match against Soviet player Boris Spassky. The month's most controversial retelling of true events is Roland Emmerich's Stonewall (September 25), a departure from the Independence Day director's usual bombast that has been criticized pre-release for its alleged whitewashing of the famous 1969 riots that are seen as a turning point in gay rights. (Emmerich has defended the film, saying his cast is more representative than the trailers suggest.)
Another major release that tackles LGBT issues is About Ray (September 18), which stars Elle Fanning as a teenager transitioning from female to male, with Naomi Watts playing her mother and Susan Sarandon her grandmother. The true-story adventure thriller Everest (September 18), sees an ensemble that includes Jason Clarke, Josh Brolin, and Jake Gyllenhaal ascending the mountain and encountering a terrible blizzard, with the story based on a horrifying 1996 disaster. For lighter fare, try Nancy Meyers's latest, The Intern (September 25), starring Robert De Niro as a senior citizen hired to work for Anne Hathaway's fashion company, with (one assumes) wryly hilarious results and a healthy spoonful of sap. At the end of the month comes Robert Zemeckis's The Walk (September 30), a fictionalized take on the tale told in the Oscar-winning documentary Man on Wire, featuring Joseph Gordon-Levitt as Philippe Petit and dazzling-looking 3D renderings of a high-wire walk between the Twin Towers.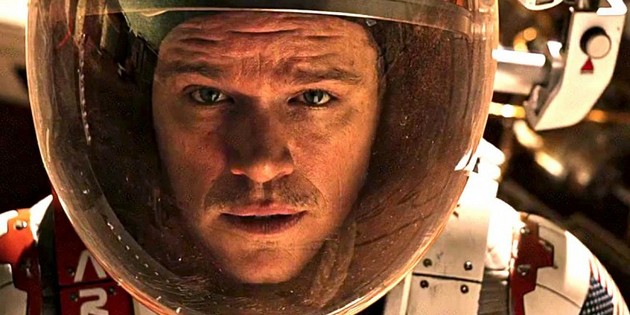 Another tale of life and death arrives soon after with Ridley Scott's The Martian (October 2), though this one is fully fictional, based on the hit novel by Andy Weir. Matt Damon stars as an astronaut manned on Mars after a NASA mission goes wrong, with an ensemble of character actors (Jessica Chastain, Kristen Wiig, Michael Pena, and Chiwetel Ejiofor among them) trying to get him back. The long-gestating Apple biopic Steve Jobs (October 9), once intended for David Fincher and Christian Bale, finally arrives directed by Danny Boyle and starring Michael Fassbender; its script is from Aaron Sorkin, and if the trailer is any indication, the walk-and-talk speechifying will run rampant. But the biggest news in October is probably the return of Steven Spielberg with Bridge of Spies (October 16), the first film he's directed since 2012's Lincoln. Another true-story period drama, this one sees Tom Hanks as a civilian lawyer thrust into negotiations between the U.S. and Soviet governments over an exchange of captured spies. Mark Rylance co-stars, and perhaps most interestingly, the script is from the Coen Brothers (alongside the British playwright Matt Charman).
If that's the month's surest bet, its wildest is Joe Wright's Pan (October 9), a visually sumptuous-looking prequel to the Peter Pan tale starring Hugh Jackman as the pirate Blackbeard and Garrett Hedlund as a handsome, charming, and heroic Captain Hook. Eyebrows have been raised over its goofy premise and its casting of Rooney Mara as Tiger Lily, but Wright seems most focused on the visuals. The same may be true of Guillermo Del Toro's Crimson Peak (October 16), a rip-snorting Gothic adventure set in 19th century Northern England that sees Mia Wasikowska battling ghosts at her new husband's haunted manse. Looking a good deal less scary is Goosebumps (October 16), a hodge-podge, family-friendly adaptation of R.L. Stine's popular horror books that sees Jack Black playing the author as a fop confronted by his real-life creations. The month's more grounded dramas include the cooking drama Burnt (October 23), with Bradley Cooper playing a chef out of rehab looking to regain his fame, and Suffragette (October 23), about the turn-of-the-century women's voting movement in Britain, starring Carey Mulligan, Meryl Streep, and Helena Bonham Carter.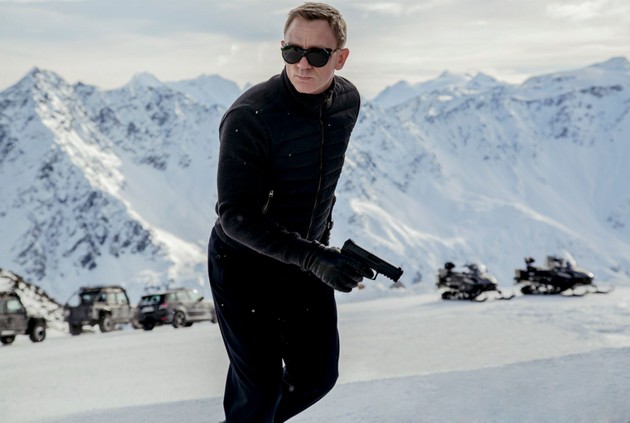 Things take on a more blockbuster-friendly flavor in November, with the most worrisome being The Peanuts Movie (November 6), an adaptation of Charles Schulz's beloved comic strip that will have to tread carefully to avoid upsetting the many devotees Snoopy and co. have earned in the last 65 years. A more solid bet is Spectre (November 6), the 24th James Bond film, the fourth starring Daniel Craig, and the second directed by Sam Mendes. By reintroducing some of the classic '60s Bond elements—the titular evil organization, a mysterious German villain played by Christoph Waltz—but including a more personal "family history" plot for Bond, the film looks like it will continue in the successful vein of Skyfall. That stacked week also sees the release of Brooklyn (November 6), director John Crowley and writer Nick Hornby's adaptation of the Colm Tóibín novel of an Irish immigrant's (Saoirse Ronan) journey to 1950s New York.
November's biggest question mark is surely Angelina Jolie's new film By the Sea (November 13), a small-scale drama about a couple wrestling with fractures in their marriage that stars Jolie and her real-life husband, Brad Pitt. It's their first appearance on screen together since Mr. and Mrs. Smith, but Jolie's work as a director has yet to strike a major chord with critics. A safer bet is The Hunger Games: Mockingjay Part 2 (November 20), the final and surely darkest entry in the franchise, which should be all action after last year's tense meditation on life in a bunker. The season wraps up with one dark drama—Todd Haynes's Carol (November 20), a 1950s-set lesbian romance starring Cate Blanchett and Rooney Mara—and two sure-fire crowd-pleasers: the Rocky semi-reboot Creed (November 25), starring Michael B. Jordan as Apollo Creed's son, and Pixar's latest, The Good Dinosaur (November 25). Following that comes winter, featuring the remaining meat of the Oscar season and a few big blockbusters, but by that point, the only word on anyone's lips will be Star Wars. All the more reason to enjoy the smaller-scale, more eclectic stories of this coming season in film.