Carly Rae Jepsen Is Here to Defend Silly Love Songs
E•MO•TION tackles romance with precision, clarity, and supreme exuberance.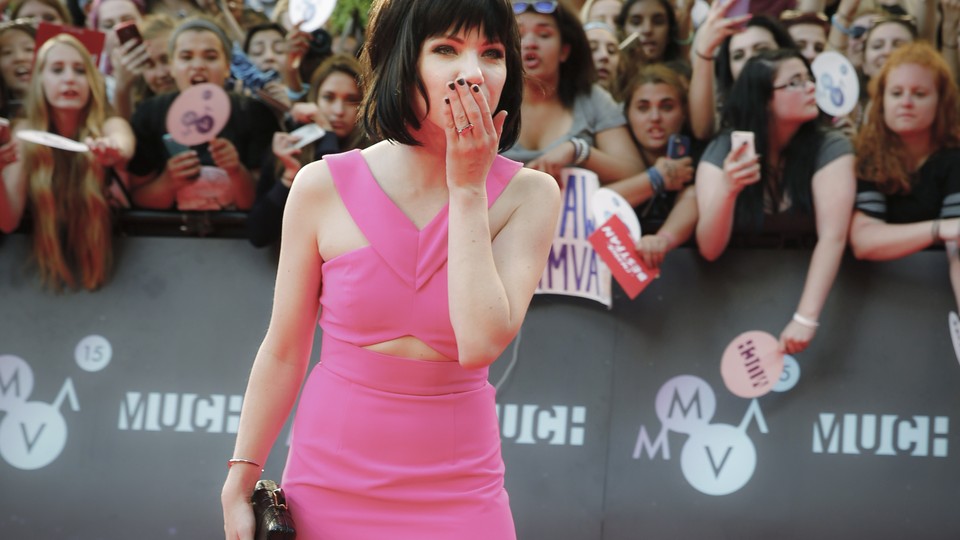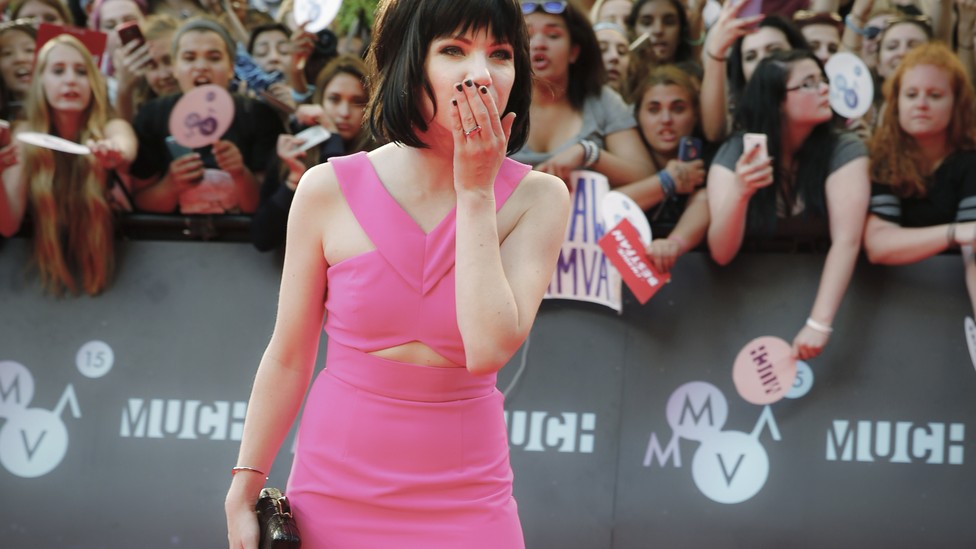 Of all the genres about which it's assumed lyrics don't matter, radio-friendly pop is right up there next to, say, death metal (whose vocals are typically unintelligible howls). Swedish producers like Max Martin encourage stars to sing nonsense like "Now I've become who I really are" to top the charts; Katy Perry may have once and forever proven that cliches sell with the nonsense aphorism-string that is "Roar." If the hook's there, who cares?
Carly Rae Jepsen isn't likely to inspire any graduate-level seminars on the poetry in her pop. But she should get credit for being more thoughtful than most. "Call Me Maybe" sounded classic but packed in a few layers of novelty, one of which was what the words—co-written, like all of her songs, by Jepsen herself—communicated about desire and destiny in a quirky and memorable way. The rest of her debut album, Kiss, revealed a songwriter who had straightforward concerns—love, love, love—but also an eye for how to render them in ways that seem fresh but not strange. The production team, irresistibly, grafted '80s exuberance onto modern studio techniques and used savvy melodic math.
Basically, all of the same can be said about her follow-up, E•MO•TION, which, the power of media narratives being what they are, is being talked about as more "mature" or "grown-up" but is really just Carly being Carly. Some people take that to mean bland being bland—the 29-year-old Canadian Idol runner-up has nowhere near as distinctive/dramatic a media presence as Taylor Swift or Ariana Grande or any of the other pop titans at whose heels she theoretically nips. But that's part of her appeal: providing a grown-up, cohesive, and gimmick-free take on bubblegum.
The final song on Kiss was called "Your Heart Is a Muscle," and it set out to bust a big cliche: "They say love is a fragile thing, made of glass / but I think your heart is a muscle." Which is to say, love's something that rewards you for working at it. Now, on E•MO•TION, Jepsen thinks through the energy expenditure of relationships with an almost scientific precision. The title track has her taunting an ex by asking him to think about "all that we could do with this emotion," as if he's wasting a precious resource. "Making the Most of the Night"—whose stutter-chant chorus and nu-"I Want to Dance With Somebody" backing would cut right through Top 40 radio's sameness if given the chance—mixes its metaphors to the same effect: "Gold mines glisten in the skin."
If this sounds like a cynical take on romance, it isn't; Jepsen's clear-eyed but also capable of abandon. Who can deny the opener, "Run Away With Me"? The peal of a self-consciously cheesy saxophone, the chorus that crashes in waves, and Jepsen's call/response escapist slogans make for a perfect meeting of lyrical meaning and song form, calculated but also liberated. Then there's "I Really Like You," whose blockbuster free-fall of a chorus and giddy take on the idea of liking-not-loving have only seemed more distinctive in the months since it was released (and hailed as the supposed (but not actual) second coming of "Call Me Maybe").
Throughout, Jepsen seems aware that there are people who'll write her off just because of her subject matter. "Boy Problems" takes this concern head-on, telling of best friends who can't seem to hold a conversation that passes the Bechdel Test. "Boy problems, who's got 'em?" Jepsen asks in the chorus as the music hops and skips like Wham! "I've got 'em too." Gender specificity aside, she's reminding listeners that romantic obsession is as universal as it gets; there's no need to feel guilty about talking about the same things everyone else talks about, especially when you might have something new to say.