Can Benedict Cumberbatch Save Theater From Cellphones?
The actor, currently starring in a production of Hamlet in London, is trying to persuade his fans to turn off their devices while they're watching live performances.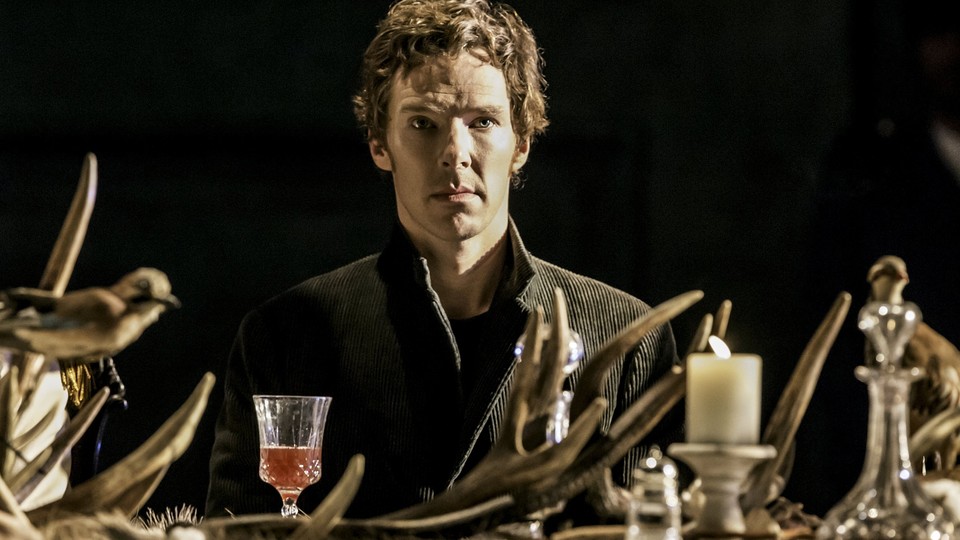 As far as theater goes, the past few months could plausibly be dubbed the summer of the cellphone. In July, Patti LuPone left the stage to confiscate an audience member's phone after a performance of
Shows for Days
she was starring in was interrupted four times by different ringtones. The same week, a 19-year-old student from Long Island
jumped on stage
during a production of
Hand to God
and tried to plug his charger into a non-functioning outlet that was part of the set. In April, the creator and star of
Hamilton
, Lin-Manuel Miranda,
called out an unnamed celebrity
for attending a performance of the hit production and texting all through the second act (his co-star Jonathan Groff
later revealed
that the star in question was Madonna).
The latest activist in the crusade against theatrical distraction is Benedict Cumberbatch, who's starring in a production of
Hamlet
at London's Barbican Centre that rivals even
Hamilton
in hype. The show sold out in minutes when tickets went on sale, making it the fastest-selling production in British history, and fans have been
camping outside for up to 17 hours
to try and purchase the handful of daily tickets made available at 10 a.m. The popularity of Cumberbatch (and by association, the show) is in part a phenomenon of the digital age—although not conventionally handsome, the star has become an object of Internet obsession, thanks to blogs that note
his resemblance to an otter
, viral videos that capture his
inability to say the word "penguin,"
and a widespread assumption that he is, as many websites put it, the "
Internet's boyfriend
." But he's also an actor, and as such is now encountering the scourge of culture in a post-Android world: the inability of audiences to put their phones down at the theater.
Following early previews of
Hamlet
last weekend, Cumberbatch made a plea to fans camped out outside the stage door to spread the word that he doesn't want people filming during the performance. "Can I ask you all a huge favor?" he said in an
impromptu speech
that was, naturally, caught on video and uploaded onto the Internet. "All of this, all these cameras, all these phones … I can see cameras, I can see red lights in the auditorium, and it may not be any of you here that did that, but it's blindingly obvious. I could see a red light in the third row on the right, and it's mortifying."
Cellphones are increasingly becoming a reality that's grudgingly tolerated at movie theaters and live music shows, but their presence during live theater is much more contentious. Almost all performances now feature pre-show pleas from ushers and recorded messages that entreat audience members to silence their phones. But the problem isn't limited to generic ringtones that interrupt soliloquies. For an actor, seeing the blue light on an audience member's face can be just as distracting as hearing a tinny rendition of "The Entertainer" coming from someone's handbag. And for audience members, too, it ruins the integrity of a live performance.
"For me, a ringing phone or an LED light is akin to a usurping of the performance's power," says Peter Marks, The Washington Post's theater critic. "It breaks the spell of an audience as a communal force; it says, 'I'm more important than this experience is, and screw you if you don't like it.' It summons the kind of aggressive energy that is in most cases ruinous, at least momentarily, to the spirit of the piece on the stage."
For once, this isn't an issue that can be solely blamed on uncivil, irresponsible Millennials—while it's usually younger audience members who text during a show, it's almost always older theatergoers whose phones go off in the middle of a production. "One contingent is people who don't go to the theater much," Susan Frankel, the general manager of Circle in the Square Theater,
told The New York Times
in July. "But also people with babysitters home with kids they are worried about, or people who are so excited to be close to people they revere."
For institutions, the problem isn't as simple as escorting out audience members who flout the rules, or standing over patrons to insist that they turn off their phones. For one thing, any such intervention can often be a worse distraction than someone who's quietly checking Twitter. And for another, theaters are engaged in a constant battle to persuade more young people to make theater a regular part of their cultural diets. Crack down too hard on offending theatergoers, and you risk alienating broader swathes of a demographic that theaters' futures are dependent on reaching.
In the U.S., the
average age of a Broadway theatergoer
is 44. Compare this with the U.K., where 16-to-19-year-olds are more likely to attend a theatrical performance than
any other age group
, and it's obvious that American theaters are having a hard enough time engaging younger audiences without chastising them about their cellphones. Moreover, Facebook and Twitter are increasingly crucial when it comes to theaters promoting their shows: A
2010 study
found that 65 percent of London theatergoers chose the shows they bought tickets for after hearing about them on social media.
Still, the solution isn't turning a blind eye to something that can ruin a live performance for all involved. "All of it—calls, lights, texts—can muddy the experience," says Kimberly Gilbert, an actor in Washington, D.C. "What happens [in the theater] affects the journey, the art of the moment. I think it's happening more and more because we're more comfortable sharing our attention now between a person and a screen." In July, LuPone
released a statement
saying, "I am so defeated by this issue that I seriously question whether I want to work on stage anymore." (As
The Wall Street Journal
has noted
, it isn't just audiences—actors, musicians, and conductors alike tend to be as addicted to their phones as regular folk, albeit without actually taking them onstage.)
Part of the magic of live theater is that it exists in a space that is totally removed from the outside world. Constantin Stanislavski advised actors to "never come into the theater with mud on your feet … Check your little worries, squabbles, petty difficulties with your outside clothing—all the things that ruin your life and draw your attention away from your art—at the door." For theater to be transcendent—to be the magic circle where people learn about "the brevity of human glory," as Iris Murdoch put it—people have to commit to being fully present during a show, and to focusing all their attention on the performance at hand. Sometimes the performance in question merits such attention; sometimes it doesn't. But the minimum required from audience members is to sit quietly and not do anything to distract actors or spectators from the action.
While theaters—and audience members, who tend to quietly tolerate bad behavior—can certainly do more to enforce standards of acceptable behavior during performances, perhaps the more effective policeman is the one everyone's paid considerable money to see. If Taylor Swift can use her star power to
coerce the most powerful technology company in the world
to change its policies, maybe Benedict Cumberbatch can encourage a new kind of etiquette among rabid superfans and casual theater attendees alike.
A few years ago, when the actor Drew Cortese was performing in a play at the Shakespeare Theatre in D.C., an audience member's iPod started playing music shortly into the second half of the show. After several minutes, and right before a pivotal speech, Cortese asked the audience if the person responsible wanted to turn it off. Eventually, a woman confessed that it was hers, and she didn't know how to silence it. "The audience applauded when I got ready to resume the play, not because of how I handled that moment, but because it was so clear that we had all shared that experience together," Cortese says.
"On the stage, an actor—especially a star—can hold incredible moral suasion," says Marks. "Their reaction has to be commensurate with the infraction. But shaming by the person in the spotlight, of the person effectively stealing it, may be the most potent instrument of enforced decency of all."