Can Women's Soccer Maintain Its Momentum?
Every four years there's renewed interest in the sport following the FIFA World Cup. But this time, there's a chance that it could endure.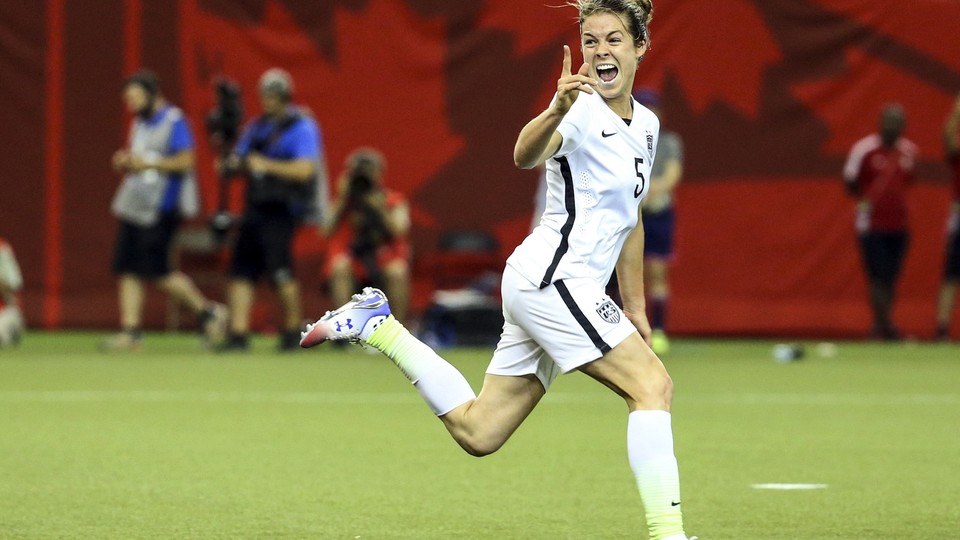 The Women's World Cup semi-final between the U.S. and Germany on Tuesday night featured pretty much everything the sport has to offer. The player talent on display was at historically high levels, at least according to statistics compiled by FiveThirtyEight. There was the tension of conceded penalty kicks on both sides—along with the agony of a miss for Germany, and the ecstasy of a goal for the U.S., who ended up winning 2-0. According to preliminary numbers, TV viewership was the highest it's ever been in the cable-sports era—on par with an NBA playoff game, and this was only the semi-final.
Though there's always been a spike in coverage of women's soccer during the World Cup (most recently in 2011), this year's tournament is helped by America's general growing interest in soccer, fueled by the broad TV coverage of the 2014 Men's World Cup and easier access to European games. More and more people are tuning in to follow a game once decried as dull by American pundits. From increased Twitter activity to frequent front-page media coverage, it's undeniable that interest in women's soccer has peaked over the past two weeks. But what will it take for the sport to maintain that buzz on a national level after the tournament ends?
It will certainly help if the U.S. team takes home the trophy on Sunday (they're scheduled to play either England or Japan, who face off in the second semi-final on Wednesday night). It would be the country's first World Cup title since its landmark 1999 win, which made Mia Hamm a household name and produced one of the most indelible celebration images in sports history after Brandi Chastain scored the winning penalty. The current squad only has a few stars on that level—Abby Wambach, who's approaching the end of her storied career, and Hope Solo, who has battled tabloid coverage of her alleged domestic abuse. Instead, most members are younger women waiting to pick up the torch, and that might well be a good thing for a sport that's still struggling to draw viewers to its domestic American league games. This team is loaded with talented players who set it up well for the future, and every single one of them plays in the National Women's Soccer League.
The NWSL is only two years old, formed in 2013 after its predecessor (Women's Professional Soccer, or WPS) folded due to legal battles with owners and an overall lack of financial resources. As a result, NWSL has a tiny salary cap for its teams in the $200,000 range (the NBA's, by comparison, will jump to around $69 million next season). It doesn't yet have the kind of television deal necessary to establish a foothold in the crowded world of American sport, although ESPN did air six of its games last season (with an additional three streaming online). If history is any indicator, the Women's World Cup will lead to an uptick of interest that may not endure. After the 2011 tournament, which saw America lose to Japan in the finals, the WPS set attendance records and looked to expand its number of participating teams in its next season from six to ten, but ended up folding when that effort failed.
There's every indication that the NWSL won't repeat those mistakes. It has tighter financial controls and is partly subsidized by the U.S., Canadian and Mexican national teams; and it will likely expand from its current roster of nine teams through partnership with established men's teams playing in Major League Soccer. That's a model similar to the WNBA, the one truly stable women's sports league in the United States, which was launched with solid investment from the NBA and features several teams associated with established NBA teams, giving them financial security and room to grow in a crowded TV marketplace.
Television deals are how sports leagues make a majority of their money, and the expansion of cable sports networks has given the NWSL more opportunity on that front. On the heels of the Women's World Cup, the NWSL signed a TV-rights deal with FOX Sports, which will air 10 games (including the league's playoffs) next season and stream an additional four online. In another sign that the women's game is gaining respect on the world football stage, the video game FIFA 16 will feature women's rosters for the first time in the history of the franchise, giving Julie Johnson, Carli Lloyd and Kelley O'Hara and many more the opportunity to become household names.
There's plenty of evidence that a thriving domestic league can help the U.S. dominate the field of international soccer for another generation—Johnson gained valuable experience in the professional leagues after making a splash in college, and credits the NWSL for giving her the credentials to earn a starting spot on the U.S. team. The same movement towards year-long professional play is happening around the world. And in what feels like a breakthrough for the sport, men's soccer stars like David Beckham and Jermaine Jones have been encouraging their fans to watch the Women's World Cup and support national teams via their social media accounts.
There's still progress to be made. Even though the success of the Women's World Cup is a rare bright spot for FIFA amid news of officials being indicted on charges of bribery and corruption, outgoing chairman Sepp Blatter won't even attend the final, and has a long history of saying dismissive things about women's soccer in general (suggesting they wear tight shorts to attract larger audiences, for example). There's been hope in the past that the Women's World Cup would bring U.S. audiences on board with a domestic league, and it hasn't happened. But there's evidence that the excitement around the 2015 World Cup, and the lessons learned by too-quick expansion efforts in the past, could make the difference this time. The NWSL won't vault to the top of the American sports pyramid anytime soon, but if it can retain even a fraction of this summer's viewers, it can establish an important foundation for the future.